Tour to Chad: Africa's Remotest Safari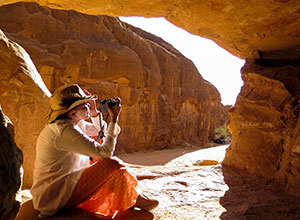 Duration: 16 days
Rates: from $21,000 per person
Area: N'Djamena, Zakouma National Park, Ennedi, Demi, Teguedei, Ounianga Lakes
Style: classic African safari
Comfort Level:





Highlights:
Join us for a spectacular tour to Chad, through remote and breathtaking lands that sums up our ethos, and takes you to places few western travellers have ever been. Starting from N'Djamena we visit Zakouma National Park, possibly Africa's most successful conservation story.
We then fly deep into the Sahara ar Ennedi, a vast collection of sandstone mountains sculpted by the wind and sand over millennia into stunning rock formations. Here we enter the land of the Tubu, one of Africa's most traditional, and least known, people and our excellent local connections give us good opportunities to meet these rather shy and secretive people. We look for rock art dating back thousands of years, and walk into the Guelta d'Archei where the Tubu bring huge herds of camels to drink at the only waterhole for miles around, in the company of one of the last populations of Saharan crocodiles, which we hope to see.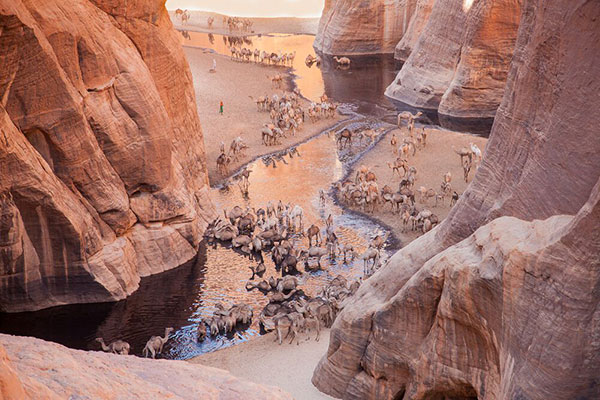 | | |
| --- | --- |
| Day 1 - 2 | N'Djamena, Chad |
| Day 3 | N'Djamena to Zakouma National Park |
| Day 4 | Zakouma National Park |
| Day 5 | Zakouma National Park |
| Day 6 | Zakouma National Park |
| Day 7 | Zakouma National Park |
| Day 8 | Zakouma National Park |
| Day 9 | Zakouma National Park |
| Day 10 | Zakouma National Park to Ennedi |
| Day 12 | Ennedi |
| Day 13 | Ennedi |
| Day 14 | Ennedi |
| Day 15 | Ennedi to N'Djamena |
Detailed Itinerary
Day 1 -2: N'Djamena
Arrive N'Djamena and transfer to the Hilton hotel. Free time to relax and dinners at the hotel.
Formerly known as Fort Lamy, Chad's capital sits on the banks of the Chari River facing Cameroon and is the largest city in the country. Founded by the French at the turn of the 20th century, it has grown from a town with a population of around ten thousand in the 1930s to something approaching a million now. Over the years it has seen its fair share of conflict, largely destroyed during the civil war of the 80s and stormed by rebel forces in 2008. Its wide boulevards were once flanked with trees, but these were cut down to deprive attackers of covers, and only in recent years did its dusty streets become paved. Rather devoid of traditional sights, N'Djamena is home to a large and sprawling central market which is interesting to explore, and also contains the National Museum with a collection of prehistoric artefacts.
Days 3: N'Djamena to Zakouma National Park
Fly for two hours to Zakouma National Park.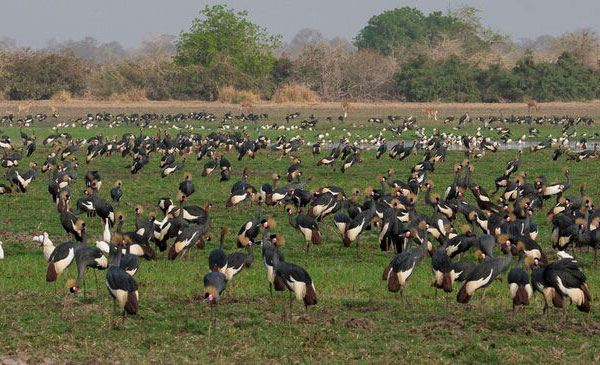 Days 4-9: Zakouma National Park
Zakouma National Park is 3045 km² of untamed African wilderness in south-eastern Chad. Located near the town of Am Timan in the Salamat Region, Zakouma National Park is one of the last remaining intact Sudano-Sahelian ecosystems in Africa. Due to its close proximity to the centre of the Chadian Basin, the terrain of the park is almost exclusively flat with the exception of the beautiful granite inselbergs found in the south-west near Ibir. As one of three national parks in Chad, Zakouma forms an integral part of the conservation of flora and fauna in the region, as well as being the only game viewing destination offering guest accommodation in the country. The Chadian government has been committed to protecting this natural heritage even through many years of conflict. Today Zakouma is one of the most important protected areas in Central and West Africa.
Zakouma is an area of contrasts and like many parts of Africa, the ecosystem has two very distinct seasons, the wet season and the dry season. There are however very few areas where the contrasts between the two seasons are so dramatic; affecting fauna, flora and terrain alike. Between June and November Zakouma receives an average of 850mm of rain resulting in the majority of the park becoming completely inundated with water. It is during this time that the park sees a strong seasonal outward migration of many species; mainly the elephant and tiang and to a lesser extent roan antelope and hartebeest, to the drier areas further north. The dry season in comparison, lures the wildlife back to the heart of Zakouma, where pans surrounded by fertile floodplains and pools in the main river systems (Bahr's Salamat , Korom and Dikere) provide drinking water and grazing throughout the dry months. Large herds of animals as well as thousands of birds congregate at these pools from February to June making for spectacular game viewing.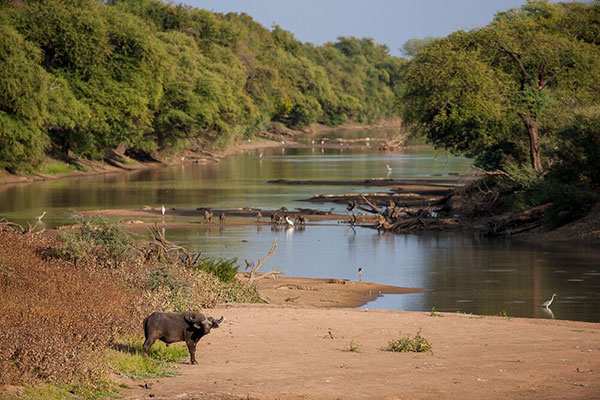 Although the free roaming African elephant is the better known species, the park is an important refuge for numerous other species, many of which are threatened elsewhere within this eco-zone, which stretches as a band across the breadth of Africa to the south of the Sahara Desert. The fauna of the park includes 44 mammal species of which 16 are large mammals. Species such as the Kordofan giraffe, lion, Lelwel's hartebeest, pale fox and red-fronted gazelle are of continental importance.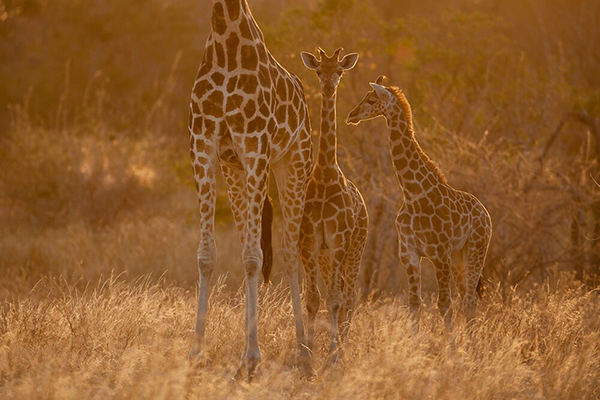 Day 10: Zakouma National Park to Ennedi
3 hour charter flight North to Ennedi. 5 nights camping in the Sahara.
Day 11: Ennedi
We spend our time exploring the numerous rock formations; made of sandstone, the wind and sand have eroded them into weird and wonderful shapes. We also visit a number of rock art sites, hidden over overhanging rocks and depicting cows, camels and warriors, and may see ancient burial sites about which almost nothing is known. This is the domain of the Tubu, and we expect to meet nomads on their way to pasture with the camels or drawing water at wells, and pass their small groups of tents. The highlight of these few days in undoubtedly the Guelta d'Archei, the only permanent waterhole in the region situated amidst a dramatic and towering gorge, where one can often see hundreds of camels drinking, their bellowing echoing around the rock walls. The guelta is also home to one of the last populations of Saharan crocodiles, and with a bit of luck we should be able to see them. The landscape in this region is truly spectacular and we pick our campsites in the prettiest areas.
The Tubu
The Tubu people make up the bulk of the population in Chad's northern desert regions, and are something of a Saharan legend. Reputedly the toughest desert dwellers of all, there are numerous stories of their prowess in eking a living out of such an unforgiving place, including one that involves a warrior making his way over 500 miles of desert with little more than a handful of dates and a goatskin of water.
The Ennedi Mountains
In the north east of Chad lie the stunning Ennedi Mountains, a red sandstone massif that has been sculpted into a mutlitude of fascinating rock formations by the wind and sand over the millennia. This is one of Chad's most beautiful areas, with natural arches, deep gorges and isolated waterholes which makes it a real joy to explore. The Ennedi is also rich in rock art with numerous examples being found in caves and under overhanging rocks. Perhaps surprisingly it is also rich in wildlife; species to be found here include gazelles, baboons and patas monkeys, as well as porcupines and honey badgers, and in remote parts leopard and cheetah make their homes.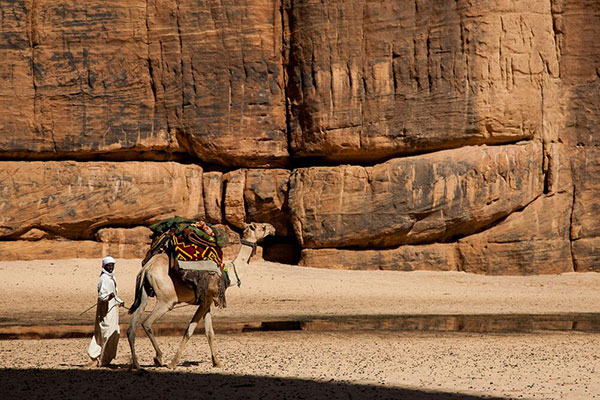 Day 12 -13: Fada, Mourdi
We drive down from the plateau to Fada, the only real town in the Ennedi, where we need to complete formalities and stock up on supplies before heading northwards. Fada is a dusty little town which serves as the main centre of the Ennedi region. Centred around a main square, Fada contains an old colonial fort now used by the military and a small and modest market with a limited selection of wares, reflecting the remoteness of the town; small onions, dried chillies and a few tomatoes and peppers are about as much fresh food is usually on offer, as well as rather tough dates. There is little here to see but the explorer Wilfred Thesiger stayed here on his travels through the region, staying in the fort as guests of the French; sadly it is not permitted to take pictures of the fort though.
From here we head back into the wilderness, climbing onto a plateau of red rocks before descending to the last rocks of the Ennedi. From here we enter the Mourdi Depression, an area of vast sand dunes that can be difficult to traverse but are incredibly beautiful. We follow the ancient caravan route that is still used by camel caravans taking salt from Demi and Teguedei to the Fada and beyond. At Kora, while crossing dunes and entering an area that saw fighting during the war with Libya; in some places the remnants of tanks and other military hardware can be found, slowly being reclaimed by the desert. The dune crossing can be tough in parts and we can expect to get out and push.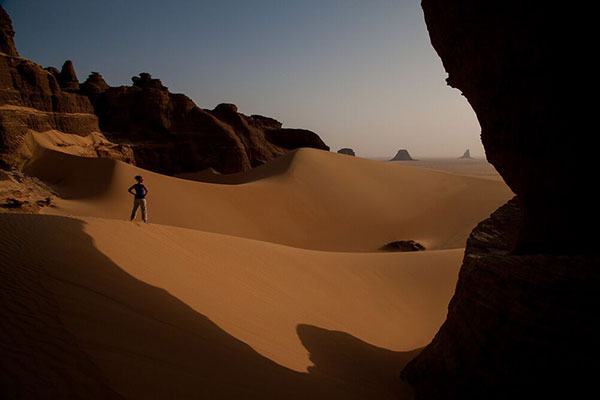 Day 14: Demi, Teguedei, Ounianga Lakes
We visit the small village of Demi, located at the foot of a mountain and on the edge of a salt pan, where men and women dig the red earth for salt to be transported across the desert to market, exchanged for goods like millet, sorghum and other foods; this is an incredibly isolated settlement and completely reliant on the trade. Nearby is the salt lake of Teguedei, situated amidst lush palm groves and seasonally inhabited for the date harvest; one can also see piles of salt drying on the shores of the lake. From here we head to the lakes of the Ounianga oasis. Emerging from the desert this is spectacular site; lakes surrounded by dunes and palms with multi-hued mountains behind them. The lakes themselves are different colours, a result of the minerals in the ground as well as algae. We explore the lakes, visit the village of Ounianga Serir, and take the opportunity of a bath in Boukou, the only freshwater lake in the oasis. We also stop in the town of Ounianga Kebir for supplies and formalities. Until recently this was a critical hub on the trade route with Libya, but that country's troubles have reduced traffic to a trickle. Wildlife around this region is good, and you can expect to see dorcas gazelles as well as jackals, bustards and perhaps the pretty fennec fox.
Day 15: Ennedi to N'Djamena
Reluctantly we leave the Ennedi and fly charter back to N'Djamena (3 hours).
Day 16: Depart
Day 1-2:

The Hilton,
N'Djamena, Chad




Day 3-9:

Camp Nomade,
Zakouma National Park

Day 10-14:

Camping in the Sahara,
Ennedi




Day 15:

The Hilton,
N'Djamena, Chad



| Dates | Rates From |
| --- | --- |
| March 4-19, 2017; March 5-20, 2018 | $21,000 |
Sorry, we are in a process of updating prices.
Please send us a request for rates, for current pricing.
Our rates are per person sharing.
Single supplements may apply.
All rates are subject to availability, currency exchange and may change without notice.
Inclusions
All tips, meals, drinks, money for tribes etc.
Exclusions