Client Feedback
From Marilyn and Larry Gill
Thanks to you, all of our connections worked smoothly.
We could not find a flaw in your planning. Each Safari lodge offered a slightly experience. Toka Leya beautiful view of the Zambezi river, very friendly staff, great trip to the Falls. We took a side trip to Botswana which was great. Hippos elephants and birds galore. Had to pay an extra $50.00 to get back. Varty Camp fabulous accommodations and the ranger Jessica was spectacular. We had a private dinner with her and her significant other Duncan on the last night. Very special.

Varty Camp
Tonda Tula was more laid back and we were closer to the animals especially leopard and lions. Cape Town was great our guided tour with Ilios was well done and always prompt.
We will remember this trip for many years to come. Once again, many thanks for a job well done.
Wildly yours,
Marilyn and Larry Gill
From Perri McNaught
One word = WOW !!
I just wanted to personally tell you that we had a GREAT trip and you did a GREAT job planning it!!!
Right from the start at the Arusha Coffee House to the finish at Singita, it was perfect !! The whole trip exceeded my expectations plus some.
Our guide Edwin was so knowledgeable and personable. It was great to be the only ones in the vehicle with him for 6 days. He taught us so much and showed us everything. He made it his mission to make sure we saw everything and were comfortable. Even driving between lodges he would explain the towns we went thru, the Massai Indians lifestyle, etc. At the time we had to say Good bye I was so emotional (totally caught me off guard) that I could barely speak.
Again I loved every spot we stayed at and if I had to pick my favorite… I couldn't as each one was special in its own way. You picked the perfect itinerary for us. Also it was the perfect time of year to go – not busy at any of the parks to fight to see the animals, had Crater lodge to ourselves one night, weather was perfect, low attendance at all lodges, our own guide, etc.
Some highlites for me:
Tree Lodge was sooo cool !! From the atmosphere to the service to food it was great.
I had seen picnic lunches on the websites and never dreamed we would experience that – we had 3 picnic lunches which was awesome.
The Lemala tents were such an adventure – I felt like I was really experiencing Africa and the bush and loved every moment. The hot showers, the campfires before dinner, the guys trying so hard to speak good English and serve us good cooked food. I will never forget the hot water bottles in our bed at the Crater or the morning of my birthday sitting outside of our tent at Serengeti with delicious hot coffee watching the sun rise with zebras. Also at the Serengeti I will never forget the surprise birthday cake with song and dance – so sweet and such a great memory!
Of course the animals were spectacular everywhere but there are too many to mention and too hard to pick my favorite. BTW – the number of animals we saw blew me away !
Singita was very special – service like no level we have ever experienced. The birthday dinner under the stars was very romantic. Then another birthday cake to top off the day. The tent and the whole surroundings was like a movie and I felt like the star. (there was only 1 other guest there for our whole 3 nights)
I could go on and one but I have to get back to work now. Thanks for everything – I will never forget the trip or my 50th birthday. ( I think Ted had as much fun as I did which is so important !!)
We want to go back to Africa again sometime and we will certainly ask you for advice as to where to go next.
Happy Thanksgiving,
-- Perri
From Sharlene and Eric van Boer
Best of Botswana Trip, May 12-24 2010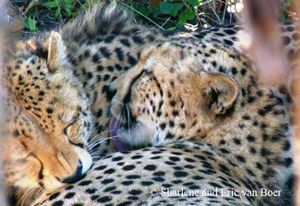 Having been to Africa 5 years ago, I had no idea that a safari with Cindi in Botswana would be the Trip of a Lifetime! Africa is such a special place anyway, but add the energy, fun-loving attitude, and dedication of Cindi as your leader, and your vacation goes way over the top!
I can hardly recommend enough staying at small safari camps in Botswana where you get "up close and personal" with the animals while out in the vehicles and then with the camp staff and fellow travelers around the camp fire at night. We have so many wonderful stories and photographs!
If you ever have the opportunity to take one of Cindi's Africa trips, go for it! I agree totally with one of Cindi's favorite sayings: "Life is not measured by the number of breaths we take, but by the moments that take our breath away."
-- Sharlene and Eric van Boer
Africa trip endorsement from Bud Griswold & Mary Gessner
South Africa & Namibia Expedition, July 21 – Aug 5 2008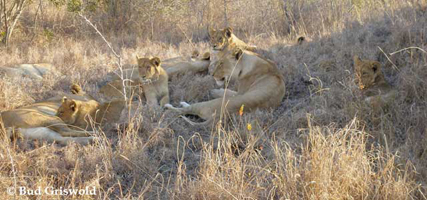 We had traveled with Cindi on several Pacific dive trips, all superb. So we decided to take an Africa trip with her as well which focused on the wildlife and unique desert and savannah habitats of Namibia and South Africa. As is always the case on a "Cindi trip", everything was unique and exciting.
The accommodations and generally local cuisine in the tent camps was outstanding, and one camp was set up so we could experience sleeping outside under the cloudless Southern Cross sky. The many wildlife safaris were all huge successes as we got spoiled the first 24 hours by experiencing very close encounters with the "Big Five". We also experienced lion kills right outside our tent camp, a wonderful early morning hot air balloon ride over the Namib Desert with a kaleidoscope of ever changing color, and tracking fresh rhino sign on foot until fresher lion tracks appeared on top of the rhino tracks. Then it was time to hotfoot it back to the vehicles in quick time!!
A short stay in Capetown was delightful as it is a beautiful city and side trips to the wine country and Cape of Good Hope added to the pleasure. The entire group of people on the trip was wonderful, and new friendships were made by all. We will not hesitate to return on another Africa excursion as soon as our diving schedule with Cindi allows. Unfortunately, that means it may be awhile!!!
-- Bud Griswold & Mary Gessner
From Jean Gallagher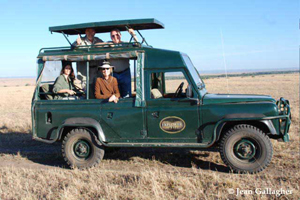 Trip of a lifetime! I had been dreaming of being on the vast Serengeti Plains and photographing African wildlife for many years. Cindi helped me put together an independent itinerary in Kenya and Tanzania that was perfect in every way. Magnificent scenery, awesome animals, delightful accommodations, and excellent guides. Local services shepherded us through all the travel transitions with the greatest of ease. I wholeheartedly recommend her services.
-- Jean Gallagher
From John Lloyd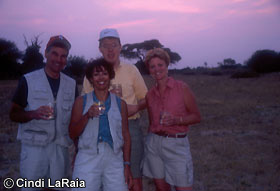 I have been on a few trips to Africa with Dive Discovery that featured Cindi as our personal escort. The first trip was to Madagascar in 1998 and included a few days of diving with Great White sharks in South Africa. The second trip, in 2000, was mostly a safari in Botswana and Zimbabwe, but once again it included a few days for diving with sharks. If you are looking for an exciting and interesting location, Africa is it. You can't really plan for everything you will see. In fact one of the best things about vacations involving wildlife is the unexpected things that do happen. I also felt fortunate to be part of a small group of friendly easy going people in both cases; having Cindi along too was an additional bonus. I think Dive Discovery did a good job planning the trips; these are definitely two of the best vacations I have ever had. -- John Lloyd
From Bob and Debbie Pecoraro
Our recent trip to South Africa could not have been better. My wife and I and another couple spent four days diving with great whites, three days in Capetown and four days on safari. The trip was set booked through Cindi LaRaia and her staff at Dive Discovery, who did a wonderful job planning every little detail. Everything from our excellent seats on the plane (That becomes very important when you're spending that much time in the air) to the best accommodations were the result of the years of experience that Dive Discovery has in planning and leading trips to this part of the world and to many other exotic destinations.

Our trip started off great with a stay at Grootbos Nature Preserve, a beautiful lodge with easy access to all the shark action. We then moved on to the Victoria and Alfred Hotel on the gorgeous Capetown waterfront. Our final stop was the Honeyguide tented safari camp on the outskirts of Kruger National Park, a wonderful place from which to base a safari. From the moment we stepped off of the plane to the time we left the country we were guided through our journey by Dive The Big Five, a South African Company which specializes in exotic African vacations. They were with us every step of the way, ensuring that every transfer and connection went smootly. Their friendly and courteous staff made contact with us frequently throughout our stay and even after we returned home to make sure that everything met with our satisfaction.

I cannot emphasize enough how much our entire party enjoyed this vacation. It was probably our best vacation, along with our Galapagos Islands trip from the previous year (also set up by Dive Discovery). We saw over thirty great whites, four of the "Big Five" safari animals (and a few other unusual sightings) and we got a chance to experience the beautiful Capetown scenery. I can't wait until our next adventure with Dive Discovery. Thanks for everything! -- Bob and Debbie Pecoraro, New York
From Nancy Bushnell and Gerry Soifer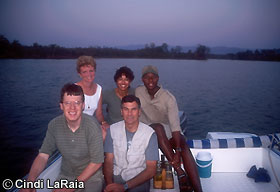 Our combination safari, local touring of Cape Town and Great White Shark cage diving out of Gansbaai was the TOTAL PACKAGE. This was our first trip booked with Dive Discovery but we had met a couple on a Galapagos dive trip that had their arrangements made with Dive Discovery and highly recommended them. When we came back from there we contacted Dive Discovery and they put together one of the best organized trips we have been on. My wife and I have traveled extensively over the past 15 years and used many companies to make our arrangements. Cindi and her company delivered a first rate trip including everything from airlines schedules to pick ups, connections and even local tours on the lay over days. The in country arrangements were so tightly organized every step of the way, it gave us total confidence that even if a travel hitch developed, which often can, Cindi and her contacts would have been on it before we even knew there might be a problem. I would now take her recommendations without question since she is personally familiar with the trips she books, having blazed the trail and worked all the bugs out. She uses overseas companies that still have good old fashion pride in making sure you have a great time on your adventure holiday. I can strongly recommend the Great White Shark package she put together for us as a wonderfully diverse trip to South Africa. We may have been extremely lucky but the sharks are REALLY THERE and we had excellent encounters in the 4 days. We are definitely using Dive Discovery for our future adventures and are even working on the next one with Cindi at this time. Our new travel friends were right, " They book a great trip".-- Nancy Bushnell and Gerry Soifer