Selinda Adventure Trail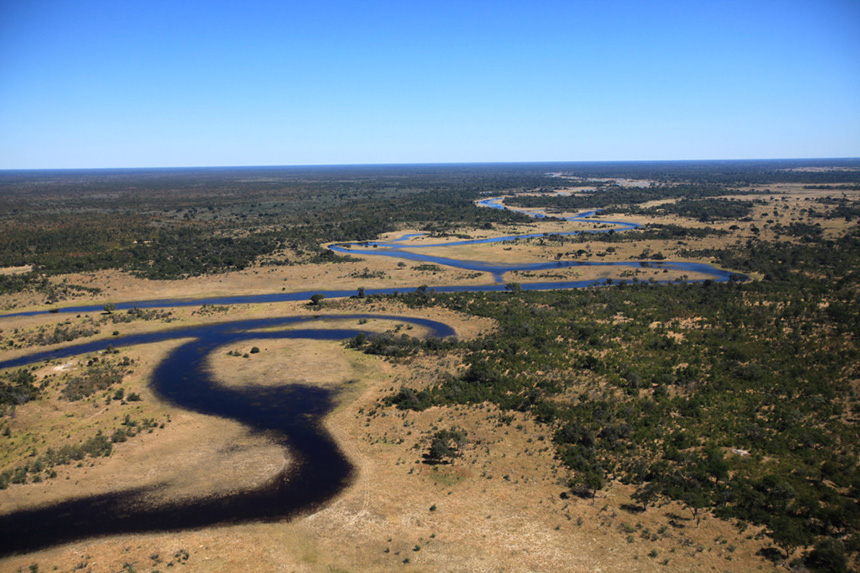 An adventure exploration safari experience of 5 days / 4 nights the Selinda Reserve's Selinda Spillway, offering either a canoeing and walking adventure or pure walking safari experience.
This is an authentic African adventure discovering hidden wonders of an ancient waterway in the tradition of the explorers of old…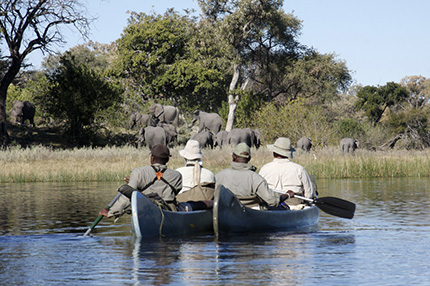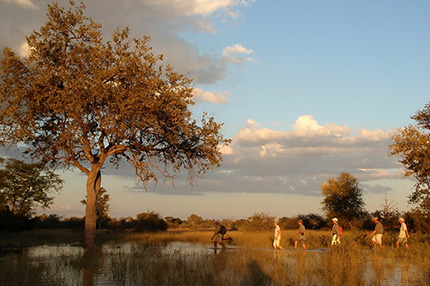 Accommodation
Fully inclusive of all meals, all related activities, limited but good selection of alcoholic and non-alcoholic beverages and park fees. Feel free to bring your own favourite beverage at no additional charge if we don't have stock of it! Flights are additional.
Number of Guests
Each departure is guaranteed with a minimum of two guests and each departure accommodates a maximum of 8 guests sharing in 4 tents. Should you be the only guest on a particular departure we may have to charge you for 2, but that should not stop you from experiencing one of Africa's best safari experiences!
We recommend children join us from the age of 14 due to the daily walking distances that we can enjoy. For guests with children from 10 – 13 years, we look forward to consulting with you to create a private tailor-made safari which may be subject to an additional cost.
Activities
Essentially we are governed by the availability of water in the Selinda Spillway and thus the Selinda Adventure Trail offers you either a combination of canoeing and walking experience or fully guided walking experience.
Helicopter transfer to the start of the adventure trail from Selinda airstrip. On completion of the Selinda Adventure Trail at Selinda Explorers Camp, a game drive airstrip transfer back to the Selinda airstrip – unless you choose to extend your safari at our Selinda Explorers Camp, Selinda Camp or Zarafa Camp and the Zarafa Dhow Suites (highly recommended).
Location
Truly unique experience along the Selinda Spillway in the private 320,000-acre Selinda Reserve of northern Botswana.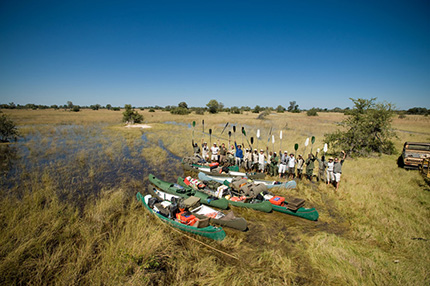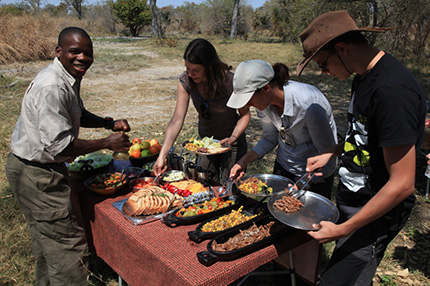 Pure-walking safari
What little water there is in the Selinda Spillway will act as a magnet for wildlife. An Elephants Without Borders aerial survey in 2012 stated that the Selinda Reserve has the highest concentration of elephant bulls in all Africa and largest population of buffalo in Botswana.
Day 1, when the Spillway is dry, or has low waters, we will helicopter guests straight to their first, mobile camp site on the banks of the Selinda Spillway. That afternoon guests will meet their team - a professional guide, tracker and support team including chef - and take a short guided walk.
Day 2 is the longest walking day, 11kms, following the banks of the Spillway before heading inland to a highly prolific area of lagoons, pans and woodland-clearings. This woodland camp site is home for nights 2 and 3, allowing further exploration of one of the richest wildlife areas in an extremely remote part of Botswana.
Day 4 sees the trail rejoin the Selinda Spillway where the last camp is located.
Day 5, the final morning, is a short walk to Selinda Explorers Camp where the Selinda Adventure Trail ends with a celebratory drink before driven to the airstrip for onward flights, or to stay at Selinda Explorers Camp, Selinda Camp or Zarafa Camp and Dhow Suites.
Canoeing and walking expedition
The combined canoeing and walking expedition will only operate when water levels are high enough to allow passage along the entire length of the trail from it's start point to its end point at Selinda Explorers Camp.
Day 1 guests helicopter to the start point, further west of the pure-walking trail start. Guests will learn how to paddle and steer their 18 foot, two-person, Canadian canoes. A short paddle to the first night camp site.
Day 2. After a morning walk, where in the meantime the support team have the chance to pack up the camp onto their own canoes for transportation downstream, guests will canoe further down the Selinda Spillway, stopping for lunch and exploratory walks to get closer to wildlife seen from the Spillway. For the next two nights the camp remains in the same place.
Day 3 is a pure-walking day i.e. no canoeing . A full day walk from the Spillway camp location into rich wildlife areas in the interior of the mophane woodland and open glades, pans and side-channels which makes this area so productive for walking.
Day 4 is similar to Day 2, canoeing and walking further downstream to the next camp location.
Day 5 is a morning walk and short canoe to the finish at Selinda Explorers Camp.