Gorilla Tracking at Odzala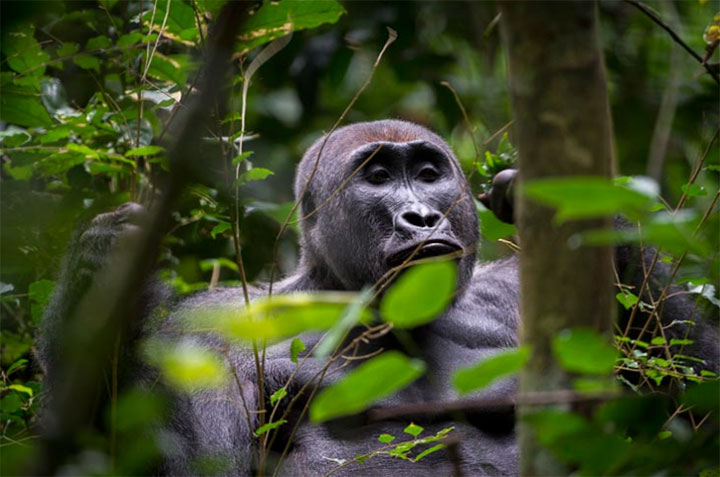 As a result of the work done by gorilla researchers Dr Magda Bermejo and German Illera, two habituated groups can be tracked and observed in the area around Ngaga Camp. In this extended 30 km2 (11.5 square miles) area there are at least seven groups totalling perhaps 105 individual gorillas. Two of these groups are usually accessed by our guests while a third is observed as a control group for research purposes. Other unhabituated groups are also seen on a regular basis.
Given that Ngaga Camp is situated at an overlap between the home ranges of different gorilla groups,tracking expeditions do not necessarily cover enormous distances and can range in length from 1-8km (0.5-5 miles) over undulating country. The undergrowth can be thick however and, including the time spent with a gorilla group, excursions can last between 2 and 8 hours.
Gorilla viewing protocol is based on the guidelines issued by the IUCN for great ape viewing and is very similar to that of Rwanda/Uganda. Protocols are designed specifically to limit stress and behavioural impact and also potential disease transmission from humans to gorillas. They are critical for gorilla conservation.
Minimum age for gorilla viewing is 15 years – this is for reasons of safety but also for possible disease transmission, with children under this age more prone to infection.
Maximum proximity to gorillas is 7 metres (22 feet). It is not permitted to approach more closely and we typically view the animals at 10-15m (32-50 feet).
Maximum viewing duration of any group is 1 hour per day.
Maximum number of guests per gorilla tracking excursion is 4, plus a guide and local tracker for a maximum group size of six.
Guests that display cold, flu or other respiratory tract symptoms will not be allowed to track gorillas.
No food or drinks can be consumed close to on the gorillas but guides will carry water and snacks for rest breaks. Smoking is not allowed. Hand washing facilities are provided at Ngaga Camp prior to gorilla tracking.
While gorilla sightings and encounters are very reliable, viewing is dependent on variables such as weather and tracking conditions.
Every group of guests will have two opportunities to track gorillas; although every effort will be made to successfully track them, gorilla viewing is not guaranteed.