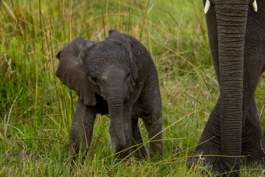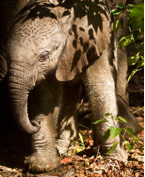 Naledi taking her first steps under Kiti's watchful eye 
December 2013 – Wilderness Collection's Abu Camp, located in the Okavango Delta, Botswana, is delighted to announce that Kitimetse, a famed member of the Abu herd, gave birth to her second calf on the 27th of November 2013. Her new calf, a female, was born at 1:39am on the most incredible starry night, hence her name, Naledi, meaning 'star' in Setswana.
Kitimetse, better known as Kiti, was found abandoned by her natal herd after being attacked by a crocodile. She was taken to Abu Camp where her wounds were treated and after making a full recovery, Kiti was slowly introduced to the rest of the herd. Her name means "I am lost" in Setswana and her estimated year of birth is 1996. Her first calf was Lorato, born in February 2008.
"We were thrilled with the news that Kiti was pregnant and have been waiting with anticipation for the birth of Naledi. Both mom and calf are extremely healthy and Naledi is settling in well. We look forward to the hours of enjoyment and fascination that she will give our guests who, by visiting Abu Camp, are given the rare opportunity to interact with a family group of elephants in one of Africa's best wilderness areas", said Wellington Jana, Abu Camp's Elephant Manager.
The whole premise on which Abu Camp is based is that of elephant conservation and its strategy is therefore based on the research of key issues impacting the conservation of southern Africa's elephants. Abu's elephant programme is supervised by Dr Mike Chase, Director of Elephants Without Borders and San Diego Zoo Post-Doctoral Research Fellow, together with the support of Wild Horizons – a company with a long history in highly ethical elephant husbandry and welfare systems. It is one of the most progressive elephant reintroduction projects in the world and is devoted to the highest standards in elephant welfare, scientific research and meaningful guest experiences.
The Abu herd offers an incomparable opportunity to intimately engage and physically interact with elephants through varied activities. Shortly after arriving at camp, guests will be personally introduced to the herd, with the activities that follow over the remainder of their stay offering an all-encompassing and satisfying experience in the world of the elephant. Activities include walking with the herd, elephant-back safaris and participating in or just observing activities such as the elephants mud bathing, swimming or just moving and feeding through their natural habitat.
Abu Camp:
http://www.africa-discovery.com/botswana_safaris/okavango/abu_camp.shtml