About Africa Discovery
About Cindi LaRaia: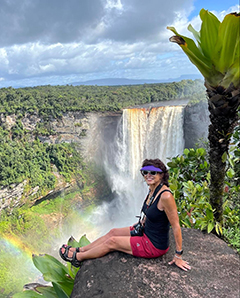 Cindi LaRaia has been designing and crafting high quality travel experiences for guests for over 30 years. She is a true wild child traveling with friends and family since she was 16 years old, planning all the travel, logistics and tours.
With an unquenchable thirst for adventure, she followed her passion and founded Dive Discovery Travel in 1991 specializing in only the finest scuba diving around the world, while also offering unique and special land adventure and culture excursions to compliment the diving. She then expanded her focus and founded Africa Discovery Travel 5 years later.
Cindi has travelled extensively to all 7 continents, and 15 African countries several times over escorting her guests, always in pursuit of the perfect holiday. Her greatest joy is to spend time with guests exploring far flung places that touch the soul! Asia and Africa are among her favourites.
As an expedition guide, Cindi's smile and easy going manner help to smooth the way traveling around the world. When traveling to 'off the beaten path countries', you never know what situation you will be confronted with. Rest assured, Cindi's 30 years of professional travel experience coupled with a "whatever it takes" attitude and perceptive eye for detail will help insure each unique adventure goes off without a hitch and with minimal surprises.