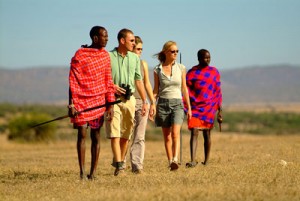 Africa Discovery is proud to announce:
Porini Mara Camp Awarded Gold Eco-Rating !
Gamewatchers Safaris & Porini Safari Camps are proud to announce that Porini Mara Camp has been awarded a Gold Eco-rating by Ecotourism Kenya. Only eight Gold ratings have been awarded throughout the country – two of which are now held by Porini Amboseli Camp and Porini Mara Camp.

The Eco-rating Scheme is a sustainable tourism initiative that awards qualifying accommodation a Bronze, Silver or Gold certificate based on their performance. The criteria cover environmental and socio-economic issues and emphasis is given to sustainable use of resources, protection of the environment and support to local economies.

The Gold Eco-rating is an indicator that a property has achieved "outstanding, superior and replicable levels of excellence" in responsible resource use, environmental conservation and socio-economic investment.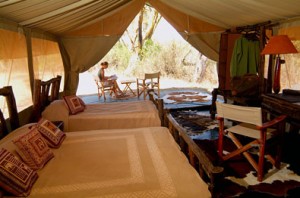 The small and exclusive Porini Mara Camp is the only permanent camp located within the 17,600 acre Ol Kinyei Conservancy which belongs to a Maasai community who set aside the land for the purposes of wildlife conservation. This was the first true wildlife conservancy in the Mara, established in 2005 where the area was set aside exclusively for wildlife by the Maasai. They voluntarily moved their homesteads and cattle out of the area and lease payments are made to the 171 individual landowners so they are now seeing real and significant benefits from wildlife. In addition to the lease payments and community projects over 95% of the camp and conservancy staff are from the community. In 2012 the income paid to the community by Porini Camp was over Kshs 20 million (Approx $230,000). The Conservancy itself won the award for 'Community Conservancy of the Year 2012' in the Eco-Warrior Awards.
Located within the Serengeti-Mara eco-system, Ol Kinyei is renowned for its unspoilt and breathtaking scenery with diverse terrain of open savannah plains, rolling hills, streams and rivers and is home to a wide variety of animal species. There is a resident lion pride of over 20 animals and several leopards have their territories within the Conservancy. Cheetahs are frequently seen and large numbers of giraffe are seen as well as Cape buffalo and elephants.
Porini Mara Camp's 2013 special offers now include:
Stay 3 nights for the price of 2 at Porini Safari Camps
Free Night / Savings at Nairobi Tented Camp
Special Offers for the Wildebeest Migration (Kenya and / or Tanzania)
Low-Cost Adventure Camping
10% Disount at Porini Safari Camps
Cindi LaRaia