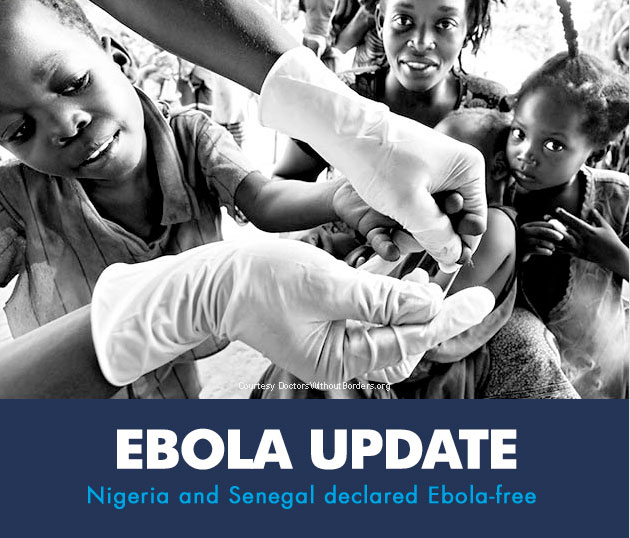 Nigeria and Senegal will imminently be declared Ebola-free countries after the 42 day window period without any new cases recently passed. This is good news indeed, and proof that the Ebola virus has not spread any further in Africa, aside from the three affected West African countries of Sierra Leone, Guinea and Liberia. The fact that Nigeria and Senegal share borders with the affected countries is further testament to the successful containment of the virus.
The rest of Africa, including East and Southern Africa, has not registered any case of Ebola in this outbreak and arrivals from infected countries are carefully monitored, or in the case of Botswana and South Africa, disallowed.
Here is a summary of Southern Africa's Ebola free status:
Botswana
Ebola cases: No reported cases of Ebola
Travel restrictions: Botswana has banned travellers from Sierra Leone, Liberia, Guinea, Nigeria and DRC.
Botswana's Health Deputy Permanent Secretary, Shenaaz El-Halabi, said during a recent media briefing that Botswana is screening all arrivals from West Africa and that the country has implemented travel restrictions for visitors from the four affected countries. These measures are part of a new comprehensive Preparedness Plan.
Travel incidents: The African Travel and Tourism Association reported that US tourists were refused entry into Botswana because they had arrived from Lagos, Nigeria.
Distance from Ebola outbreak: 5 300km
Mozambique
Ebola cases: No reported cases of Ebola
Travel restrictions: There are no travel bans in place.
Mozambique has drawn up a questionnaire that will be asked of all passengers who have come from, or passed through, the West African countries where Ebola has been reported (Guinea, Liberia, Sierra Leone and Nigeria).
Distance from Ebola outbreak: 5 900km
South Africa
Ebola cases: No reported cases of Ebola
Travel restrictions: South Africa has issued a travel ban for all non-citizens travelling from Guinea, Liberia and Sierra Leone in an attempt to prevent the spread of Ebola into South Africa. Non-citizens will only be allowed into South Africa when travelling from these high-risk countries if the entry into the country is considered 'absolutely essential'.
The South African Department of Health has issued a travel advisory against all but essential travel to Liberia, Guinea or Sierra Leone.
Distance from Ebola outbreak: 5 500km
Zambia
Ebola cases: No reported cases of Ebola
Travel restrictions: Zambia has issued contradictory information on whether or not it has closed its borders for travellers from Ebola-affected countries.
Health Minister Joseph Kasonde said Zambia has not banned entry into the country for individuals coming from Ebola hit countries, but has issued a travel advisory. He said a travel advisory is not a ban but a travel advice restricting not only nationals of the affected countries but anyone traveling from the affected countries into Zambia. He said anyone suspected of having contracted the Ebola virus would be quarantined.
A statement posted on the Ministry of Health website on Saturday said Zambia would restrict entry of travellers from countries affected by the Ebola virus and would ban Zambians from travelling to those countries.
"All delegates from any of the countries affected by Ebola virus disease are restricted from entering Zambia until further notice," the statement reads.
Distance from Ebola outbreak: 5 000km
Zimbabwe
Ebola cases: No reported cases of Ebola
Travel restrictions: Zimbabwe is 'closely monitoring' all travellers from Nigeria, Sierra Leone, Guinea and Liberia. Health ports have been set up at all the border posts. Port health officer are reportedly interviewing people coming from Ebola zones and examining them for possible symptoms. They are then referred to the hospital for tests.
The government has advised against travel to affected countries.
Distance from Ebola outbreak: 5 350km
For more information, contact Africa Discovery at:
1 800 886-7321, (415) 444-5100
or Email us