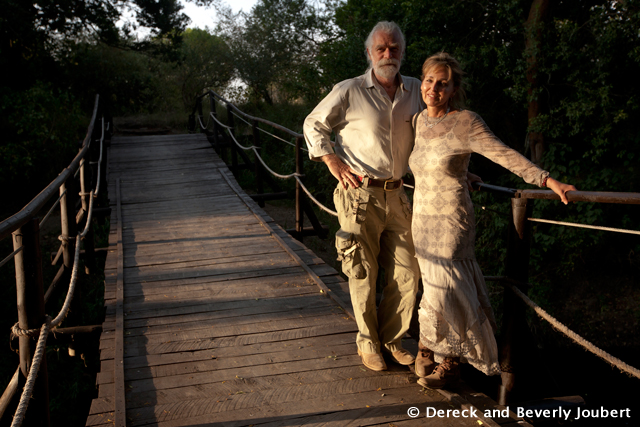 Jouberts win Outstanding Achievement Award at Jackson Hole Wildlife Film Festival
"Stop the Killing, Stop the Trade and Stop the Market," said Dereck and Beverly Joubert, National Geographic Explorers–in–Residence, filmmakers and conservationists, in their powerful keynote speech at the Jackson Hole Wildlife Film Festival, September 26th. Ironically the day that 81 elephants were poisoned by poachers with cyanide in Zimbabwe was the day that the Jouberts were recognized with the Outstanding Achievement Award at the Festival — past honorees include, Dr. Richard Leakey, Dr. Jane Goodall and Sir David Attenborough.
The Jouberts said in their keynote speech, "Poaching today has reached epidemic proportions and the same individuals who deal in drugs, slavery and arms are also dealing in ivory and rhino horn. And they are not playing by any rules. There is a $27 billion a year trade in illegal animals and animal parts out of Africa so unless we are in a position to fight that with real money, we will lose. When we lose, elephants, lions and rhinos lose. When they lose, communities in Africa lose, Everyone loses. This is a declaration of war against poaching and a call to action to everyone. We are about to record the 700th rhino poached this year alone. Unless we are making conservation films at this time we are wasting our voice. This is when we are most needed to drive home messages of conservation to the world. The area that natural history filmmakers can play a role is in stopping the market. Our films collectively reach billions of people, that opportunity is completely wasted by producing television fluff and broadcasting meaningless TV fodder."
"National Geographic has to be commended on many levels, but notably when we came to them with our concerns they backed the establishment of the Big Cats Initiative which now has over 44 projects in 18 countries and given away over $1m in grants. It's shocking that people still say that lions could not go extinct, but they have already gone extinct in 26 countries, and only 7 have populations of over 1,000."
Dereck and Beverly Joubert have celebrated nature and wildlife in documentaries, books, scientific journals, photographs and magazine articles for 30 years. Earning them seven Emmys, a Peabody, and a Grand Teton Award at Jackson Hole. Their work was featured on CBS 60 Minutes last year.
"Wildlife filmmaking has changed over the three decades we have been involved. It's time for filmmakers to develop into conservationists and not be afraid of advocacy. We are starting a new conversation movement and a film company, both based in China, because this is where our voices need to be heard, this is where the largest consumption of lion bone, rhino horn and elephant ivory is, and without those three species, African wildlife will collapse" they say.
The Jouberts, from Botswana, are building a new model for conservation as partners in Great Plains Conservation, a collection of safari properties in Botswana and Kenya that acquires hunting or threatened land and converts it to conservation. Striking a balance of conservation, community and commerce, Great Plains Conservation saves endangered habitats in Africa through its low–impact tourism and compassionate management and presently has around 1,000,000 acres under management.
Dereck & Beverly Joubert will debut their new film, Game of Lions during Nat Geo WILD's highest rated week, Big Cat Week premiering this November on Nat Geo WILD in the USA initially. According to Dereck Joubert there are 20,000 lions left on Earth. Only 3,500 of those are males. Although they are born at a 50/50 ratio, by the time they reach maturity, only one in eight male lions survive. The Jouberts take an unflinching look at what happens to the rest in this spirited, moving and heartbreaking film.
For more information:
Great Plains Conservation – www.greatplainsconservation.com
Dereck and Beverly Joubert – www Wildlifefilms.co
Jackson Hole Wildlife Film Festival – www.Jhfestival.org