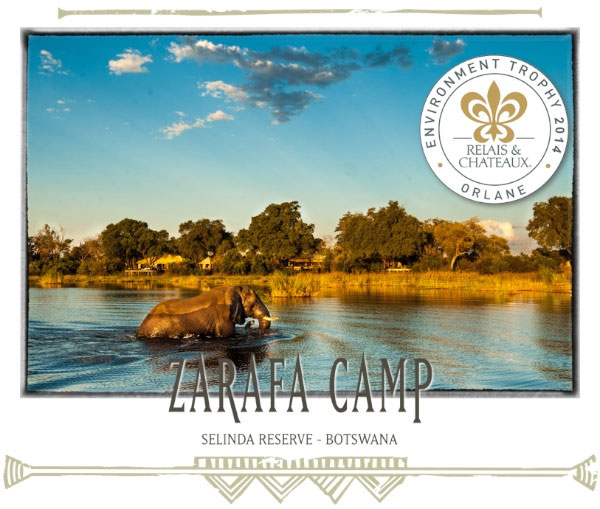 Zarafa wins Relais & Châteaux Environment Trophy 2014

Great Plains Conservation's Zarafa Camp wins the coveted Relais & Châteaux Environment Trophy 2014 for its deep commitment to sustainable operations. This coming in its first year of membership of the association. Collecting the trophy from sponsor, Mme. Giraudi of Orlane Paris, were founders and creators of Zarafa Camp and Great Plains Conservation, Dereck and Beverly Joubert.
"In the creation of Zarafa Camp, Dereck has respected and preserved the natural state of an immense wildlife reservoir in the depths of Botswana. The property is completely self–sustaining thanks to 170 solar panels, recycled woods, a biogas plant and extensive and innovative grey water recycling. It is definitely a daily challenge but a great success story!" says Relais & Châteaux. "Great Plains Conservation has taken special measures to comply with environmental protection, concrete engagement in the field of sustainable development and positive relationships with clients."
Chosen from Relais & Châteaux's entire hotel line–up of 465 properties in 50 countries, Zarafa Camp was a standout winner for the Environment Trophy. Described as follows by Relais & Châteaux: "Zarafa [Camp] is in the 320,000 acre Selinda Reserve of northern Botswana, and is a very low environmental impact camp with unique luxury facilities. With just four huge 110 square metre tents, the Relais & Châteaux board was captivated the minute they walked in. Sustainable building materials and ecological operations combine with authentic period furniture to create a discerning safari ambience and refinement, set in a private Reserve with thousands of elephants, buffalo and hippo, with prides of lions, leopards and rare wild dogs. This paradise is second–to–none. Guests can choose from day and night game drives, catch–and–release fly fishing, use of the pontoon boat, canoeing and walking safaris."
As Great Plains Conservation and Relais & Châteaux move forward together, each will continue to harmonise environmentally friendly experiences with the finest hospitality. Great Plains Conservation stewards over one million acres of extraordinary conservation land in Kenya and Botswana, and its Relais & Châteaux properties embody the heart and soul of its destinations.