Ultimate Safaris believes in providing great opportunities for families to come on safari. Our positive approach means that we allocate a specialist guide to family safaris who is trained and caring, and who can help to inspire children to learn and love the wilderness.
Those families who choose to book a 'Family Safari' have their own private vehicle and their own guide who will look after them from the start to the end of their Namibian safari, and automatically qualify for our GUIDED IN TRAINING program.
The program varies for each family and is based partly on the ages, sex, and interests of the children. Our guide's aim is to not only keep the children entertained but also to ensure that they learn about what they get to see. Generally, activities include mammal, bird and plant identification as well as learning about night sounds and tracking some of the smaller creatures such as lizards and beetles. For family safaris, we also choose to stay in camps/lodges/hotels where staff are accustomed to children and also happy to involve the children in duties where possible – and they are often found helping to prepare snacks in the kitchen with the chefs (NOTE: this is obviously subject to the particular camps/lodges/hotels used). In essence, the children are either busy or asleep, and always happy – and busy children ultimately mean a relaxing holiday for their parents!
Family safaris are not in any way lesser or 'watered down' safaris; they still offer great areas, top guides and excellent experiences, but with the high degree of flexibility that families often need.
View program:  Ultimate Namibia Safari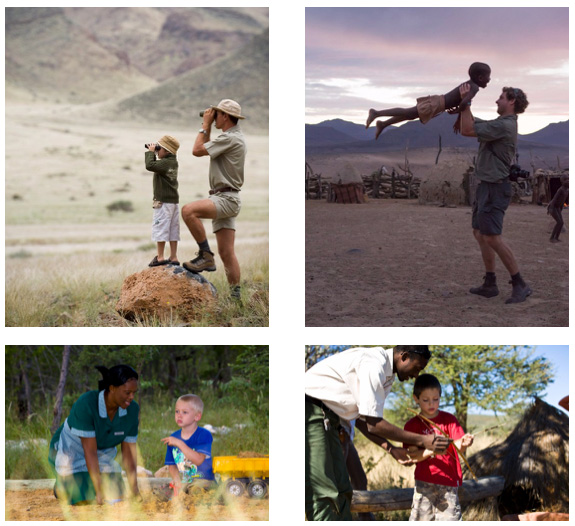 Contact us @ Africa Discovery:
1 800 886-7321, (415) 444-5100
or Email us