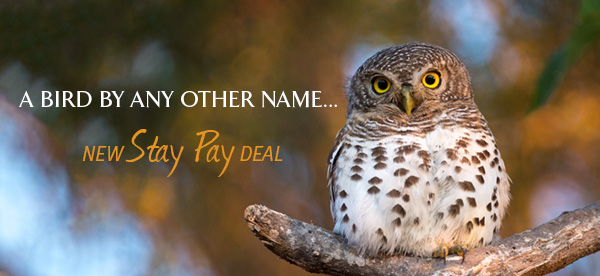 Our very popular Early Bird rewards long lead time bookings over the green season with substantial discounts.
This suits the 'early birds' but not the spontaneous migrants.
We're excited to add to this by introducing a NEW Stay Pay deal that allows everyone to catch the worm:
Between 1 November 2017 and 31 March 2018,
a Free Night on us gives you  6 nights for the price of 5!
Valid for any combination of the following camps:
Botswana: Abu, DumaTau, Jacana, Jao, Kings Pool, Little Tubu, Seba, Savuti, Tubu Tree, Xigera
Zambia: Busanga Bush Camp, Shumba, Toka Leya
Zimbabwe: Davison's, Little Makalolo, Linkwasha

Terms and Conditions:
Minimum 6 nights.
Excludes the festive season period from 20 December 2017 to 10 January 2018.
May not be used in conjunction with any other special.
Non-participating camps may not be used to make up the minimum number of nights.
Standard Wilderness Safaris Terms & Conditions apply.
Contact us @ Africa Discovery:
1 800 886-7321, (415) 444-5100
or Email us