African Stand Up Paddling (SUP) Journeys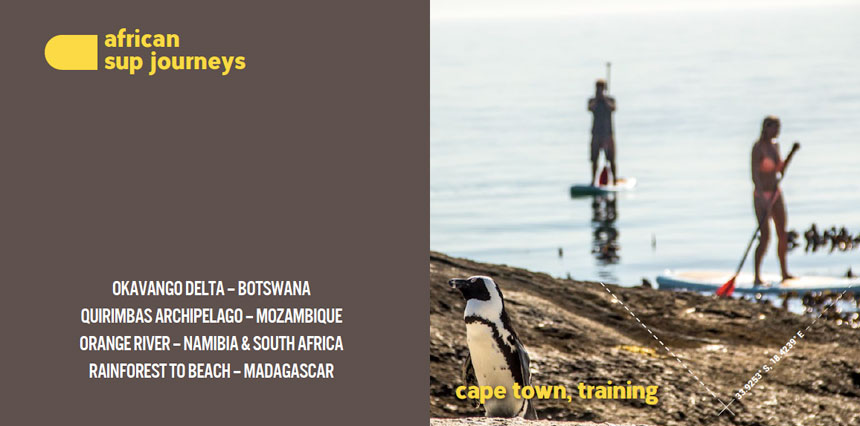 PRE-TRIP TRAINING – ONE&ONLY CAPE TOWN (3 NIGHTS)
A journey of contrasts each of our SUP Journeys begins at the One&Only in cosmopolitan Cape Town's V&A Waterfront canals. Spend three days in the world's most beautiful city, taking in some unique SUP training including paddling with penguins on the Cape Peninsula and between breathtaking wine farms on the Breede River.
OKAVANGO DELTA – BOTSWANA
Setting out from the Bayei People's community concession in the heart of the Delta. Spend three days paddling flanked by expert local Mokoro guides, and the nights fly camping on the Delta islands. This extraordinary safari brings together the traditional Mokoros with the modern SUP for the first time, offering you a unique perspective of the Delta usually reserved for the Mokoro Polars themselves. End in style with a helicopter transfer direct from our SUP base camp to one of the Delta's luxury lodges.
QUIRIMBAS ARCHIPELAGO – MOZAMBIQUE
Set sail from the historic Ibo Island on a traditional dhow to explore the islands of the Quirimbas spend the next 3 days sailing and paddling between islands snorkel off deserted white sand banks, paddle up wide coastal river mouths, teeming with red-listed bird species and bursting with pristine mangrove forests. Each evening sleeping in mobile eco-fly camps on uninhabited tropical islands. End in style arriving by dhow for a few days at one of Africa's most remote and luxurious Indian Ocean lodges.
ORANGE RIVER – NAMIBIA & SOUTH AFRICA
The Orange River cuts through the Richtersveld desert reserve and is part of the Transfrontier Transformation Parks separating South African from Namibia. The remoteness of the Orange River combined with the surrounding mountains and endless night skies make this one of our most scenic paddles, suitable for beginners and experts alike. Mobile camps are set up each evening on the rivers banks by our crew as you enjoy 3 days following the river through this remote and forgotten land.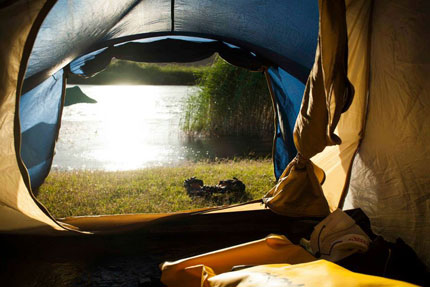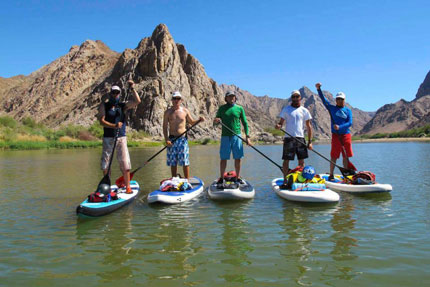 RAINFOREST TO BEACH – MADAGASCAR
Setting out from the rainforest follow rivers and paddle across lakes before reaching the remote white beaches of Manafiafy beach and rainforest lodge. Expect to be greeted by various species of Lemur as you paddle through the untouched flora of this protected rainforest. On reaching the crystal clear blue waters of the Indian Ocean relax into lodge life with plenty of opportunity for adventure with whale watching by day and lemar spotting by night all from the unique vantage point of your SUP.
SUP JOURNEY INFO
Each of our journeys embrace the local communities we are paddling through. Each expedition combines local guides using mostly local modes of transport with our own expert adventure guides and support crew. Our team is headed by Chris Bertish who holds numerous SUP World firsts and records and a collection of Africa's top adventure guides. We visit remote area's with mobile camps being set up in advance gourmet camp fire meals prepared under the stars.
JOURNEY
DATES
NO. DAYS EXPEDITION
PADDLING DISTANCE
NO. DAYS FULL ITINERARY
SUP SKILL
OKAVANGO DELTA
APR-NOV
4
25 Miles
10
MEDIUM
Fly direct from Cape Town to Maun (2 hours). 3 hour transfer to the heart of the delta. First night at mobile base camp, 2 nights fly camping on delta islands, last night at mobile base camp. Helicopter transfer to luxury delta lodge to continue safari.
MOZAMBIQUE
OCT-DEC
5
25 Miles
11
NOVICE
Fly Cape Town via Johannesburg to Pemba for a short flight to Ibo Island. 1 night at historic Ibo Island Lodge. 4 nights island hopping staying in 2 different mobile camps. Dhow transfer for 3 nights at luxury Azura Quilalea Island Lodge.
ORANGE RIVER
OCT-APR
3
38 Miles (River Assisted)
6
NOVICE
Private Charter from Cape Town to nearby airstrip. First and last night at base camp, 2 nights fly camping on river bank. Option to fly back or take a 2 or 3 day guided road trip back to Cape Town or via Namibia's iconic Sossusvlei Sand dunes enroute to Windhoek.
MADAGASCAR
OCT-APR
4
26 Miles (River Assisted)
11
MEDIUM
Flight to Antananarivo (Tana) Airport. Overnight Tana. Morning flight to Fort Dauphin overnight in hotel, 3 nights mobile Camping, 4 nights relaxing at Manafiafy beach and rainforest lodge, Final night in Tana visiting Lema Park.