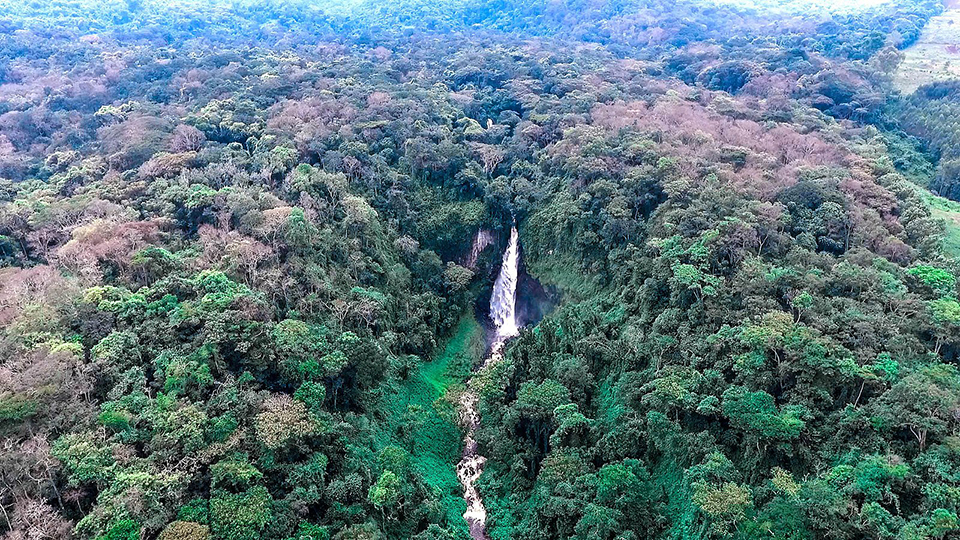 Waterfall in Kahuzi-Biega National Park, Democratic Republic of the Congo. (Forest Service photo by Roni Ziade)
Democratic Republic of the Congo (DRC)
Kahuzi-Biega National Park
The Kahuzi-Biega National Parkis a protected area situated East of the Democratic Republic of Congo, 50 kilometers West of Bukavu town, near Lake Kivu and the Rwandan border. The park is named after two dormant volcanoes, Mount Kahuzi and Mount Biega which are part of the Mitumba mountains chain. The park is a UNESCO World Heritage site, inscribed in 1980 for its unique biodiversity of rainforest habitat and its eastern lowland gorillas.
The Kahuzi-Biega National Park (KBNP) is one of the most biodiverse protected areas in the eastern Democratic Republic of Congo (DRC), hosting the single largest remaining population of the endemic and critically endangered Grauer's gorillas.
Mount Nyiragongo
Mount Nyiragongo is an active stratovolcano with an elevation of 3,470 metres (11,380 ft) in the Virunga Mountains associated with the Albertine Rift. It is located inside Virunga National Park, in the Democratic Republic of the Congo, about 20 km (12 mi) north of the town of Goma and Lake Kivu and just west of the border with Rwanda. The main crater is about two kilometres wide and usually contains a lava lake. The crater presently has two distinct cooled lava benches within the crater walls – one at about 3,175 m (10,417 ft) and a lower one at about 2,975 m (9,760 ft).
Nyiragongo's lava lake has at times been the most voluminous known lava lake in recent history. The depth of the lava lake varies considerably. A maximum elevation of the lava lake was recorded at about 3,250 m (10,660 ft) prior to the January 1977 eruption – a lake depth of about 600 m (2,000 ft). A recent very low elevation of the lava lake was recorded at about 2,700 m (8,900 ft). Nyiragongo and nearby Nyamuragira are together responsible for 40% of Africa's historical volcanic eruptions.
From Wikipedia, the free encyclopedia
Virunga National Park
The Virunga National Park (French: Parc National des Virunga), formerly named Albert National Park, is a 7,800-square-kilometre (3,000 sq mi) National Park that stretches from the Virunga Mountains in the south, to the Rwenzori Mountains in the north, in the eastern Democratic Republic of the Congo, bordering Volcanoes National Park in Rwanda and Rwenzori Mountains National Park and Queen Elizabeth National Park in Uganda.
The park was established in 1925 as Africa's first national park and is a UNESCO-designated World Heritage Site since 1979. In recent years, poaching and the Congo Civil War have seriously damaged its wildlife population. The park is managed by the Congolese National Park Authorities, the Institut Congolais pour la Conservation de la Nature (ICCN) and its partner the Virunga Foundation, formerly known as the Africa Conservation Fund (UK). The current park director since 2008 is the Belgian Prince Emmanuel de Merode.
From Wikipedia, the free encyclopedia