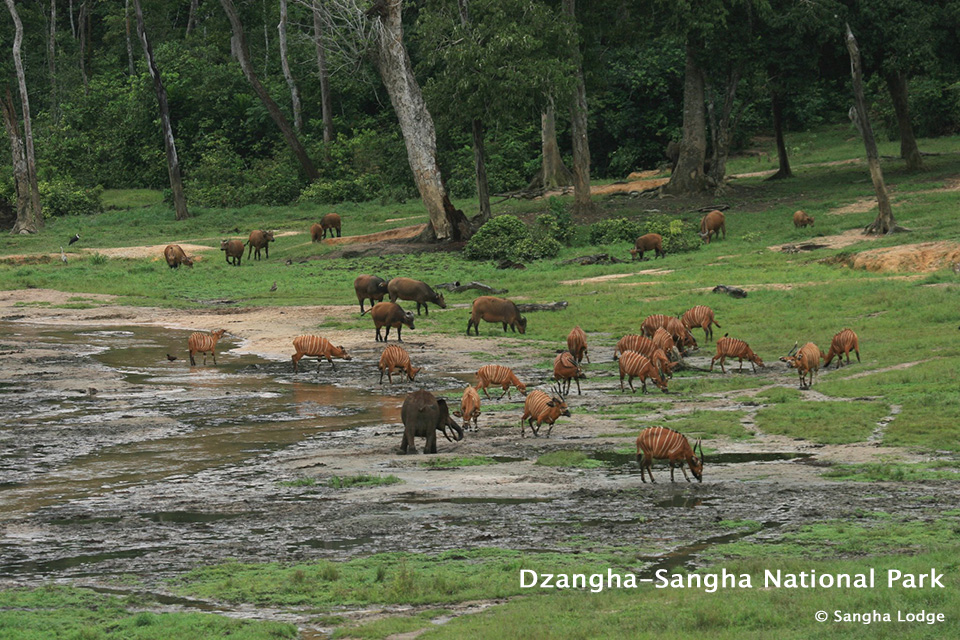 Central African Republic
Dzangha-Sangha National Park
A host of great wildlife is the main attraction of the Dzanga Sangha National Park. These include Forest Elephants, Western Lowland Gorillas, Chimpanzees, several species of monkeys, Forest Buffalos, Bongos, Giant Forest Hog, Red River Hog, and a number of smaller antelopes. While the birds, butterflies, and dragonflies add to the amazing spectacle that makes the rainforest special. The rivers contain 3 species of crocodile, and some impressive fish species, including Goliath Tiger Fish.
Information and all photos courtesy of Sangha Lodge
View our client's feedback below:
Hi Cindi
I am happy to report that everything went well. The overall experience was exceptional and will rank as one of my best out-of-the-way safari memories. There were the usual challenges of operating in such a remote and underdeveloped place but none worth dwelling on.
I thought the lodge was simple but wonderful and I would not want to change anything about it other than perhaps providing a bit more power so they could run fans in the heat of the day. Rod and Tam are wonderful hosts and Rod's expertise combined with his passion for the place is an important part of what makes it special. I sense it is quite a challenge to keep the place going and I really hope they get more business.
As for the animals, I knew it would be special when we stopped on our drive from airstrip to the lodge to see Tam release back into the forest a pangolin that someone had handed in. We juggled our schedule to fit the weather but saw everything. We had two very good gorilla treks to separate groups with wonderful close encounters, but my absolute favourite excursion, which we did twice, was to the Dzanga Bai. It is a magical clearing in the forest with never fewer than twenty, and up to seventy, forest elephants there at a time. It was lovely to spend a whole day with them from the viewing platform on the forest edge. We were all keen to see bongo but nervous because they had not been seen recently. We saw over forty on both visits. We even glimpsed an unhabituated silverback gorilla on one of our walks into the bai. Bird life was also very interesting (even for a non birder like me) and Richard Turner did well at this. A highlight was seeing a couple of the rare pithacartes on a hike to a jungle waterfall.
I hope you can tell from the above that I am a happy customer! I also hope you can find and organise this for other clients.
Thank you again for all your help in getting me there and all the best.
-- Neil Mules
Sangha Lodge, Central African Republic Trip, March 2017