Client Feedback
Hello! We are leaving Madrid today headed home.
Morocco was absolutely amazing! Loved the camp! We were the only guests there... we had the Sahara and it's camels to ourselves 😂 All of the other accommodations were fantastic as well! And OMG the High Atlas experience... sooooo cool and Himalayan feeling. Of course the food was insane... I ate my weight in olives I'm sure!
Our guide, Morad and drive Abdul could not have been better and would love for their agency to hear that. They went above and beyond continuously and were so on their game!✨👍✨
Thank you so much lady for putting together yet another fabulous adventure! Can't wait for the next one😍
Rachel H.
Morocco, June 2023
****
Review of Seychelles:
From our meeting at the airport through the drop off at the end of our trip we felt well taken care of. Blue Safari was terrific. Any question we had were answered and all our requests were promptly fulfilled. Both our time in Mahe and on Alphonse were top notch. Alphonse is known for its fishing but the diving was remarkable. The day before we arrived and due to some cold upwellings from the deep, the first oceanic manta to be spotted in the outer islands was seen. The day after we arrived…we filmed the second one. What a thrill. Endemic species include the Seychelles anemone fish and the Tawny nurse shark. We also saw pink whip tail rays, white mangrove rays, marble rays and a variety of eels, leaf scorpion fish and robust ghost pipe fish.
The resort staff was very accommodating and the dive staff safety oriented due to our remote location. The dive staff was great at finding us blue water and calm seas around the island. We experienced groups of 3 or less so the dives were customized to our experience level and preferences. We also took advantage of the spa for massages. Their main masseuse was great but the trainee the second time was not quite as good. The food was of very good quality and they made sure to let my husband know at each meal if there were any worries for his peanut allergy. Our bungalow was perfect for the two of us and we frequently enjoyed chilling on the beach chairs and watching baby sea turtles coming up for air in the lagoon. We will definitely be back for a future visit.
Melissa J.
Alphonse Island, Seychelles, February 2023
****
Details of Morocco:
We loved Marrakech, the markets, the square-especially at night, it's magical. It exceeded our expectations. Villa des Orangiers was luxurious, room was huge, food great. We felt like rich royalty there.
Fes- overall, my favorite City. The market/ souk/shops - a labyrinth. We needed our guide or we'd still be there, wandering around. A sensory overload. And the hotel- Riad La Maison Blue- was our favorite lodging, just pure luxury and opulence. I'd go back just to stay there. We ate dinner there twice, food was gourmet. Wow.
The desert and White Camel- we very much enjoyed, but one night wasn't enough. If I had it to do over, I'd add 3 days and go way south. The camel ride- touristy but We had a blast. Lodgings a little spare- Shower was pretty basic, bed was okay.
Chefchaouen is the most beautiful, unique city I've ever seen. I'm so glad we went. The Dar Jasmine Riad was just gorgeous, but over 130 steps up and down made it challenging, especially because it rained. And my arthritis flared up. I made it though!
Rabat- Casablanca- both big cities, but we got to see and understand the complicated history of the country, which is situated in such an important part of the world. The Euphoriad in Rabat was fine, but not as special as the place in Fes.
Finally, as to our guide, Naima Azougarh, who was exceptional. Wonderful, outgoing, good English, warm personality. She is one of a few female guides in Morocco, and we learned so much from her. History, art, culture, food- one of my favorite parts of the trip- Naima knew and was so enthusiastic to share with us. We really enjoyed being with her and felt taken care of and safe. Please let the company know, she is a keeper.
The driver, Ahmed, was fine but not much personality and rarely said much.
We had two wonderful trips this year that you put together for us, Morocco and earlier, Namibia/Zimbabwe. Your careful planning really paid off and we appreciate it. Next spring we look forward to Peru and Bolivia.
Have a great holiday weekend.
Always, Linda and Terry
Morocco, November 2022
****
Hi Cindi!
We had an amazing time. Such a fun itinerary and we wouldn't have changed a thing! We are home safe and bored that there isn't giraffes and rhinos running around everywhere.
Thanks again!
-- Megan
South Africa, September 2022
****
Hi Cindi
What can I say But that everything was fabulous!!!! Yes the Peech was the cutest and the people were wonderful So friendly and helpful.!!! The area was beautiful. The first time we stayed we went to dinner at Mandala Square and ate ate the Butchery on their recommendation they dropped us of and picked us up. The second time we just stayed there and had dinner.
Tswalu was lovely and the special Dinner !!!!!!! Well what can I say! What a surprise for sure.The weather was coldddd and rainy but we bundled up and did it all!!!! All the people in Tswalu also were great.
Sabi well another Story what a place...the food was wonderful, the chefs there outdid them selves with our keto needs up to bread and raspberry muffins before our morning drive!!
Jacis was Quaint and the area was beautiful Our guide Bianca was the best!!! We enjoyed every minute of our drives. Even had a Close encounter with two white Rinos when we went on our nature walk that was a little scary to say the least!!! But got back to our Jeep safely thanks to Bianca.
Enjoyed our Morning Coffee with Amarullo we needed it!!
So what can I say but THANK YOU So Very Much for another Wonderful adventure that we will all remember for ever and ever!!!!!! We will speak soon.
Many HUGS!!!!
-- Gloria
South Africa, June 2022
****
"The camps were fabulous - amazingly upscale with amenities- comfortable beds, toiletries, turn down each night; and the food - beyond our expectations - the chefs were exceptional - we never had a bad or not so good meal. Good thing we walked or we would have put on several kilos!
Congo needs tourists - yes it's expensive but a great bucket trip for the more adventurous. And SAFE.
Thank you for all your help with the trip and patience answering questions."
-- Nancy and John
Congo, January 2020
****
Dear Cindi,
I had an extraordinary experience at Mana Pools. I arrived just as the sun was setting at Mana Expeditions. It took my breath away. If paradise exists then this must be what it looks like. The sky was alight in intense shades of red, purple, pink, orange, yellow, blue, and grey reflecting off the Zambezi River. The lush emerald green mountains of Zambia in the background. On the islands, elephants, impala and waterbuck were drinking. The sounds of the birds and hippo hovering in the air. Neither words nor photos can capture the beauty and magic of that evening.
My guide, Henri, shared his knowledge and love of the bush with me - the animals, the plants and the land. Each morning we left camp to explore not knowing what we would discover that day, but knowing that whatever it was, it would be extraordinary. Being able to walk in the bush let's you feel how alive it is. You learn that everything has a purpose and relationship in the struggle for survival. On one of our walks, we came across a lioness and her three cubs! How can I explain how incredible that feels? I am not going to try. I told Henri I wanted to see wild dogs as it had been years since I had last seen them. Henri loves wild dogs (he was in the David Attenborough documentary about wild dogs). Unfortunately the wild dogs did not return until the morning I was leaving, but perhaps next time we will meet!
Canoeing with hippos and crocodiles - amazing!!! (Cloud, my canoeing guide, was fantastic!)
The service at the camp was exceptional and exceeded my expectations. Sebastoen, the host, knew what I liked to drink (red wine and soda water); he knew I dislike mango; and he knew how I like my coffee! I could see that Chef Reuben prepared each meal with care and attention - they were all delicious and beautiful! On the day I left, they prepared a bagged lunch for me. I was so appreciative, as otherwise I would not have had anything to eat. All of the staff provided excellent service. What made it really stand out is that they did so genuinely and made me feel at home.
I would be remiss if I did not also commend the staff at Somalisa Expeditions. This was my second time there and just as wonderful as the first! Gloria remembered me from last year. Taffy, my guide, was wonderful! He taught me about the animals and plants we saw. We had an amazing experience to be able to see Humba and Netsai with the lionesses and their cubs! It was perfect! Seeing roan and sable was a highlight also. Phindy was a wonderful and charming hostess. It was a pleasure to spend time and share meals with Taffy and Phindy.
Africa captured my heart the first time I went when I was young and it has never let go.
Thank you very much to the staff at Africa Bush Camps, the staff at Somalisa Expeditions and Mana Expeditions, and to you for making this possible!
Warmly,
-- OL
Zimbabwe - Somalisa Expeditions & Mana Pools, November 2019
****
Hi Cindi,
The trip was absolutely magical, and I can see why people fall in love with Botswana...and Africa in general. I loved the camps; they each had their own special qualities. I especially loved Camp Xakanaxa--the rustic charm, the guides and staff, and the intimacy of the camp. I felt strong emotions when we left! Camp Okavango could be the cover photo for Travel and Leisure. Camp Savuti was amazing with the abundance of wildlife spread over the landscape, right out of National Geographic.
I don't think we would have had the same intimate experience of seeing/sharing wildlife, meeting people from around the world, and getting to know the staff if we had done the typical tour with a group from the U.S. When I saw large groups together at various points always talking to each other, I realized this was one of the best attributes of our trip.
The rest of the trip was magical as well--each segment from Vic Falls to Durban, Capetown, and Franschhoek. I'm not sure if Kristi told you we river rafted down the Zambezi in Vic Falls. I fell out on a class 5 rapid, but fared better than the other boat which flipped, with the guide falling out first. We were lucky to raft in high water, rather than the low water rapids.
Again, thank you so much for your expertise and planning. And, if you ever need an ambassador for your trips, I'm available!
-- Lyndi Beale
Botswana Trip, May 2017
****
Ditto on what Lyndi said. Furthermore, regarding the guides, they were amazing - so highly educated about the habitat and animals and so innately in tuned with their senses (sight, hearing, etc.). I can't believe how they can spot the smallest details - a tiny baby crocodile lying behind reeds while speeding by in a boat, or a leopard peering around a termite mound in the distance, despite driving and the noise of the jeep. We definitely connected on a personal level with some of the staff, including discussions about music, politics, and even plastic surgery (the guide was hysterical in his reaction to learning what some people do!). I gave CDs of my boyfriend's band, zydeco flames, to folks at the camps and they were super enthused and one even invited me to watch Botswana traditional dance videos on the computer following that exchange -- so we def connected personally. The staff sang each night and in a couple of case did special performances.
The Botanka Lodge was also fab. even though it was on the outskirts - but quiet, and walking distance for active folks. Lovely rooms, landscape and the food and staff was exceptional. Recommend the Look Out Cafe to everyone and The Boma for dinner and entertainment. Very touristy but fun and the buffet was fab.
I took thousands of pics, and have only culled through half of them. Lots of deletions but some super shots that I'm very pleased with. We will share the slide show when done...will be a while.
If you would like to use our replies for a testimonial feel free of if you have clients that want to hear about our experience, we are available (at least I am). And if you need an assistant tour guide, I too, am available!
So glad we signed on with you!
Sincerely,
-- Kristie Beale
Botswana Trip, May 2017
****
Hi Cindi
I am happy to report that everything went well. The overall experience was exceptional and will rank as one of my best out-of-the-way safari memories. There were the usual challenges of operating in such a remote and underdeveloped place but none worth dwelling on.
I thought the lodge was simple but wonderful and I would not want to change anything about it other than perhaps providing a bit more power so they could run fans in the heat of the day. Rod and Tam are wonderful hosts and Rod's expertise combined with his passion for the place is an important part of what makes it special. I sense it is quite a challenge to keep the place going and I really hope they get more business.
As for the animals, I knew it would be special when we stopped on our drive from airstrip to the lodge to see Tam release back into the forest a pangolin that someone had handed in. We juggled our schedule to fit the weather but saw everything. We had two very good gorilla treks to separate groups with wonderful close encounters, but my absolute favourite excursion, which we did twice, was to the Dzanga Bai. It is a magical clearing in the forest with never fewer than twenty, and up to seventy, forest elephants there at a time. It was lovely to spend a whole day with them from the viewing platform on the forest edge. We were all keen to see bongo but nervous because they had not been seen recently. We saw over forty on both visits. We even glimpsed an unhabituated silverback gorilla on one of our walks into the bai. Bird life was also very interesting (even for a non birder like me) and Richard Turner did well at this. A highlight was seeing a couple of the rare pithacartes on a hike to a jungle waterfall.
I hope you can tell from the above that I am a happy customer! I also hope you can find and organise this for other clients.
Thank you again for all your help in getting me there and all the best.
-- Neil Mules
Sangha Lodge, Central African Republic Trip, March 2017
****
Oh Cindi!!!!
It was soooo perfect!!! I loved Tanda Tula! Yes we saw all of the big 5 plus much more. The service at Tanda Tula was the best! The guide (Civilized) was very knowledgeable and professional.
Vic Falls was beautiful and very much worth seeing. The helicopter ride was exciting and the view of the falls gorgeous. The sunset cruise was fun and we did see many hippos. The Elephant trek was interesting. I bought "Jakes" footprint to frame as a reminder of the experience! He was a 30+ year old bull elephant. David dropped his sun glasses while on the ride and Jake was able to pick them up with his trunk and give them to his handler. Amazing!!!
Capetown is a beautiful city and our private driver (Shatique) was perfect and very knowledgeable. The winelands tour was fun and the landscape beautiful. David bought a helicopter ride (he was a helicopter pilot in Vietnam) and couldn't stop smiling after. The Cape of Good Hope tour was interesting with stops at Seal Island, the Penguin Reserve and the Botanical Garden was great. Then of course Table Mountain with its breathing taking view was spectacular. We were not able to get to Robben Island due to high winds and waves but we did visit the museum in Capetown.
The people of Africa are such happy agreeable people and so ready to make sure that we enjoyed every aspect of their country. I understand why you feel like you do about Africa and rightly so.
All in all it was a wonderful experience. I can't thank you enough for your help with our anniversary trip of a lifetime. I will be most definitely be recommending your company to my future Africa clients.
-- Sharon Sinclair
Victoria Falls & South Africa Trip, September 2016
****
Hi Cindi,
Our trip was wonderful. I love the bush!
Got to see bait balls on the last day of our sardine run. They were small and we scared the dolphins off when we rushed over there. Didn't really get to see the underwater action. Buts saw lots of whales, dolphins, and bait. Loved Debby and Rob. They made us feel like part of the family.
Didn't see breaching great whites. Saw the splash. Didn't get in the cage. We were still waterlogged from 4 days of wet wet suit during sardine run. Saw a 16 footer from boat and several others. Did see some predations from the surface. One of the sharks missed and the seal kept jumping back towards the shark. Shark couldn't turn fast enough and seal got away. Hooray for the underdog. Amazing.
The bush. LAAAA. We saw the big 5 and much more. I loved Tanda Tulu. So friendly and made us feel amazingly comfortable. On our last day at Arathusa we saw 5 female lions take down a cape buffalo. Gruesome and awesome. Took a long time. Got to see lion cubs and leopard cubs. I could go on and on.
Also stopped by the cheetah rescue/breeding program not far from Tanda Tulu. It was wonderful. They have king cheetahs, wild dogs, ostriches, baby rhinos and so much more. If your clients really want to see a cheetah, it's not far away, it's inexpensive, and so worth it.
Thanks for booking us on such an amazing trip. Everything went smoothly. Didn't even have a delayed flight.
-- Therese Tomasic
South Africa Trip, June 2016
****
Hi Cindi,
What an amazing trip..it was wonderful, we had a great time. Gary took over 1,000 photos and we have some terrific memories! Everything went very smoothly and was perfect, thanks so much for all your efforts to make sure we had a great vacation. I especially loved the uniqueness of every place we went. People in Zimbabwe and Botswana were so very nice and caring, the landscape was just breathtaking and peaceful..it is just so expansive, and the animals and birds.....!!!
Thanks again for everything! I can see that it took a lot of coordination to get all the pieces together.
Regards,
-- Alayne
Botswana & Zimbabwe Trip, June 2016
****
Well I just don't know where to start - it was all just so awesome and exceeded all my greatest expectations!!! All our accommodation was fabulous and so unique in every location. I loved getting up and going to the next camp because it was always a surprise.
The staff at all the locations were top notch as was the food. The guides were so knowledgeable and really made the Safari trips special. We saw so many animals up close and personal.. All the big five but the buffalo. Lots of cats!!
You really put together a perfect itinerary and the length of time was perfect. You are right in says that we will need to go back. So many more places to go that will all be unique I'm sure.
Thanks for all your hard work on our trip of a lifetime!!
-- Audrey N
****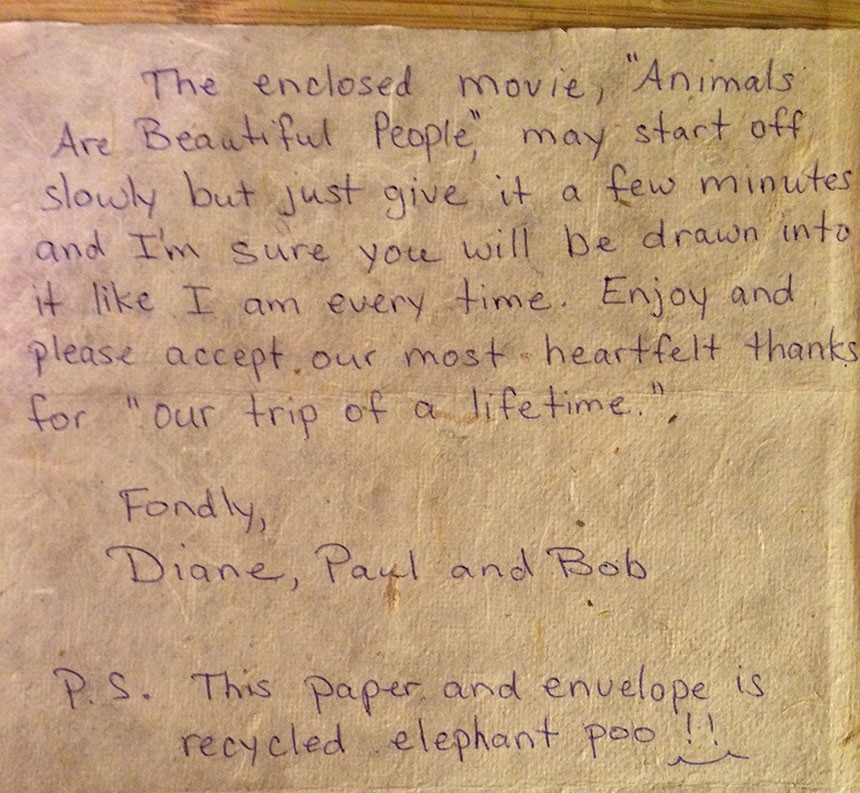 -- Diane Clemmenson
****
Africa was fantastic. We praised you many times for the perfect planning and organization of our trip. Ran like clock work. The accommodations and Camps were all wonderful. Every one different and unique. The guides were fantastic and the service at the camps was so kind and thoughtful in every way. We were all surprised on how delicious and fresh the food was. But was tough to be hungry for all the meals.
Our game viewing was also incredible. Along with the big 5 we saw the rare African dogs, a Honey Badger, Leopards and Chitas. Could not ask for anything more.
We went to the wine area and to the Cape to see the pengiuns. Also we hiked up Table Mountain.
We met many people who started in Capetown then went to Safari. Loved that we did it last as we could shop and not worry about not being able to take it all on the plane home.
Thank you for all your excellent planning for us.
Thank you
-- Janice M
****
Loved, Loved, loved it! That was the trip of a lifetime! Thank you for working magic with all of the details! Everything was so perfect! The train ride was a wonderful unexpected addition. The camps and guides were delightful. The food? Yes, ate too much! Yummy!
Our Guide took us touring to the wine country, hiking Table Mountain and the Kirstenbosch garden and the Penguins. He was a delightful young man.
Thank you again!
-- Linda Wiles
****
I traveled to the Republic of Congo, which was booked through Cindi LaRaia and Dive Discovery Travel - Africa Discovery Travel, in February 2015, staying at the Wilderness camps.
I have traveled to Cameroon, DRC, Rwanda, Uganda and Gabon trekking Gorillas, so I have some experience from which to compare the Congo. I have also been to 25 countries in Africa and understand both the rough side of staying there and the luxurious side. The camps were simply incredible, clean and comfortable - some of the best in all of my African travels. The food incredible - very fine quality and lots of it. The animal sightings were good. Considering the fact that there are habituated lowland gorillas in the area, one is almost guaranteed to see them while there. Guides and services couldn't have been better and the terrain of each camp unique.
-- Don Pinson
****
Everything was awesome. Can't thank you enough for all of your hard and thorough work. Lion Sands was spectacular, Thonga was so nice and relaxing, and Cape Town at the Clarendon was fabulous.
Saw tons of wildlife, penguins, seals, whales, turtles and dolphins. Squeezed in Table Mountain and Robben island. Even won a few rand at the casino in Johannesburg.
Thanks again for everything.
-- Dan LeBlond
****
Madagascar land excursions
© Bob Pecoraro
My wife and I just returned from an awesome three week trip to Madagascar. Personal drivers and guides expertly escorted us through this magnificent country, every step of the way. We toured the city of Antananarivo, saw the Baobab Trees of Morondava, the dry forests of Kirindy, the limestone pinnacles of Tsingy, the rainforest of Andasibe and we went diving in the pristine waters off Nosy Be.
The wildlife we witnessed was impressive. We saw numerous species of Lemurs and Chameleons, several species of snakes, lizards and frogs as well as many native bird species. I even got to swim with a curious Minke Whale and get up close and personal with a Fossa, Madagascar's top predator.
With all that we did and saw, we merely scratched the surface of what this unique place has to offer. I certainly see us coming back in the future to explore other areas of this huge island. Thanks again Cindi for another fantastic journey!
-- Bob Pecoraro
Madagascar Trip, October 2014
****
My wife and I just returned from a wonderful trip to Madagascar organized by Cindi at Dive Discovery & Africa Discovery Travel.
We were met at the Tana airport by our driver, who stayed with us our entire trip and became a good friend.
During our trip we visited 4 amazing parks, where we saw about 20 different types of lemurs and over 60 bird species.
Our accommodations were really exceptional considering the state of the country.
We had a perfect trip in a very interesting country.
-- Jim & Patty C
Madagascar Trip, October 2014
****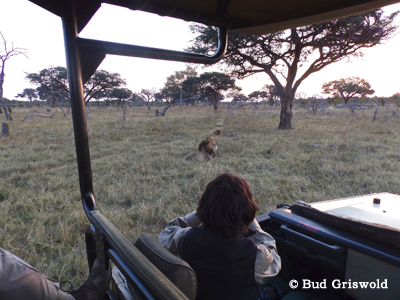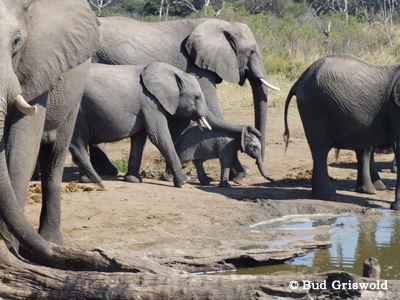 Thanks for arranging a wonderful trip.
-- Bud Griswold & Mary Gessner
Best of Zimbawe and Botswana, May 12-25 2014
****

I thought this would be our last Africa trip, but now I'm not so sure. It sure stays in my mind, heart and dreams. We'll see.
Thanks again for being such an integral part of creating our two Africa experiences. When you are buried in paperwork and schedules and long distance negotiations, remember that what you create on a daily basis are some of the most joyful experiences in people's lives. You should be very proud of what you do. Standing ovation from me. On we go....
-- Jean Gallagher
Best of Zimbawe and Botswana, May 12-25 2014
****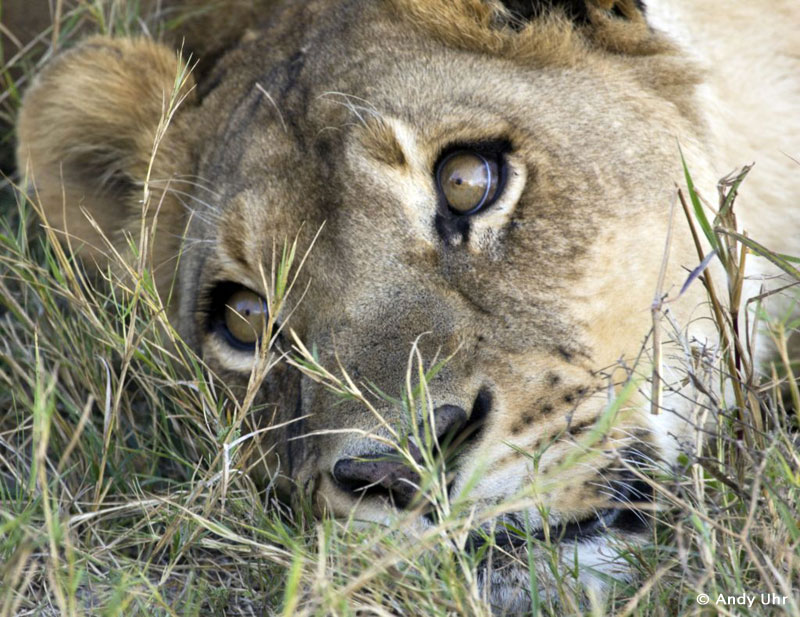 Lions roaring and hippos snorting throughout the night. Walking to breakfast following the foot prints of elephants that had ventured into camp the night before. Lions, a leopard, a cheetah, elephants and water buffaloes by the hundreds, giraffes by the score, and antelopes of all kinds beyond count. Let's no forget the ostriches, hippos, crocodiles and a multitude of birdlife. And then there was our time in Cape Town! What a wonderful experience and something we will remember forever. Great food, guides, accommodations, and transportation all arranged expertly and without flaw by Africa Discovery. Our thanks to Cindi and her team!
-- Lee Bray and Andy Uhr
Best of Zimbawe and Botswana, May 12-25 2014
****
Thanks for helping us put together this trip! We had a truly wonderful trip --
All of the camps - Ngoma, Elephant, and Somalisa were phenomenal, each different, and for me Somalisa was the standout highlight. All of the guides we interacted with were fantastic with a special affinity for Bevan at Ngoma, Vusa at Elephant camp, and Raymond at Somalisa.
The Queen Victoria hotel in Cape Town was great. We did discover a fantastic walking tour of Cape Town by a woman named Ursula, who leads out of the tourist info office downtown daily at 11 am -- we truly enjoyed the tour (2.5 hrs).
Take care and have a nice weekend,
-- Patrick
April of 2014
****
What a great adventure and experience. Every part beat my expectations. Wonderful people, unbelievable places, animals and culture! The guides were over the top in expertise!
Thanks,
-- Bill
****
We miss the safari drives (the African massage), the magnificent wildlife and the warm hospitality at the camps. We think we had THE best guides/trackers. The food was tasty and imaginative. Having the right clothes for the COLD mornings helped a lot. And also a good new camera for the many photo moments. Only the Cheetah kept eluding us.
Yes, electronics hated the dust (the old kindle died and an old point & shoot camera acted funny). Now we are working on a slide and video show for our friends & relatives. We very much want to share our Great Adventure with them. We are seriously considering giving some money to one of the Wilderness Adventure funds and also to a local school in Zambia. We were truly moved.
We are very grateful that you offered this itinerary. Each day was so very exciting and different.
Many thanks again!!!
-- Gary & Gisela Peasley
****
Thanks to you, all of our connections worked smoothly.
We could not find a flaw in your planning. Each Safari lodge offered a slightly experience. Toka Leya beautiful view of the Zambezi river, very friendly staff, great trip to the Falls. We took a side trip to Botswana which was great. Hippos elephants and birds galore. Had to pay an extra $50.00 to get back. Varty Camp fabulous accommodations and the ranger Jessica was spectacular. We had a private dinner with her and her significant other Duncan on the last night. Very special.
Tonda Tula was more laid back and we were closer to the animals especially leopard and lions. Cape Town was great our guided tour with Ilios was well done and always prompt.
We will remember this trip for many years to come. Once again, many thanks for a job well done.
Wildly yours,
-- Marilyn and Larry Gill
****
One word = WOW !!
I just wanted to personally tell you that we had a GREAT trip and you did a GREAT job planning it!!!
Right from the start at the Arusha Coffee House to the finish at Singita, it was perfect !! The whole trip exceeded my expectations plus some.
Our guide Edwin was so knowledgeable and personable. It was great to be the only ones in the vehicle with him for 6 days. He taught us so much and showed us everything. He made it his mission to make sure we saw everything and were comfortable. Even driving between lodges he would explain the towns we went thru, the Massai Indians lifestyle, etc. At the time we had to say Good bye I was so emotional (totally caught me off guard) that I could barely speak.
Again I loved every spot we stayed at and if I had to pick my favorite… I couldn't as each one was special in its own way. You picked the perfect itinerary for us. Also it was the perfect time of year to go – not busy at any of the parks to fight to see the animals, had Crater lodge to ourselves one night, weather was perfect, low attendance at all lodges, our own guide, etc.
Some highlites for me:
Tree Lodge was sooo cool !! From the atmosphere to the service to food it was great.
I had seen picnic lunches on the websites and never dreamed we would experience that – we had 3 picnic lunches which was awesome.
The Lemala tents were such an adventure – I felt like I was really experiencing Africa and the bush and loved every moment. The hot showers, the campfires before dinner, the guys trying so hard to speak good English and serve us good cooked food. I will never forget the hot water bottles in our bed at the Crater or the morning of my birthday sitting outside of our tent at Serengeti with delicious hot coffee watching the sun rise with zebras. Also at the Serengeti I will never forget the surprise birthday cake with song and dance – so sweet and such a great memory!
Of course the animals were spectacular everywhere but there are too many to mention and too hard to pick my favorite. BTW – the number of animals we saw blew me away !
Singita was very special – service like no level we have ever experienced. The birthday dinner under the stars was very romantic. Then another birthday cake to top off the day. The tent and the whole surroundings was like a movie and I felt like the star. (there was only 1 other guest there for our whole 3 nights)
I could go on and one but I have to get back to work now. Thanks for everything – I will never forget the trip or my 50th birthday. ( I think Ted had as much fun as I did which is so important !!)
We want to go back to Africa again sometime and we will certainly ask you for advice as to where to go next.
Happy Thanksgiving,
-- Perri
****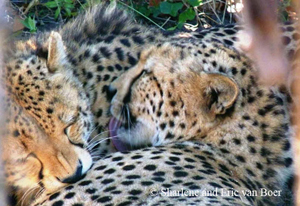 Having been to Africa 5 years ago, I had no idea that a safari with Cindi in Botswana would be the Trip of a Lifetime! Africa is such a special place anyway, but add the energy, fun-loving attitude, and dedication of Cindi as your leader, and your vacation goes way over the top!
I can hardly recommend enough staying at small safari camps in Botswana where you get "up close and personal" with the animals while out in the vehicles and then with the camp staff and fellow travelers around the camp fire at night. We have so many wonderful stories and photographs!
If you ever have the opportunity to take one of Cindi's Africa trips, go for it! I agree totally with one of Cindi's favorite sayings: "Life is not measured by the number of breaths we take, but by the moments that take our breath away."
-- Sharlene and Eric van Boer
Best of Botswana Trip, May 12-24 2010
****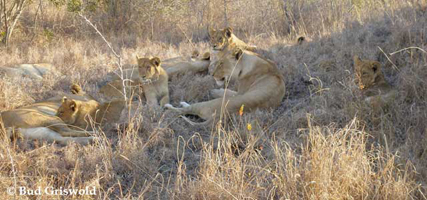 We had traveled with Cindi on several Pacific dive trips, all superb. So we decided to take an Africa trip with her as well which focused on the wildlife and unique desert and savannah habitats of Namibia and South Africa. As is always the case on a "Cindi trip", everything was unique and exciting.
The accommodations and generally local cuisine in the tent camps was outstanding, and one camp was set up so we could experience sleeping outside under the cloudless Southern Cross sky. The many wildlife safaris were all huge successes as we got spoiled the first 24 hours by experiencing very close encounters with the "Big Five". We also experienced lion kills right outside our tent camp, a wonderful early morning hot air balloon ride over the Namib Desert with a kaleidoscope of ever changing color, and tracking fresh rhino sign on foot until fresher lion tracks appeared on top of the rhino tracks. Then it was time to hotfoot it back to the vehicles in quick time!!
A short stay in Capetown was delightful as it is a beautiful city and side trips to the wine country and Cape of Good Hope added to the pleasure. The entire group of people on the trip was wonderful, and new friendships were made by all. We will not hesitate to return on another Africa excursion as soon as our diving schedule with Cindi allows. Unfortunately, that means it may be awhile!!!
-- Bud Griswold & Mary Gessner
South Africa & Namibia Expedition, July 21 – Aug 5 2008
****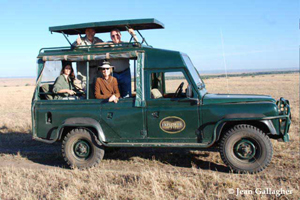 Trip of a lifetime! I had been dreaming of being on the vast Serengeti Plains and photographing African wildlife for many years. Cindi helped me put together an independent itinerary in Kenya and Tanzania that was perfect in every way. Magnificent scenery, awesome animals, delightful accommodations, and excellent guides. Local services shepherded us through all the travel transitions with the greatest of ease. I wholeheartedly recommend her services.
-- Jean Gallagher
****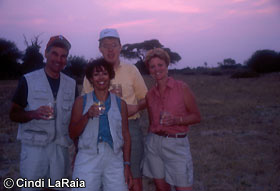 I have been on a few trips to Africa with Dive Discovery that featured Cindi as our personal escort. The first trip was to Madagascar in 1998 and included a few days of diving with Great White sharks in South Africa. The second trip, in 2000, was mostly a safari in Botswana and Zimbabwe, but once again it included a few days for diving with sharks. If you are looking for an exciting and interesting location, Africa is it. You can't really plan for everything you will see. In fact one of the best things about vacations involving wildlife is the unexpected things that do happen. I also felt fortunate to be part of a small group of friendly easy going people in both cases; having Cindi along too was an additional bonus. I think Dive Discovery did a good job planning the trips; these are definitely two of the best vacations I have ever had.
-- John Lloyd
****
Our recent trip to South Africa could not have been better. My wife and I and another couple spent four days diving with great whites, three days in Capetown and four days on safari. The trip was set booked through Cindi LaRaia and her staff at Dive Discovery, who did a wonderful job planning every little detail. Everything from our excellent seats on the plane (That becomes very important when you're spending that much time in the air) to the best accommodations were the result of the years of experience that Dive Discovery has in planning and leading trips to this part of the world and to many other exotic destinations.

Our trip started off great with a stay at Grootbos Nature Preserve, a beautiful lodge with easy access to all the shark action. We then moved on to the Victoria and Alfred Hotel on the gorgeous Capetown waterfront. Our final stop was the Honeyguide tented safari camp on the outskirts of Kruger National Park, a wonderful place from which to base a safari. From the moment we stepped off of the plane to the time we left the country we were guided through our journey by Dive The Big Five, a South African Company which specializes in exotic African vacations. They were with us every step of the way, ensuring that every transfer and connection went smootly. Their friendly and courteous staff made contact with us frequently throughout our stay and even after we returned home to make sure that everything met with our satisfaction.

I cannot emphasize enough how much our entire party enjoyed this vacation. It was probably our best vacation, along with our Galapagos Islands trip from the previous year (also set up by Dive Discovery). We saw over thirty great whites, four of the "Big Five" safari animals (and a few other unusual sightings) and we got a chance to experience the beautiful Capetown scenery. I can't wait until our next adventure with Dive Discovery. Thanks for everything!
-- Bob and Debbie Pecoraro, New York
****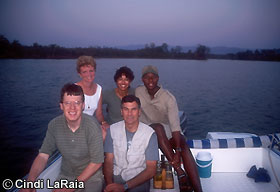 Our combination safari, local touring of Cape Town and Great White Shark cage diving out of Gansbaai was the TOTAL PACKAGE. This was our first trip booked with Dive Discovery but we had met a couple on a Galapagos dive trip that had their arrangements made with Dive Discovery and highly recommended them. When we came back from there we contacted Dive Discovery and they put together one of the best organized trips we have been on.
My wife and I have traveled extensively over the past 15 years and used many companies to make our arrangements. Cindi and her company delivered a first rate trip including everything from airlines schedules to pick ups, connections and even local tours on the lay over days. The in country arrangements were so tightly organized every step of the way, it gave us total confidence that even if a travel hitch developed, which often can, Cindi and her contacts would have been on it before we even knew there might be a problem. I would now take her recommendations without question since she is personally familiar with the trips she books, having blazed the trail and worked all the bugs out. She uses overseas companies that still have good old fashion pride in making sure you have a great time on your adventure holiday.
I can strongly recommend the Great White Shark package she put together for us as a wonderfully diverse trip to South Africa. We may have been extremely lucky but the sharks are REALLY THERE and we had excellent encounters in the 4 days. We are definitely using Dive Discovery for our future adventures and are even working on the next one with Cindi at this time. Our new travel friends were right, " They book a great trip".
-- Nancy Bushnell and Gerry Soifer