West Africa
Tour to Ghana, Togo, Benin: Festivals and Traditions
We at Africa Discovery love culture and tradition. For some of the most unique and traditional cultures still intact today, West Africa is a must see and do.
We suggest twelve days to truly discover these amazing countries, which are among the richest and most interesting of West Africa. From the North, where you meet populations that are almost unknown, to the South where it is possible to find evidence of a colonial past and voodoo celebrations, to the realm of Ashanti, (The Ashanti people live in central Ghana) with the possibility of attending the great traditional festival Akwasidae.
Distinctive traditional cultures, renowned music and arts, highly colorful festivals, mask dances, and an incredibly diversified ethnic assortment are the golden gems of tribal West Africa. Our fantastic cultural journey takes us to the most remote places of Ghana, Togo, and Benin to discover lost tribal worlds guided by ancient spirits. We explore the former Slave Coast, with its haunting European forts before entering the golden Ashanti kingdom in Kumasi. Heading inland through the savannas of northern Ghana, Togo, and Benin, we meet with the Dagomba people; we visit a witch village and discover the Tamberma and their fairytale clay castles which are spectacular examples of a unique style of African architecture. Along the coast, in the heart of the voodoo country, we visit practitioners, watch trance-dances, and learn about the great influence the voodoo spirits still have on their people.
An amazing area to visit for those who have been to many countries in African and enjoy and appreciate the unique traditional culture that still exists in West Africa!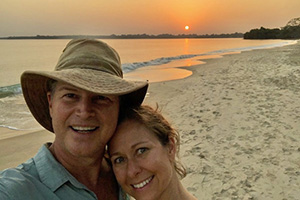 West Africa Trip Reports:
by Brooke Berlin
• Ghana, Togo, Benin Trip Report
• Guinea-Bissau and Senegal Trip Report
Text and photographs are provided through the courtesy of Johann Van Zyl and Brooke Berlin.