Selinda Explorers Camp
Selinda Reserve, Botswana - Adventure 3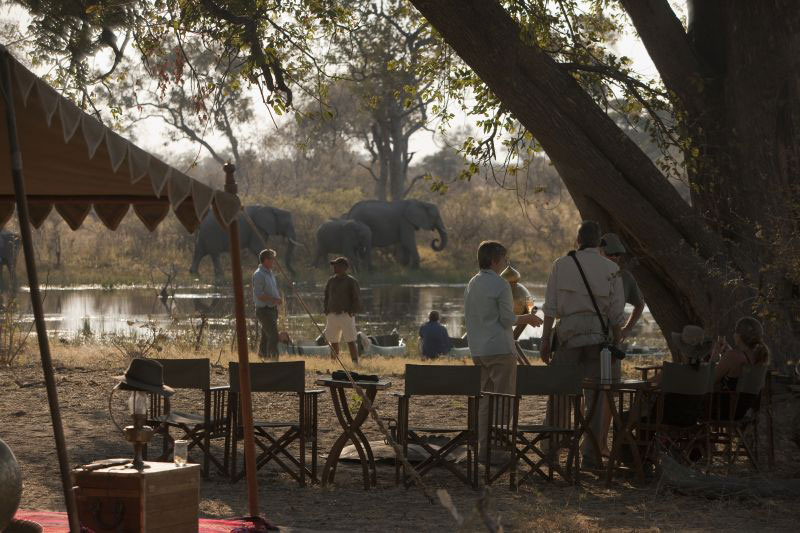 Selinda Explorers Camp is located in the 320,000 acre Selinda Reserve of northern Botswana and is built on the banks of the Selinda Spillway, about one hour west of its sister camp, Selinda. This classic camp, consisting of four custom-designed tents, transports us back to authentic safaris, but with a modern twist and hospitality. Subtly placed under the shade of the riverine forest, the camp is designed in the style of the early explorers both in philosophy and practice. Whiling away afternoons under the canopy of African ebony and Mopane trees, interspersed with walks and canoeing, make this a respite from the 'daily grind' of a traditional safari.
This authentic tented camp draws on traditions of the classic East African safari with beautifully detailed campaign style furniture made from recycled hard woods, and soft furnishings from Zanzibar and the East. The custom-designed semi-permanent tents consist of two rooms plus verandah, as well as a private open air 'bustani bathroom' with hot water bucket showers and flush loo. All tents are at ground level, including the main lounge and dining area. This is an unassuming camp, light on its footprint but heavy on its experiential luxury. The atmosphere of the lodge is one of bush elegance with relaxed bohemian style, complemented by attentive staff, private professional service and fabulous food.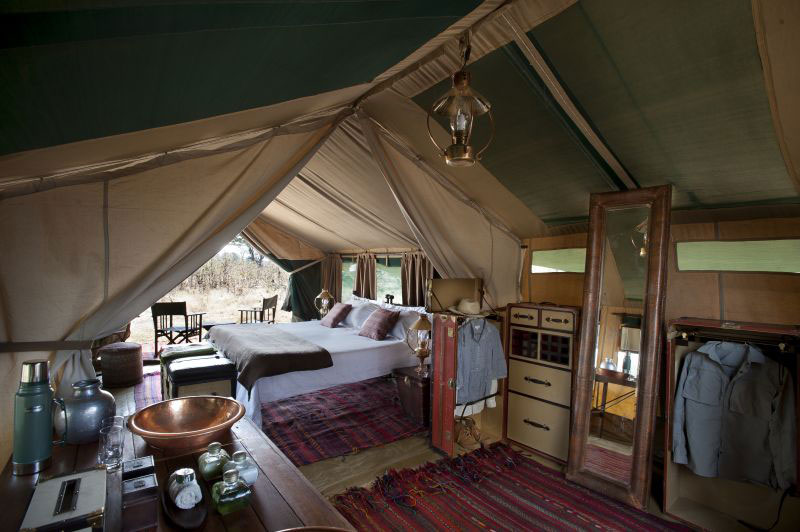 Selinda Explorers Camp is an ideal property for those guests who want to experience Botswana's extraordinary wildlife but in the most private setting. The camp comes with a guide, but also has a guide's tent for an accompanying specialist guide. Our guides will plan the whole itinerary for the duration of their stay for the guests, or in conjunction with the specialist guide. Selinda Explorers Camp is booked on exclusive use only, for up to eight guests. This camp combines beautifully with Zarafa Camp.
Camp sits in prime predator habitat, in a location which we handpicked based on exploring this area for years. Lion, leopard and cheetah and the recently discovered Explorers Pack of African wild dog hunt these parts regularly. Good densities of giraffe, buffalo (in the dry season) and all the antelope – including even roan and sable and recently spotted eland – are possible sightings. At the peak of the dry season in late September, the Selinda Reserve has been documented to hold up to 9,000 elephants. There is phenomenal bird life along the Spillway's banks for those looking for some 'lifers'.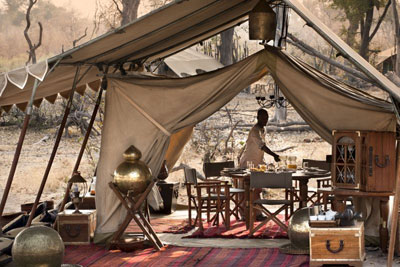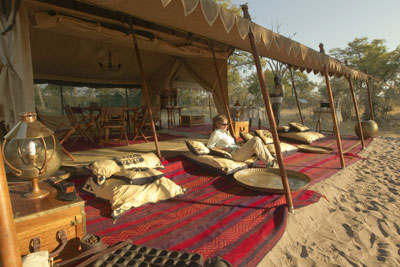 Activities
Selinda Explorers Camp focuses primarily on the traditional safaris of walking and canoeing. All guides are firearm trained and will be armed on walks and canoes. Game drives are offered, both day and night, but are a supplement to other activities as opposed to the emphasis. Rod/reel kit is available for those who want to try their cast in the Spillway. If the cool shade of the canvas and trees simply isn't enough to quell the midday heat, then grab the guide and go for a swim in the refreshing waters of the Spillway.
Photographic Opportunities with Great Plains
We have sourced some of the best photographic rental equipment available form Africa Photographic services and we are proud to offer all our guests the opportunity now of pre-reserving a wide range of camera bodies, lenses and equipment that you can take with you when you come on safari with us to Botswana. We will ensure the equipment you want is delivered to you at Johannesburg International Airport before you depart for Botswana by a Africa Photographic Services representative and when you return, they will collect the equipment from you. All you take with you are great memories and your images on your memory cards supplied with every camera body hired.
Download details [pdf]