Zarafa Dhow Suites
Selinda Reserve, Botswana - Premier 5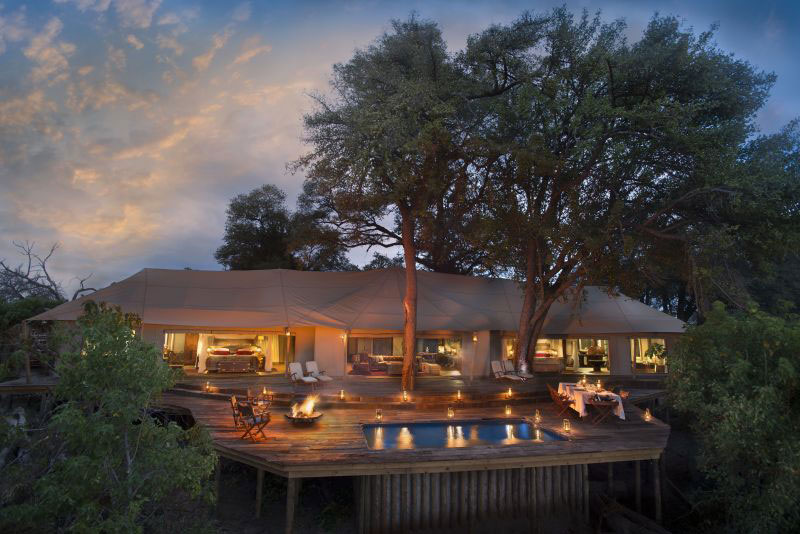 The Zarafa Dhow Suites is an intimate, two room exquisite tented villa located on the 320,000 acre Selinda Reserve in northern Botswana, an area linking the Okavango Delta and the Chobe/Savute corridors. Few properties rival the location of this little gem built entirely under canvas, as one of the largest tents ever built on the continent. The Suites are located adjacent to Zarafa Camp, Botswana's first and only Relais & Chateaux property. Overlooking the crystal waters of Zibadianja Lagoon, the source of the famous Savute Channel, every area of camp has a magnificent view. The lagoon is also the water source for a tremendous population of wildlife – dry season sightings boast buffalo and elephant by the hundreds.
Zarafa Camp is the brainchild of the founders of Great Plains Conservation, who pooled their collective experience on safari to create what they deemed to be the best and most environmentally innovative camp. Zarafa means "the beloved one" or "the lovely one" in Arabic. The name comes from a giraffe, which was presented to Charles X of France in 1826 by the Viceroy of Egypt. She travelled from Africa in a traditional Dhow boat, and it was on this journey that she was given her name reflecting her true elegance and splendor.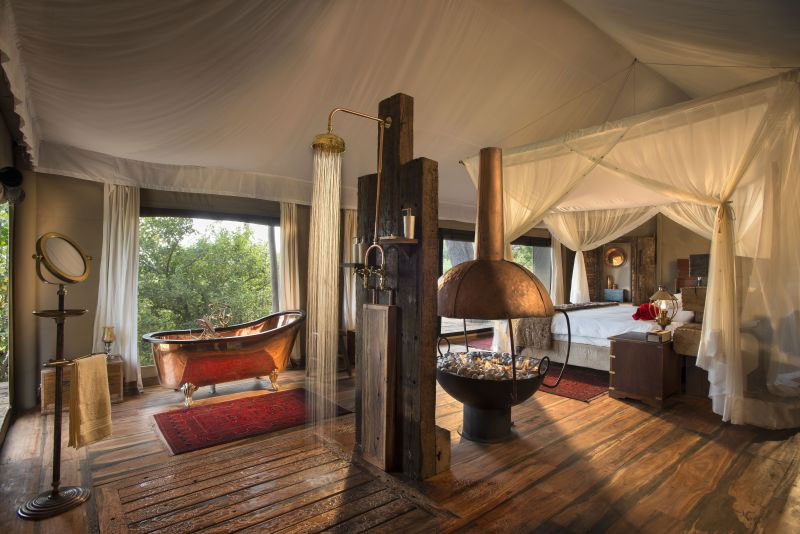 The villa, 210 square metre (2,260 sq ft) in extent, is under beige, flowing canvas, with canopy ceilings and completely open (yet netted) sides. Entering through the heavy wood Lamu door transports guests to a lavish space of deep reds, browns, brass and copper, evoking richness and beauty. Central to the Dhow Suites are a full lounge and dining area fitted dining table, coffee table with cappuccino machines and a full-length leather couch and chairs.
Two large bedrooms are connected to either side of the main area designed with an open layout bathroom with impressive copper claw foot bath, indoor shower, separate loo and double basins and even an open fire, with copper flu, to heat the room in winter.
A large decking area fronts onto the suites with a 5 x 2.5 metre swimming pool, exercise bike and full-body outdoor showers for each room, all with views of pristine Botswana wilderness.
The adjoining main camp has a curio shop for those who need retail therapy and an in-room massage is also available.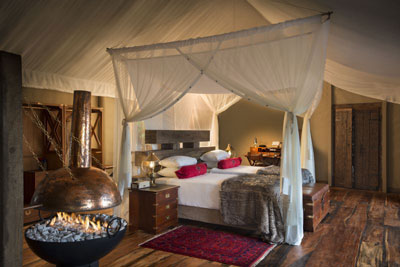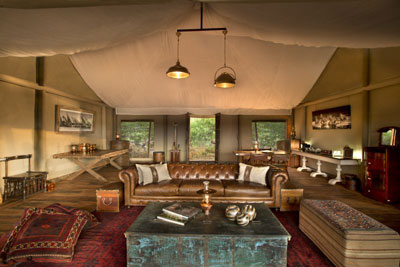 Selinda Reserve, at the crossroads of some of northern Botswana's most prolific wildlife areas, boasts staggering wildlife populations year-round. Home to some of the classic species, such as leopard, lion, elephant, buffalo, Red lechwe, zebra and giraffe, it is also a refuge for some of the more uncommon species such as African wild dog (which usually den each dry season near camp), cheetah, roan and sable. And for birders, it will not disappoint. Our nearby African skimmer colony is a highlight, as are the antics of the Black egret on the shores of Zibadianja Lagoon. From the Dhow Suites, hippos are visible in the Lagoon and elephant wander through regularly. Night noises will either lull you to sleep or wake you from a deep slumber. It is an exciting area, and guests are in the heart of a wilderness wonderland.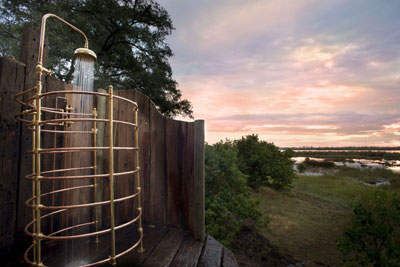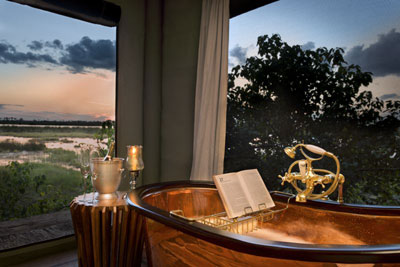 Activities
The Dhow Suites offer complete flexibility with your own private guide and vehicle. Drives do focus on the most comfortable and productive times of day, early morning and late afternoon, but full day drives are also quite common at a guest's request. Picnic brunch can be delivered, and the vehicles are stocked with cold drinks. There is a custom built Land Cruiser specially designed for our conditions and photography (fold-down screens and raised roofs) with four individual bucket seats.
The HES Zib, Zarafa's special pontoon boat, is an utterly unique experience and available to all guests. The 275 sq. foot deck is complete with couches, a dining area and bar where guests can comfortably enjoy a floating brunch or sundowners while watching hippos and elephants in the water. It is also an exceptional platform for birding. Fishing equipment is available for those who want to try their luck catching the local bream. Walks can also be arranged and are led by licensed guides with firearm training. For stargazers, the Suites come with its own Swarovski telescope for use on the private deck.
Photographic Opportunities with Great Plains
We have sourced some of the best photographic rental equipment available form Africa Photographic services and we are proud to offer all our guests the opportunity now of pre-reserving a wide range of camera bodies, lenses and equipment that you can take with you when you come on safari with us to Botswana. We will ensure the equipment you want is delivered to you at Johannesburg International Airport before you depart for Botswana by a Africa Photographic Services representative and when you return, they will collect the equipment from you. All you take with you are great memories and your images on your memory cards supplied with every camera body hired.
Download details [pdf]