Mboko Camp
Odzala-Koukoua National Park, Republic of the Congo (Brazzaville) - Eco Camp 4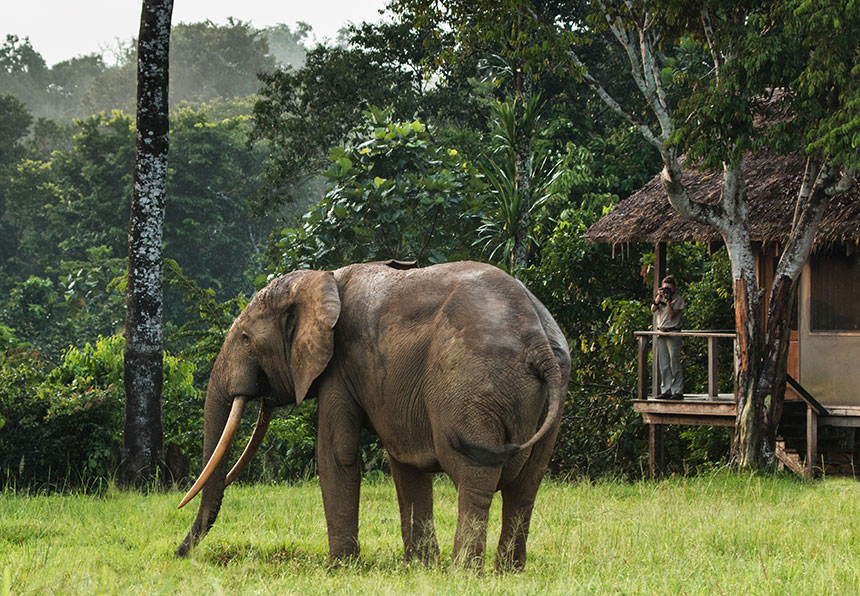 Our largest Camp, Mboko's 12 guest rooms extend along the banks of a free-flowing tributary of the Lekoli River. Situated in an area of lush meadow-like savannah, frequented by forest buffalo, forest elephant and spotted hyaena, Mboko gives a sense of the scale of Odzala while also allowing you to focus on some of the smaller details: flowers and butterflies (depending on the season) can be seen in profusion. Mboko Camp, offers visitors breath-taking views of the interface between the tropical rainforest and grassland savannah where hundreds of towering termite mounds help create an otherworldly experience.
Mboko provides you with spectacular star-viewing opportunities before you fall asleep to the sounds of life-giving water flowing to meet the Congo River, and also offers access to nearby villages on the fringes of the Park, where you can met and interact with local people.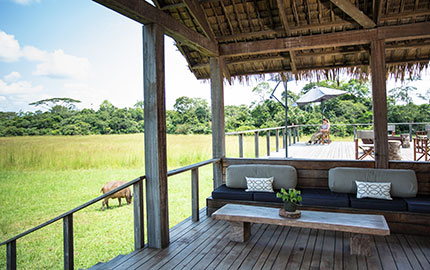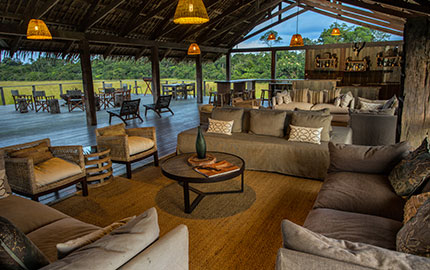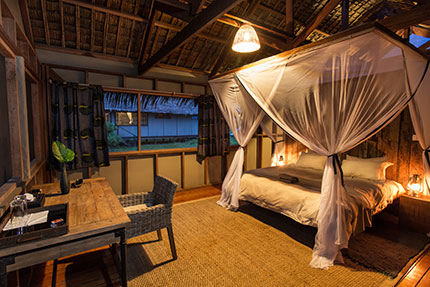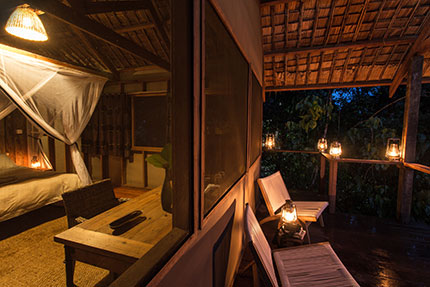 Game Viewing
Forest Buffalo and Elephant are common visitors to Mboko Camp. You can often catch Forest Buffalo having breakfast in the morning mist of the savannah. In the evening look out into the darkness in search for fireflies. At night, use your torch and see if you can catch a spotted hyaena in action. These are in additional to Colobus Monkey, Grey Parrot and Bock sightings.
Activities
Many activities at Lango and Mboko are a combination of driving and / or walking and boating. This is to give you access to the most productive and beautiful areas of the Concession, and the best possible wildlife viewing once there.
Exploring the bai and associated swampy open areas, the Lekoli River and surrounding savannah and forest areas
Spot wildlife from the Camp: Forest Buffalo and Harnessed Bushbuck are regular visitors to the bai
Enjoy the antics of resident Guereza colobus monkeys
Walk (and wade) the (Lango) bai and savannah
Adventure trails along the edges of forested areas give insights into the arboreal world
Drift silently down the Lekoli River, watching out for primates, birds and forest elephant on the banks
Spot dwarf crocodiles, forest ducks and kingfishers – and maybe even a hippo
Look out for hyaena, aardvark, and serval on savannah game drives by day and night
Enjoy a chorus of strangely melodious forest sounds after dark