Bale & Simien Mountains Wildlife Tour, 9 Days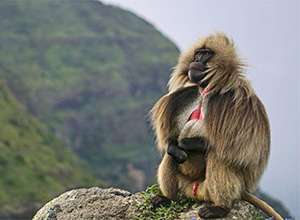 Duration: 9 days
Area: Bale & Simien Mountains
Style: exploration
Comfort Level: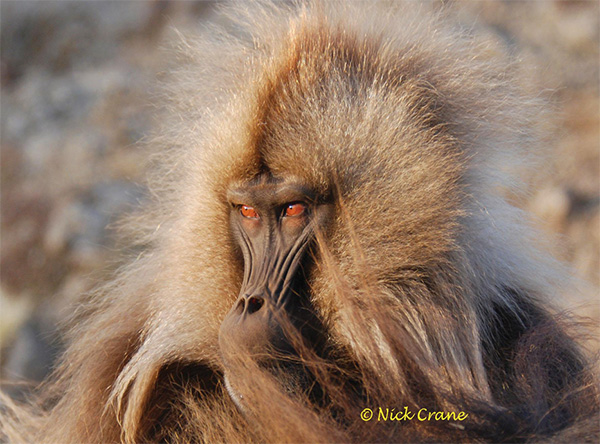 Ethiopia is truly a land of contrasts and extremes; a land of remote and wild places.
Some of the highest and most stunning places on the African continent are found here, such as the jaggedly carved Simien Mountains, one of UNESCO's World Heritage Sites and some of the lowest, such as the hot but fascinating Danakil Depression.
Ethiopia is old; old beyond all imaginations. As Abyssinia, its culture and traditions date back over 3,000 years. And far earlier than that lived "Lucy" or Dinkenesh, meaning 'thou art wonderful', as she is known to the Ethiopians, whose remains were found in a corner of this country of mystery and contrasts.
Many people visit Ethiopia - or hope to do so one day - because of the remarkable manner in which ancient historical traditions have been preserve. In addition, indeed, the ceremonies and rituals of the Ethiopian Orthodox Church open a window on the authentic world of the Old Testament. In no other country is it possible to find you so dramatically transported back in time or to participate with such freedom in the sacred rituals of an archaic faith.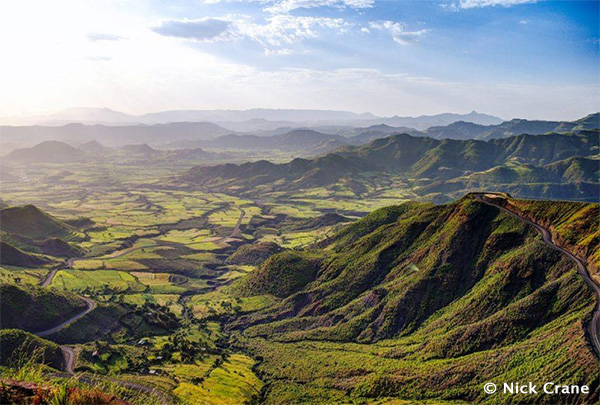 The Landscape of Northern Ethiopia
Simien Mountains National Park
The Simien Mountains National Park (SMNP) offers Ethiopian's unique opportunities to experience and understand the wonderful country. It is a place of learning, recreation and fun where Ethiopians can connect with our past and appreciate the natural, cultural and social forces that shaped Ethiopia.
The Simien Mountains are a stunning mountain range in Northern part of Ethiopia; UNESCO has classified the SMNP as a "World Heritage Site" since 1978. It is home to several endemic flora and fauna, including the Gelada monkeys, which live in large troupes of up to 200 individuals and can very often be closely observed; the Walia ibex, a large mountain goat and the rare Ethiopian wolf, a highly endangered species. The combination of altitudinal variation and isolation of the Simien Mountains National Park offers a habitat to a wide range of animals and plants and place of rare and endemic species.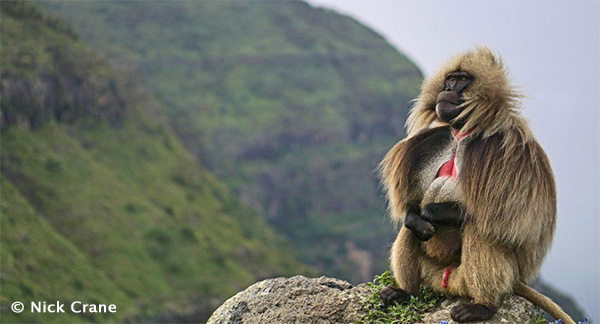 Gelada Monkey in Simien Mountains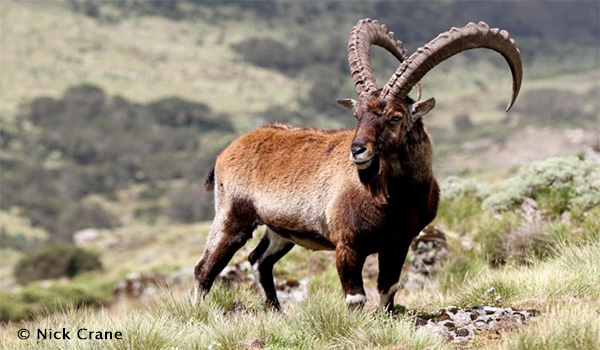 Walia Ibex in Simien Mountains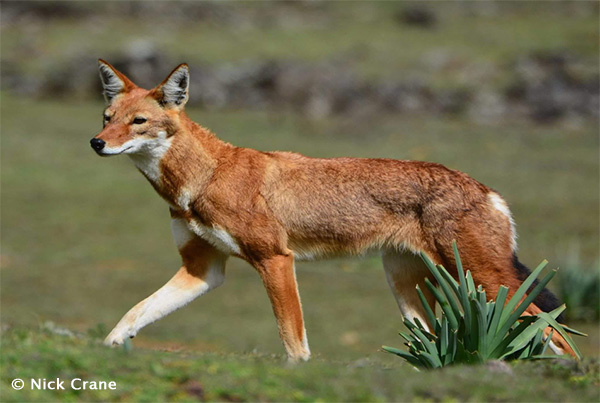 Ethiopia Wolf
Bale Mountains National Park
Ethiopia is one of the top 25 biodiversity-rich countries in the world and the Bale Mountains have one of the highest incidences of animal endemism of any terrestrial habitat on earth; the park itself holds 26 percent of Ethiopia's endemic species.
In addition to a wealth of endemic, unique and endangered mammals, Bale Mountains is home to a wide range of bird species. Rated by the African Bird Club as the number four birding spot in Africa, the Bale Mountains are home to over 300 species of birds – six of which are endemic to Ethiopia and 11 to Ethiopia and neighboring Eritrea.
The Bale Mountains are an area of supreme importance for numerous reasons. They sustain the life of many endemic and endangered species. Additionally, over 12 million people and their livestock – in the southeast region of Ethiopia, northern Kenya and Somalia – rely on the water that originates from the Bale massif.'
The Bale Mountains National Park offers opportunities for unsurpassed mountain walking, horse trekking, and scenic driving. It also presents the chance to view many of the endemic mammals that reside within the park, specifically the mountain nyala and Ethiopian wolf, as well as birds such as the wattled crane and bearded vulture. However, perhaps the primary attraction of the Bale Mountains is the simple escape it offers from city life; into peace, serenity and beauty.
| | | |
| --- | --- | --- |
| Day 1 | Addis Ababa | Arrive in Addis Ababa and transfer to hotel for stay over. |
| Day 2 - 4 | Simien Mountains National Park | Fly to Gondar town and drive to Simien Mountains UNESCO; world Heritage registered Site. Spend three days to explore the National park for Photography of Gelada Monkeys. |
| Day 5 | Debre ziet (Bishfotu) | Drive back to Gonder and transfer to Gonder Airport for the flights to Addis Ababa on you arrival in Addis Ababa you will drive 45 km to Debre ziet to stay over. |
| Day 6 - 7 | Bale Mountains National Park | Drive to Bale Mountain National park and spend three nights in the park for Photography of Ethiopian Wolves. |
| Day 8 | Awassa | Drive from Bale Mountains National park to Awassa on the way visit Senekele game reserve to visit the endemic and endangered antelope species called Swayne's hartebeests. |
| Day 9 | Addis Ababa | Drive back to Addis Ababa and transfer to n the evening you will have a traditional Ethiopia dinner and enjoy live folklore music and dance and finally transfer to the Airport for international flight. |
Detailed Itinerary
Day 1: Addis Ababa
Arrive at Bole International Airport, Addis Ababa and on your arrival at the airport you will be meet, greeted by our tour representative and transferred to your hotel for stay over.
Day 2: Simien Mountains
On your arrival at Gondar Airport, you will greet and meet by our representative and transfer to Simien Mountain National Park.
Simien Mountains National Park is Ethiopia's most popular hiking destination, its highest peak Ras Dashen 4,543 Mts (14,900feet) above sea level, making it the fourth highest mountains in Africa. Simien Mountains was recognized as UNESCO world heritage site and famous for being home of 22 large, 13 small mammals and the three of which, the Walia Ibex, the Gelada monkeys and Ethiopia Wolves are some indigenous mammals in the Mountains and also it has 57 tree species, variety of herbaceous plants, about 180 bird species have been recorded.
The drive from Gondar to Simien Mountains is 130 km, after driving the first 100km in very good asphalt road there will be a short stop at Debark town for National Park office for an entrance fee and for Guide and scout/Ranger appointment.
Then you will drive to the lodge for 22km in a gravel road, after Check in the lodge, you will have a break, then you will drive to Chekwanit viewpoint area to spot Gelada Monkeys with the spectacular scenery of the mountains and rerun to the lodge.
In the evening, you will see documentary movies about the mountains in the lodge's bar while enjoy fire in the bar chimney.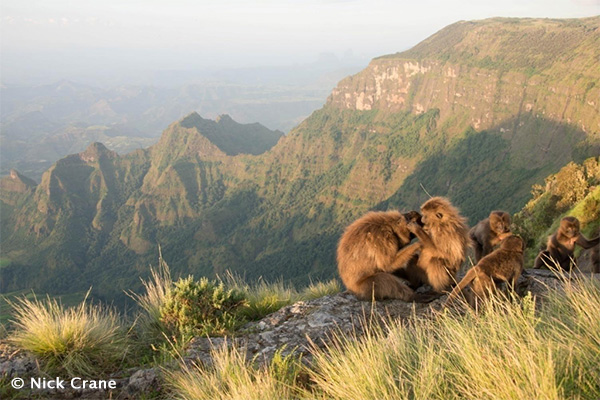 Social grooming of Gelada monkeys Edge of the cliff before sunset
Day 3: Simien Mountains
In the morning the car will drop you around sankaber campsite, you will walk over the escarpments to spot large groups of the Gelada monkey; you can be too close to get Gelada monkeys for a good pictures and enjoy Lammergeyer Vulture gilding over the escarpment.
Sankaber Campsite area is area covered with Afro-montane forest dominated by Juniper, Haginiaabyssinica, St John's wort, Giant heather and the like.
Around the waterfall area, you will have a picnic Lunch and one-hour break while enjoying the scenery and you will spend more time to photography the Geladas with most spectacular scenery of the mountains drive back to the lodge.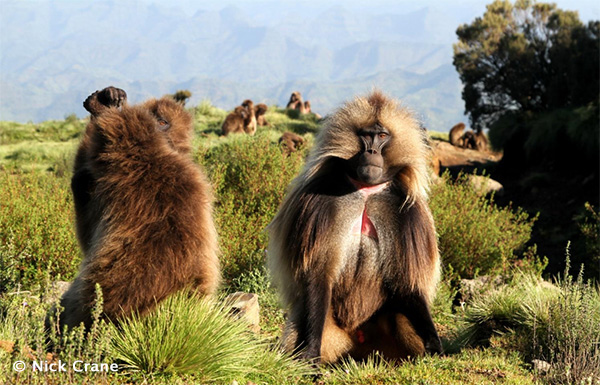 Male Gelada in Simien Mountains
Day 4: Simien Mountains
In the morning, you will drive to the Chennek camps site area (3,620m). At chennek there are again excellent views of the mountains and you should see more Gelada monkeys wither an amazing scenery. Around chennek camp site area, you will spend more time to photography the Geladas with most spectacular scenery of the mountains If times allow you will drive from Chennek to BwahitPass 4,200mt, the second Summit in Ethiopia. The Bwahit pass provide a good prospect on to the impressive rock formation of Imet Gogo and Inatiye and more chance to see walia Ibexes ( Capra ibex walia) it is endemic to the simien Mountain and is one of the endangered mammals species in the world and in the late afternoon transfer back to Simien Lodge.
Day 5: Gonder - Addis Ababa - Debre Zeit (Bishoftu)
In the morning, you will drive back to Gonder then transfer to Gonder Airport for the flight to Addis Ababa. At arrival in Addis Ababa Airport, our tour representative will wait you and you will drive to Bishoftu (Debre zeit) town for 45 km from Addis Ababa for stay over. Bishoftu(Debre Zeit) lying 47 Km south east of Addis Ababa, along its route of highway to Awash Nation Park. It was formerly known as Debre-Zeit. Bishoftu (Debre Zeit) is a resort town, known for five crater lakes: LakeBishoftu, LakeHora ), Lake Bishoftu Guda, Lake Koriftu and the seasonal Lake Cheleklaka. Kurftu Resort has great atmosphere, good weather, and peaceful environment. It is known for the best spa and services.
Day 6: Bishoftu - Bale Mountains
Early morning drive 230 kilometers to Bale mountains national park. The drive takes you from the rift valley plain field climbing up on the southeastern escarpment of the rift valley to the Bale- Arsi massif. Bale mountain national park is a wildlife paradise, home to more locally endemic species of mammals than any other area of equivalent size on the planet. Our stop at Dinsho (Bale Mountains N.P. Head Quarter) and walk 1 to 2 hours will offer us to exhibit the unique mammals like Mountain Nyala and Menelik Bushbuck. Less obviously, 26% of Ethiopia's endemic species (including one primate, one bovid, one hare, eight species of rodent, and the entire global population of the giant molerat) found in the park. Six of the 18 birds endemic to Ethiopia found in Bale Mountains National Park, as well as 11 of the 14 birds endemic to Ethiopia and Eritrea. Finally drive to the lodge crossing sienatti Plateau and Harena Forest.
Day 7: Senatti Plateau, Bale Mountains
For the next two days you will spend on the Senatti plateau for scenic attraction and presents the chance to view one of the endemic and endangered species especially Ethiopian Wolfs.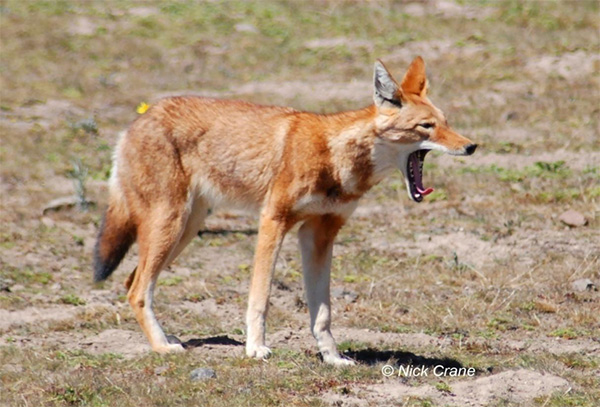 Bale Mountain Ethiopian Wolf
The highest peak in the park (the second highest in Ethiopia) is Tulu Dimtu (the Red Mountain) with an Altitude of 4,377m belongs in this Senatti plateau moorland. One of the largest Afro Alpine Moor land with Giant mole rate and Ethiopian Wolf. Many rodents themselves are endemic: Giant Mole Rats pop out from burrows whilst Blix Grass Rats scuffing around finding food, whilst they attracting the attention of plateau raptors. Here can also be seen Golden Eagles, Lammergeyers and many other species of birds.
Then you will visit Harenna Forest. The vegetation and topography across Bale is extremely diverse with the largest afro montane moorland in Africa, alpine moorlands and the Harena secondary rainforest - all occurring within one park. The Harena forest vegetation invites you to explore - beautiful secluded waterfalls surrounded by trailing vines and framed by white and purple orchids and wild pink roses are very pretty; the high open hillsides are dotted. Species found in the Harena forest and juniper forests includes Mountain nyala, Meneliks bushbuck, reedbuck and warthogs and this plateau is reach in bird life.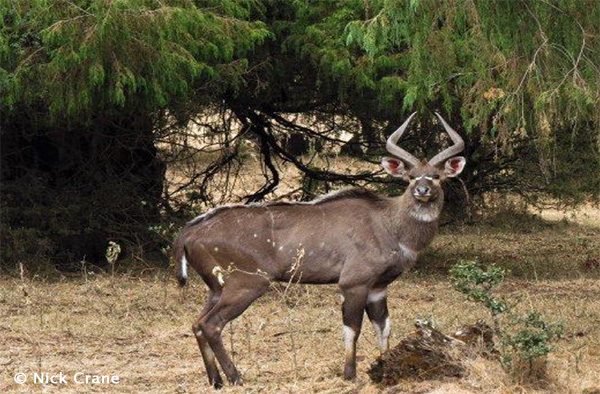 Mountain Nyala inside the park
Day 8: Bale Mountaine–Awassa via Senkele Game Reserve
Early morning you will drive to Hawassa (Awasa) en-route visiting Senkele Game Reserve. Senkelle Swayne's Hartebeest Sanctuary is located 48km west of Hawassa, it covers an area of 54km2. The sanctuary originally established to protect the endemic and endangered antelope species called Swayne's hartebeests. The open acacia woodland of the reserve is quite scenic and some of the animals are easily spotted, specially the Swayne's hartebeests, the population of which is currently estimated at between 600 and 800. The sanctuary harbor other wild animals including Bohor, reedbucks, greater kudus, orbis antelopes, spotted hyenas, serval and civet cats, caracals, warthogs, common jackals as well as 91 species of bird.
After visiting the Sanctuary you will drive to Awassa to stay over in Haile Resort and in the evening you will walk around the Lakeside and visit the colorful Fish market ('Amora Gedel') and finishes the by enjoying amazing sunset over Lake Awassa.
Day 9: Awassa - Addis Ababa
After a relaxing morning, you will drive 279 km to Addis Ababa through Ethiopia Great Rift Valley lakes and will stop for lunch at Lake ziway. On you arrival in Addis you will check in the hotel for day use. In late afternoon where you can do some shopping for souvenirs and finally you will be taken to a farewell dinner tradition Ethiopia food and enjoy Folklore music and dance; you will be transferred out to Bole International Airport for return flight back home.