Akaka Camp
Loango National Park, Gabon - Adventure 3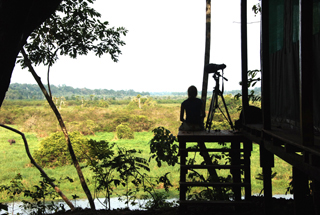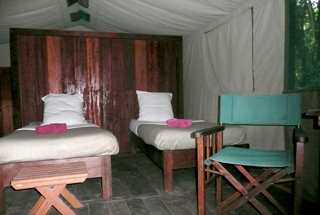 Akaka Camp is right at the riverside. From the comfort of the thatch-covered restaurant/lounge deck the view is one over the river, papyrus swamps and distant, high forest. At times, the wildlife, and especially elephants pass right through the camp. Five dome dents are placed along a narrow forest clearing leading uphill from the river. Each tent is mounted on a platform under a palm thatch roof, faces the forest, sleeps two, and is comfortably outfitted with its own private bathroom, toilet and bucket shower. Bamboo torches light the way to each tent at night.
SCIENCE AND SURVEILLANCE PROGRAM
Akaka Camp is also a surveillance post from where Operation Loango eco-guides keep a watchful eye out for any suspicious activities as well as gather scientific data along regular transects as part of mammal surveillance and botanical survey projects respectively.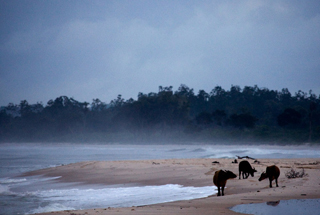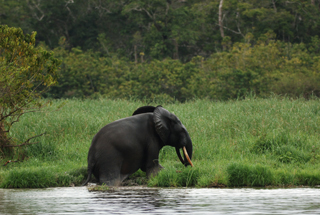 THE AREA
The 66 km, two-hour boat trip to Akaka, crossing the length of the Iguéla Lagoon before travelling up the Rembo Ngowe River, captures the essence of coastal Gabon: vast waterscapes, remoteness, and the constant forest backdrop. Bird life along the rivers is prolific, crocodiles and manatees are present but shy, wildlife can be difficult to spot in the rain-filled swamps but in the dry season the concentrations of particularly forest buffalo and forest elephant that migrate into the area are easily seen from a boat, kayak, or on foot. Smaller mammals like sitatunga (a swamp-dwelling antelope), red river hogs, forest duikers, five species of monkey, and great apes inhabit the area all year round. The Akaka forests are rich in butterflies and harbour a number of special bird species. But, more so than just what one might see, Akaka is really about being immersed in a peaceful outback setting and having one's senses flooded by natural splendour.
ACTIVITIES
During your stay at Akaka Camp, the following activities are available:
· Forest walks
· Kayaking on the Rembo Ngowe and Rembo Echira rivers
· Motorised boat trips along the rivers