Tour To Ghana, Togo And Benin - Voodoo Festival,
January 7-18 2018 Group Trip
Not escorted by: Cindi LaRaia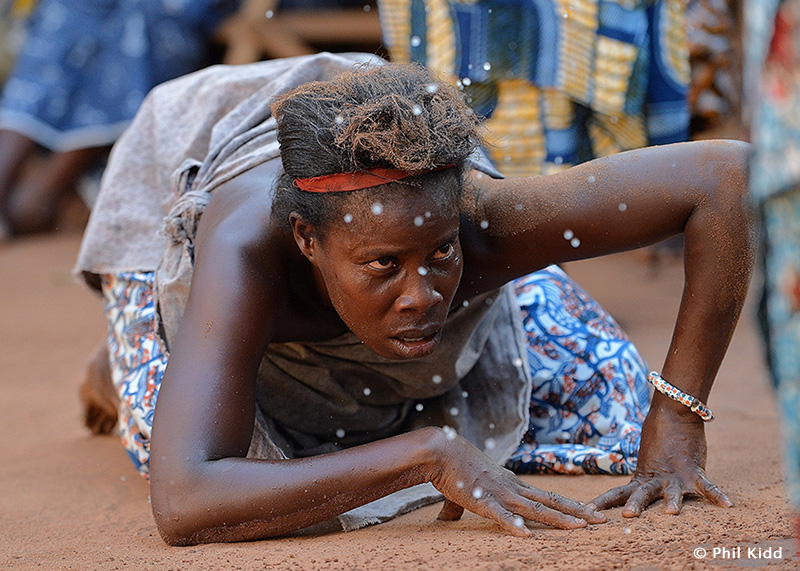 Voodoo Festival
(Special Event)
12 Days / 11 Nights
Scheduled departure dates from Accra in 2018: Jan 7th
Minimum 2 - Maximum 16 participants
January 10th is always a very special day in in Benin, a day for celebrating ancestral cults. In particular all the Voodoo's adepts meet in Ouidah and then convey in a long procession to the Door of No Return, some on foot while others by motorbike or "taxi-­brousse". They are all dressed up in traditional costumes, white being the dominant colour. The Festival reaches its peak with the arrival of the Dagbo Houno, the chief "feticheur". Dances, libations, masks and some official speeches are all part of the morning programme.
Our fantastic cultural odyssey then heads inland, through northern savannah -­ we discover the Taneka tribe on a rocky mountain, the Tamberma people with their fairy-­tale clay castles and finally we enter the Ashanti kingdom in Kumasi. We end our tour exploring the former Slave Coast, with its haunting European forts.
One of the most complete and spectacular tours in West Africa, and on a very unique occasion.
Great experience combined with the choice of good accommodation.
For travellers who want to get acquainted with this incredible region … and love Africa!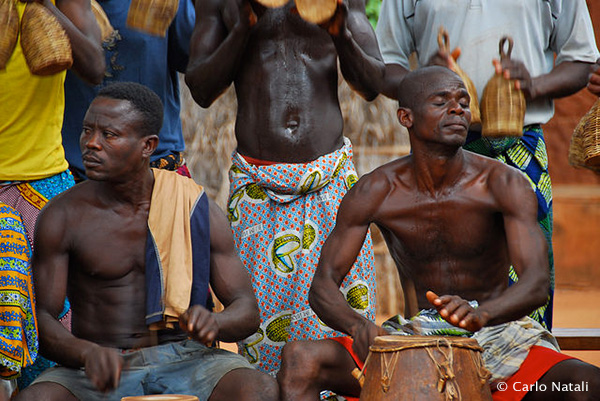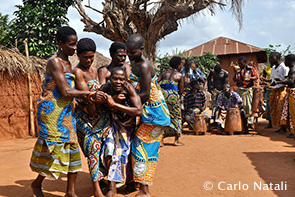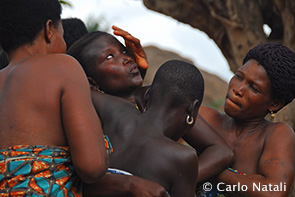 Brief Itinerary
Day 1
Accra, Gulf of Guinea -­ GHANA
Day 2
African metropolis, from Accra to Lome (210 km - ­ 4 hrs) - GHANA & TOGO
Day 3
Fetish market, from Lomé to Ouidah (150 km - ­ 3 hrs) -­ TOGO & BENIN
Day 4
Voodoo festival, Ouidah -­ BENIN
Day 5
African Kingdoms, from Ouidah to Dassa (250 km - 5 hr) -­ BENIN
Day 6
Fetish hills, from Dassa to Natitingou (350 km - 6 hr) - BENIN
Day 7
Fire Dance, from Natitingou to Sokode (180 km - 4 hr) - BENIN & TOGO
Day 8
Rainforest, from Sokode to Kloto (290 km - 5 hr) - TOGO
Day 9
Glass beads, from Kpalime to Akossombo (200 km - 5 hr) - GHANA
Day 10
Ashanti, from Akosombo to Kumasi (250 km - 5 hr) - GHANA
Day 11
Golden Kingdoms, from Kumasi to Anomabu (250 km - 4 hr) - GHANA
Day 12
Slaves'Castles, from Anomabu to Accra (180 km - 3 hr) - GHANA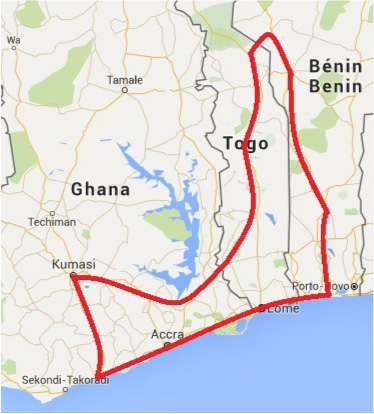 Download detailed itinerary [pdf]
COST:
Rates per person in sharing double
2,550 Euro, based on 6+ pax
2,875 Euro, based on 2 / 5 pax
560 Euro, single room supplement
Included:
Assistance at Accra airport upon arrival and departure
Transfers and tour in minibuses/microbuses and/or 4WD vehicles
Local guide (languages spoken: English, French, German, Italian and Spanish)
Tours and visits as per the programme
Pass for the festival in Ouidah
Accommodation in standard rooms, as per itinerary
All meals as described, from breakfast on day 2 to lunch on day 12
Mineral water in the bus/car during the visits
Entrance fees to parks, concessions, protected areas and cultural sites
First Aid box
All service charges and taxes
Not included:
International flights to/from Accra
Visa fees and any airport departure taxes
Any meal or sightseeing tour other than those specified
Mineral water and drinks at meals
Porterage
Fees for personal photos and videos
Personal and holiday insurance (compulsory)
Tips for drivers, guides and hotel staff
Costs relating to delayed or lost luggage
Any item of personal nature such as phone calls, laundry, etc.
Whatever is not mentioned as included
Important:
VISAS: Ghana & Togo -­ two entries visa;; Benin -­ single entry visa
VACCINATIONS: Yellow fever – compulsory;; malaria prophylaxis -­ highly recommended.
MEALS: lunch, picnic or at local restaurants (tourist menus);; dinner at the hotel restaurant (tourist menu)
LUGGAGE: max 20 kg and in duffle bags
TRAVEL INSURANCE: compulsory for medical assistance and evacuation in case of emergency and for physical or material damages resulting from the trip.
MEANS OF TRANSPORTATION: microbus or minibus or 4x4 vehicles
All our trips are designed to be flexible so that we can adapt to weather conditions, focus on the group's interests and take advantage of opportunities that arise once there.
Considering the special nature of the journey, some parts may be modified due to unpredictable factors and are based on unarguable decisions of the local guide. Costs originating from such variations will be sole responsibility of the participants. Of course the guide will do his/her utmost to adhere to the original program.
There are 6 border-­crossings in African countries, hence some delays are to be expected and patience is necessary.
The tour may be reversed without any amendment to program
Prices could change in case of major changes in services costs, beyond the organizer's will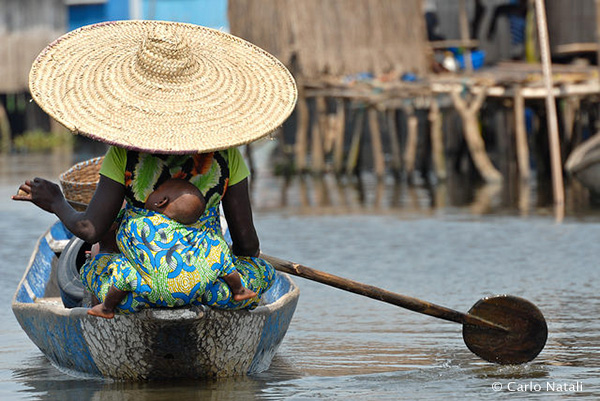 For more information
Contact:
Africa Discovery
@
1 800 886-7321
(415) 444-5100
or
Request Info