Treetops
Aberdare National Park, Kenya - Classic 4

Located in Aberdare National Park, this world-renowned rustic Treehouse on its 80th anniversary is now open after 6 months of complete renovation. This game viewing lodge was originally built in 1932 and is famous as the place where the then-Princess Elizabeth ascended to the British Throne. The father King George VI died on 5th Feb 1952 the night she spent at Treetops while on honeymoon.
Treetops lies in the path of an ancient Elephant migratory route between the Aberdare Ranges and Mt Kenya National park, and is strategically sited right in front of a natural watering hole and salt lick.
With large windows fitted in all guest rooms, restaurant and lounge guests can drink in the sight of Elephants, Buffalos, Rhinos and more from all areas including the view deck on top floor of the building. Die-hard animal lovers needn't worry about missed sightings, even into the early hours of the morning. An optional buzzer in the rooms alerts the guests when a spectacle is unfolding at the waterhole. Game drives and a lecture about Treetops are also available to the guests.
This lodge-on-stilts is accessed through a gradual ramp to the top floor and a Tree grows right through the building. There are 36 en-suite guest rooms that include 3 spacious suites and 33 twin rooms that can be converted into double rooms. A disabled friendly room is located on the first floor. Fine dining is at its best in the contemporary dining room with individual tables illuminated by mini chandeliers. Meals served at the lodge are dinner, breakfast and lunch for guests spending 2 or 3 nights at the lodge.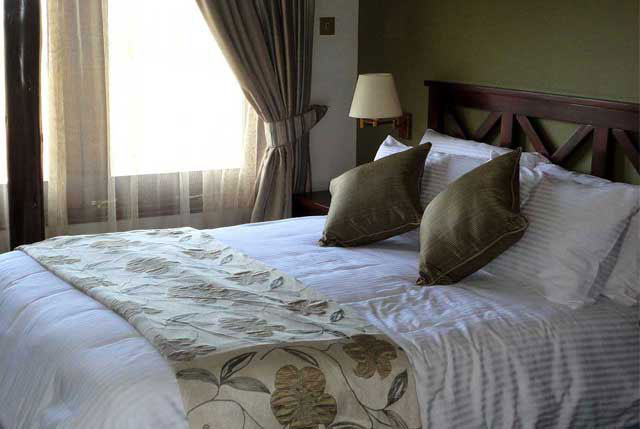 It is 17 km away from Outspan Hotel, where guests begin their journey to Treetops. Guests are advised to bring warm clothing as nights can get chilly at this lodge, which is 6,450m above sea level.
Self drive to Treetops is now allowed but with prior arrangement and clients must check in at Outspan before proceeding to Treetops.
Treetops is located very close to the wild animals. For this reason, children under the age of 5 are not allowed at either of these lodges, both for their safety and to maintain the quiet of the environment.
The lodge through its "Return The Bush" Initiative started in 2007, has rehabilitated 16.5Ha around Treetops and has planted over 37,000 indigenous Trees by end of 2011. Guests can participate and plant a Tree during planting season.