Campi Ya Kanzi
Amboseli National Park, Kenya - Classic 4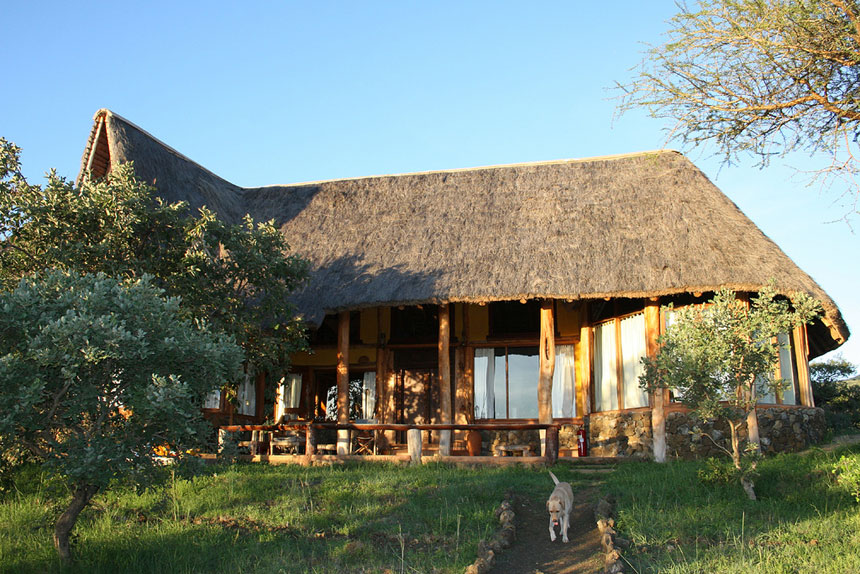 Location
Southern Kenya, on the border with Tanzania, in the Chyulu Hills (the Green Hills of Africa of Ernest Hemingway), overlooking Mount Kilimanjaro and bordering Tsavo West, Chyulu and Amboseli National Parks.
About the camp
Campi ya Kanzi (Camp of the hidden treasure) is a community project with the local Maasai on their Group Ranch of 400-square -miles. We are adamantly respecting the principles of ecotourism, and we assure your experience with us is benefiting tremendously the local community (who owns the lodge).
The altitude of the ranch ranges from 3,000 to 6,900 feet (1,000 to 2,300 meters), so the land includes a number of different environments from the grasslands of the savannah to green river woodlands to cool mountain forests. The volcanic Chyulu Hills flank the property.
We are not in a malaria area.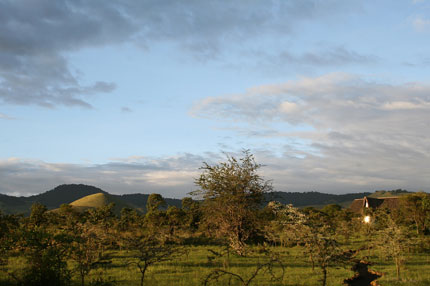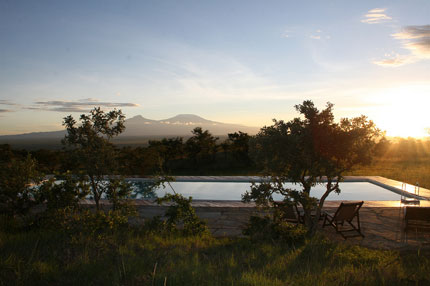 The camp is centered around Tembo House, which is constructed of local materials such as lava rocks and grass for the roof, collected locally with high respect for the environment. Tembo House is an open plan dining/living room with a huge vista to many different views. Italian and Maasai décor are tastefully combined.
Campi ya Kanzi is home of Luca and Antonella, who share it with their guests. In the evening brass lamps, candles and a fire under the star, create a very cozy atmosphere. Four chefs have been trained in the preparation of fine Italian cuisine, which is featured along with international and local dishes. All pasta, bread, biscuits and ice creams are homemade. Wines are from Antonella's Italian vineyards (in Franciacorta). Fresh vegetables are supplied daily from a small organic vegetable garden watered by recycled water. Eggs and milk are produced organically at the lodge.
Accommodation
up to 16 guests can be accommodated in six luxury tented cottages and in the Hemingway and Simba suites; all set on wooden platforms with thatched roofs and large en-suite bathrooms with hot (solar boiler) and cold running water, special eco friendly flush toilet, shower and bidet, and Italian brass taps. Solar energy provides 220V electricity 24 hours a day. Decor is African, with four posts beds, colonial trunks, and brass lamps. Bedding is of the finest Italian linen. Tents are named after the view from the verandas, from Chyulu Hills to Kilimanjaro.Up to 10 guests can be accommodated in the Kanzi House, which needs to be booked in exclusivity and features a 60ft x 20ft swimming pool and a Jacuzzi for four people.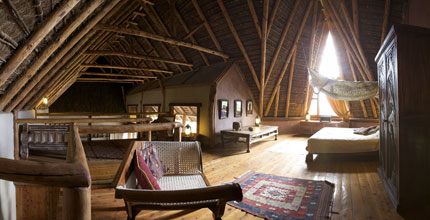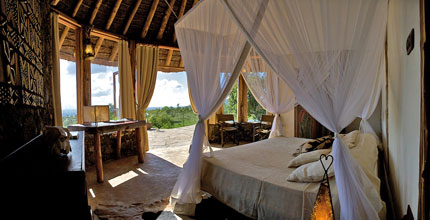 Activities
Game drives in open Land Rover, with a professional guide and a Maasai tracker
Game walks escorted by Maasai professional guides and trackers
National Park excursions to Tsavo, Amboseli and Chyulu National Parks
Maasai cultural villages visits, with your Maasai tracker
Bush breakfast, picnic, sundowners, bush dinners
Cloud Forest walks
River and lake walks
Bird watching
Mobile tented camping
Visit the Trust activities (schools, dispensaries, conservation projects, etc.)
Air excursions, featuring a dawn flight to Kilimanjaro, ending with a champagne bush breakfast
Over and above the big game and plains game the area offers many rare and interesting species, such as the wild dog, fringe eared oryx, lesser kudu, gerenuk, black rhino and cheetah. There are more than 400 bird species on the Ranch.

Conservation
Campi ya Kanzi means experiencing true ecotourism and supporting the Maasai community.
The main goal of Campi Ya Kanzi is to make wildlife profitable to the local landlords through tourism. The $100 conservation fee charged per person per day is totally given to the Maasai community. This money is used to reimburse the Maasai who have suffered losses because of the wild animals, to run conservation programs, to support primary and secondary education, to provide health care to the entire community. The camp is one of the most environmentally friendly camps in Africa.
Campi ya Kanzi is a proud member of Ecotourism Kenya and has been awarded the Gold rating in recognition of its efforts for sustainable tourism through preservation of Kenya's environmental/cultural heritage.
Campi ya Kanzi has been selected as World Legacy Award 2004 finalist, it has won the 2005 Skal International Ecotourism Award, it has won the 2006 Tourism for Tomorrow Award, it has won the 2006 Ecowarrior Award, it has won the 2008 Condè Nast World Savers Award.
It has been the first lodge in Kenya to be Gold Rated by Ecotourism Kenya.
We trust that a safari experienced at Campi ya Kanzi will be one of the most precious memories your guests will treasure for years to come; walking with a Maasai guide on his land, tracking wildlife on foot, trekking to the top of the cloud forest of the Chyulu Hills, being immersed in the green hills of Africa of Ernest Hemingway, while being profoundly and authentically connected with the Maasai landlords who, with us, are the hosts.
A life changing experience, and journey of their souls.
This is the luxury that we offer.