Porini Amboseli Camp
Amboseli National Park, Kenya - Adventure 3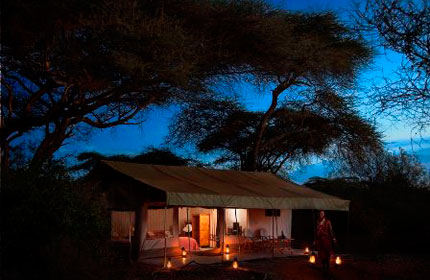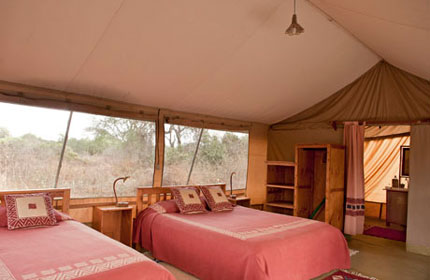 Porini Amboseli Camp, a joint venture between Porini Eco-tourism and the local Masai community, is situated in the 15000-acre Selenkay Conservation Area at the foot of Mt. Kilimanjaro, along the northern boundary of Amboseli National Park. This significant Masai heartland is an important dispersal area and rangeland for the migrating wildlife of Amboseli. Having had little exposure to tourism, this area of great natural beauty boasts a truly large variety of unhabituated wildlife: elephant, lion, leopard, cheetah, Thompson's and Grant's gazelles, gerenuk, impala, oryx, lesser kudu, zebra, wildebeest, giraffe, warthog, striped hyena, jackal, bat-eared fox, Caracal, African wild cat, serval cat, genet cat, honey badger, mongoose and ostrich. Birdlife is prolific, especially birds of prey.
The low-impact Porini Camp is elegantly furnished along the lines of the traditional luxury mobile camps. Facilities include 6 spacious traditional tents with en suite bathrooms including a shower, wash basin and flush toilet. Tents are solar-powered. The small, intimate camp has great ambience and excellent food! As there are no permanent structures, meals are taken outdoors under the stars or a shady acacia tortilis tree or inside a cozy mess tent. After the meal, guests retire to the campfire for post-prandial drinks and listen to Africa's mesmerizing sounds. All staff at the camp belong to the local Masai community which helped set up the conservation area.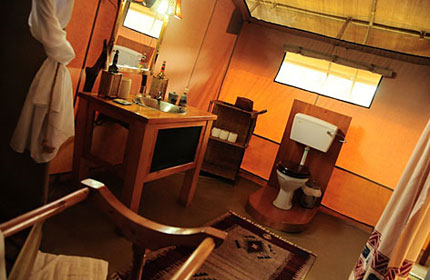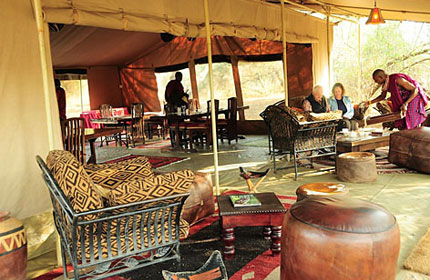 Safari programs to the conservation area and Amboseli National Park are conducted in specially designed open 4x4 Landrovers. Night game drives, sundowners on Olosinkiran Hill, nature walks along the Selengei Sand River with the local Masai trackers and visits to local Masai villages are also included in the program. Porini Camp provides a truly outstanding adventure in one of the most magical and undisturbed natural settings in Africa, frequented in the past by Big Game hunters.