Malewa Wildlife Lodge
Great Rift Valley, Kenya - Classic 4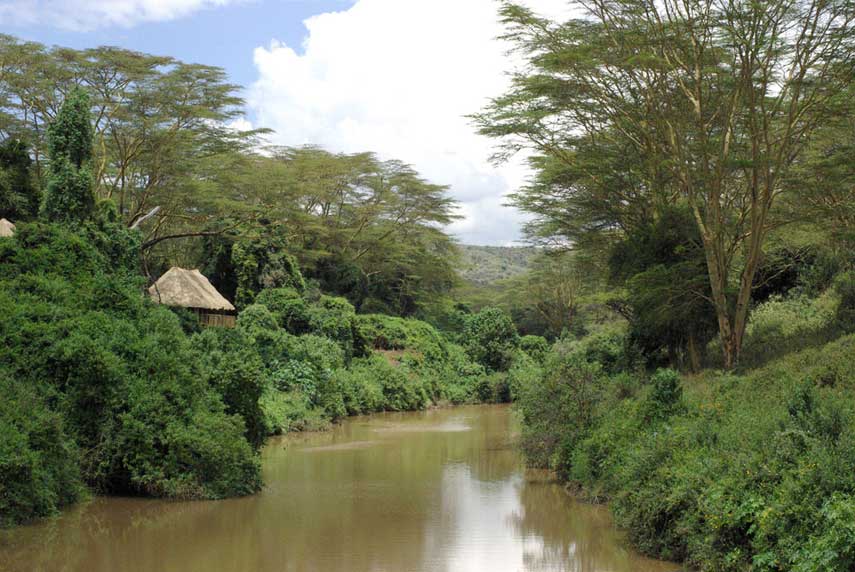 The striking Malewa Wildlife Lodge is set within a glorious Yellow-fever tree woodland along the Malewa River which attracts over 250 species of exotic birds. Once a rudimentary lodge, it has been transformed into a stunning ecolodge incorporating a dramatic architectural style and traditional African building methods and concepts. The mess area is a beautiful double-storey structure made up of a massive thatched roof covering games and relaxation areas on the upper deck and a lovely communal sitting area with fireplaces, dining room and bar on the ground level.
A dramatic entrance to the lodge and a soaring mud clad chimney exemplifies the creativity of the designer Ben Jackson, who also designed Greystoke Mahale on the shores of Lake Tanganyika.
Accommodation is in 5 individual and traditional-styled buildings with 6 bedrooms (one is a 2-storey family cottage with 2 rooms) and 4 stunning river suites on stilts (including one honeymoon suite with outdoor bath), all offering spacious bedrooms with en-suite bathrooms within an acacia forest filled with wildlife and birds.
To comply with the eco-footprint, electricity is generated by solar power, waste recycled, water drawn using hydro power, hot water supplied by efficient 'kuni' boilers, cooking done with gas and eco-bricks from sustainable sources and food sourced from local farmers.
The lodge and the conservancy will work closely with the surrounding communities to offer wildlife courses, placements to students and assistance to schools, clinics and local enterprise.
Malewa Wildlife Lodge is a very special retreat. Here guests can enjoy an all-encompassing nature experience that includes gentle walks with expert naturalists, fishing, biking, bush breakfasts or lunches besides day or night game drives. A minimum of 2 nights stay is recommended but many guests would have preferred to stay much longer.
Malewa Wildlife Lodge - Cottages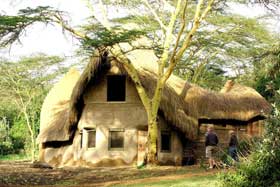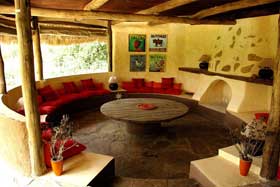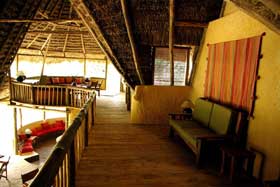 Malewa Wildlife Lodge has four single-storey cottages and one 2-storey cottage with 2 bedrooms (suitable for a family). All cottages are ensuite and can have twin or king size double beds with warm duvets. Each room has a uniquely designed shower with a roof light, flush loo, safe, 24-hr solar power and a battery charging socket.
FACT FILE:
*4 single-storey cottages
*1double-storey cottage with 2 bedrooms
*Large twin or king-size beds with duvets
*Flush Loo, shower
*Solar Power, Battery Charging Socket, Safe
Malewa Wildlife Lodge - River Suites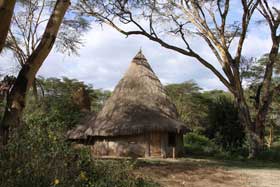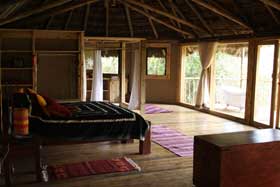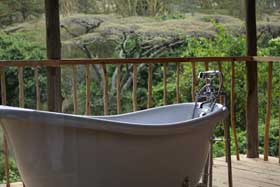 Malewa Wildlife Lodge has four River Suites that overlook the Malewa River. Each suite is 72 Sq Mtrs and is fronted by large glass windows and a balcony. All suites have ensuite shower and flush loos, large twin or kingsize beds, sitting area, desk, 24-hr solar power, battery charging socket. One of the four suites is a honeymoon suite containing an outdoor bath and 2 wash basins. The suites are secluded and enjoy excellent views and birdlife. Over 200 species have been recorded near the river.
FACT FILE:
*4 x 72 Sq mtr River Suites with sitting areas
*Large twin or king-size beds with duvets,
*Flush Loo
*Shower (honeymmon suite also has a bath)
*Solar Power, Battery Charging Socket, Safe