Kicheche Laikipia Camp
Laikipia, Kenya - Classic 4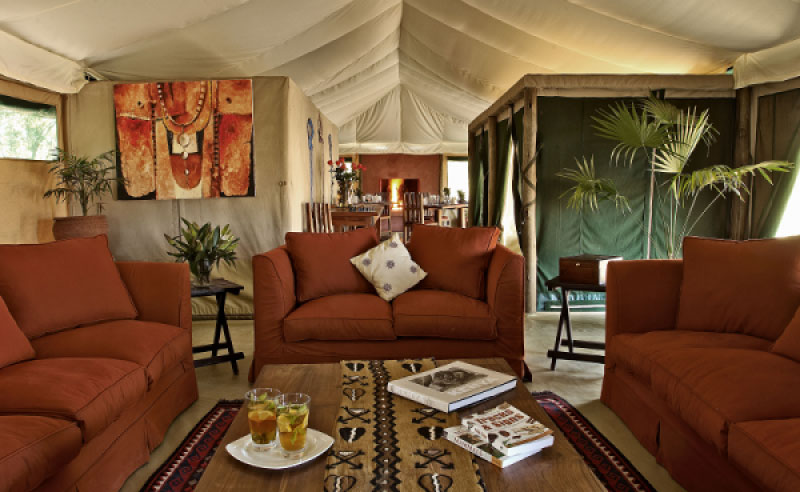 Ol Pejeta Conservancy Kicheche Laikipia, is a small luxurious tented camp in the shadows of Mount Kenya at the foot of an indigenous forest overlooking a waterhole. Six sumptuous tented suites provide the ultimate bush experience for a maximum of twelve guests.
Location
The Ol Pejeta Conservancy is 90,000 acres of wilderness and offers an incredibly uncrowded environment to enjoy quality game viewing. The Conservancy is home to Kenya's largest population of Black Rhino, large numbers of elephant, cheetah, lion, leopard, african wilddog and plentiful plains game. There are also a number of rarer Northern species such as Grevys Zebra, Jacksons Hartebees and Beisa Oryx.
The Conservancy lies on the Equator 30 minutes drive from Nanyuki airstrip and affords wonderful views of Mt Kenya.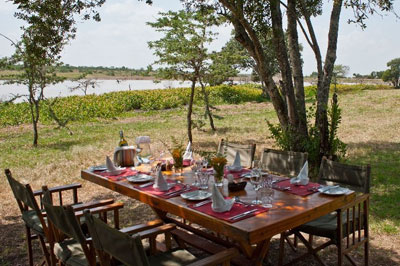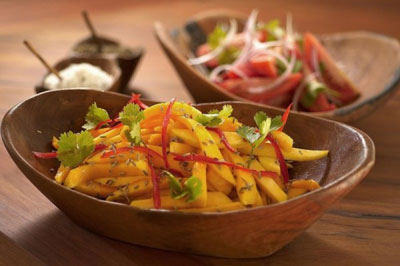 Accommodation
The camp consists of six luxurious tents. These large tents are custom designed and are fully insect-proof with en-suite bathrooms equipped with a flushing toilet, shower and hot and cold running water. A family tent, sleeping up to 4 guests, is also available.
Game viewing is possible from the comfort of your verandah, overlooking the water, with wildlife activity throughout the day.There is a spacious well furnished lounge and dining tent with two fireplaces for the cooler evenings. Breakfast and lunch are often taken al-fresco if weather permits.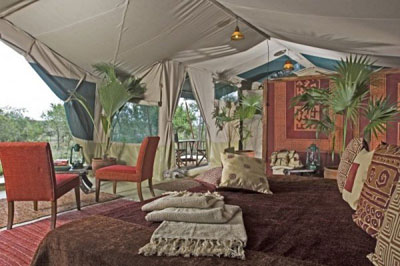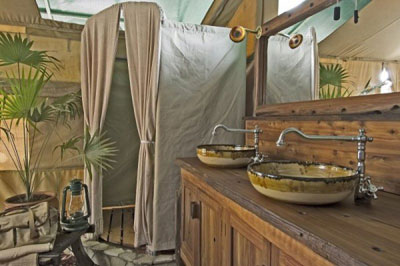 Kicheche Laikipia Activities
Daily Schedules
Rigid daily schedules are not on our agenda, there are no hard and fast rules at Kicheche Laikipia so guests can decide at camp on the range of activities available. Picnic breakfasts, lunches and sundowner drinks are popular options to include on game drives.
Game Drives (Day & Night)
Watching wildlife at close range, but without encroaching on their space, is endlessly fascinating and our guides' instincts and experience will provide superb photo opportunities of wild animals. Our safari customised 4WD vehicles are designed to give everyone a perfect view. Night Game Drives are offered to enable guests the chance to observe lesser seen nocturnal species. Our Vehicles are fitted with a hand held filtered spotlight and resident species include aardvark, genet, bat-eared fox, striped hyena, serval, honey badger, civet and zorilla.
Research & Education Centre
Wildlife Educational Centre contains a range of wildlife exhibits and background on the Conservancy and it's operations, an interesting stop for children and adults alike.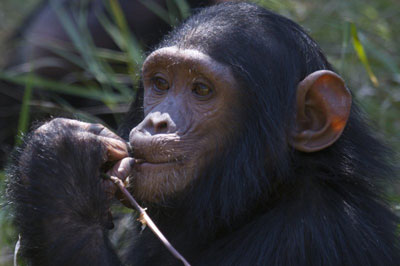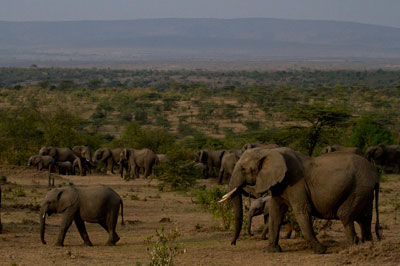 Northern White Rhinos
The last remaining animals of this species were translocated to Ol Pejeta and it is hoped will create the nucleus of a successful breeding program. It's possible to visit the enclosure during your visit (separate fee payable).
Lion Tracking
The Lion Tracking program monitors the Conservancy lions (some have been collared with receivers). As part of the program we are able to track the lions with a portable satellite dish and remit the data to the study centre.
Walking
A different perspective is gained through escorted walks on the savannah. Our interpretive guides will point out the spoor of a leopard, the nest of a rare bird or signs of recent migration activity that would pass unnoticed by the eyes of strangers.
Chimpanzee Visit
The Ol Pejeta Chimpanzee Sanctuary was set up for orphaned chimps rescued from West Africa. The Sanctuary is an excellent venue to observe the two families and learn about the perils facing chimpanzees in the wild.
Canoeing
There is a two person canoe in camp which can be used on the dam in front of camp. This activity, only available for adults, may be restricted at times if the dam level is too low or there are any safety concerns with wildlife.
Mountain Biking
This is a very different mode of safari on a bicycle, an experience you will remember! Includes a short game drive en-route to the designated riding area and we adapt our ride to your fitness. Allow 3 hours for the excursion.