Lemarti's Camp
Laikipia, Kenya - Adventure 3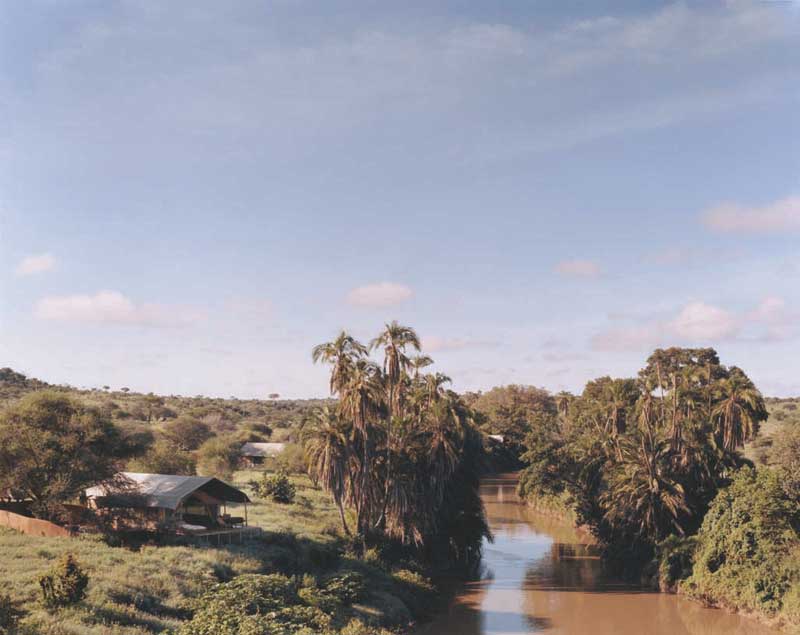 Lemarti's Camp is an unforgettable safari hideaway in Kenya's breathtaking Northern Laikipia Plateau, one of the last frontiers of virgin wilderness and home to the majestic Samburu people. The local Samburu community own the land, and the camp was built and run by local Samburu guide, Loyapan Lemarti and his Kenyan-based fashion designer wife, Anna Trzebinski. Their dream camp emerged on the banks of the Ewaso Nyiro River, nestled in an oasis in a spectacular setting beneath a grove of palms and fig trees.
The 300,000 square kilometres of semi-arid northern Kenya called Laikipia, is one of the last relatively undiscovered frontiers of wildest Africa. Majestic landscapes, proud pastoralist nomads and wildlife still live in harmony and the ecosystems remain intact. Laikipia spans from the equator by Mount Kenya, to the edge of the Great Rift Valley at Lake Baringo. Nomadic elephant herds roam freely in this area, and the birdlife is spectacular. The neighbouring Mpala Ranch allows for viewing of the predators and larger mammal species.
Five stylish safari tents with en-suite bathrooms open to the skies are exquisitely furnished with furniture and soft furnishings designed by Anna and produced in Kenya. In true romantic safari style, water for the outside bathtubs and tree showers is heated by log fire and carried to the tents for your bath under the stars. Lemarti's Camp's philosophy towards cuisine is that of organic sun-ripened healthy ingredients and simple recipes. The Samburu chefs leave a deep impression with their delicious fusion cuisine including Greek, Italian and French food and a bakery that never fails to be complimented on. Huge attention is paid to ingredients using as many organic products as possible.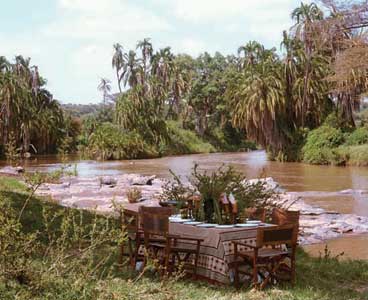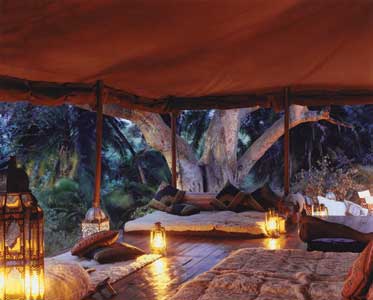 Wake at dawn and walk out from camp to uncover the secrets of the nocturnal animals from the previous night. Wander back to camp for breakfast, watch the hunter gatherers harvesting honey or visit any Samburu ceremonies that are going on. Relax by the river and ask the warriors to teach you to play local games such as Mbau and throwing spears. After lunch in camp and a relaxing afternoon spent reading, taking a siesta or indulging in some beauty therapies, you can go for an afternoon walk with a focus on medicinal plants. After a sundowner with camels, and warriors dancing around the fire, climb high on to the rocks to watch the moon rise, followed by a hot tree shower. Collapse into your comfortable bed with a hot water bottle surrounded by the sounds of the African night.
An Enchanted African Experience [4.2 MB PDF]
Experience through: Lemarti crafted a unique safari experience called," Rites of Passage" where guests walk into the wilderness with Samburu warriors armed only with their traditional weapons, their sharp senses and generations of knowledge. These gentle tribesmen will talk with you about their ways, connect you with amazing wildlife and take you into a moment in time that is both authentic and other worldly.
Guided walks & camel treks; cultural visits; mountain biking; sundowners; picnics; dining under the stars; high altitude running; bird watching; visits to the local community to take part in ceremonies & activities such as honey harvesting; visits to the local market; swimming in the river & fishing.
Available at an additional cost: Samburu dances; an excellent beauty therapist is available by advance request; visit Mpala Wildlife Foundation, a 48,000 acre wildlife conservancy hosting a wide diversity of wildlife; helicopter excursions; fly camping in the Nomadic and Stargazing Camps.