Loisaba Lodge
Laikipia, Kenya - Classic 4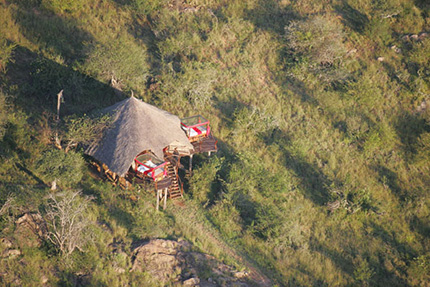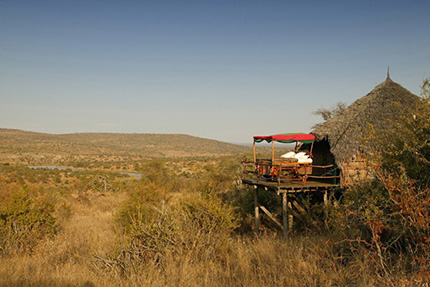 Constructed from stone, local timber and thatch, the Loisaba Lodge is perched high on the edge of the plateau looking south towards Mount Kenya. Each room has large French windows that open onto a private deck cantilevered off the escarpment. The views are legendary, and a water hole a few hundred feet below draws continuous wildlife.
All the furniture in the lodge is handmade at Loisaba. The lodge has a swimming pool, tennis court, bocce court and croquet lawn. The spa offers massage and beauty treatment and a romantic open-air bubble bath, all with a tranquil view of the unspoilt Karissia Hills.
Loisaba Lodge has 7 rooms, and looks out from the top of an escarpment over many miles of empty wilderness to Mt. Kenya in the distance. Each room has its own private deck and the same magnificent view. The lodge has a swimming pool, tennis court, boules court and spa with a selection of treatments.
Loisaba House is a truly exclusive, self-contained private house with a cliff-top infinity pool. It is built on the edge of the escarpment. The location and architecture of the house are breathtaking, as are the furnishings, most of which have been designed and crafted at Loisaba.
Loisaba Cottage is approximately 9kms from the main lodge. It is set back from the escarpment in beautifully landscaped gardens with a private swimming pool.
Kiboko Star Beds are 20 minutes' drive from the lodge and overlook a waterhole. Each Star Bed is designed on a raised, handcrafted, wooden platform that is partially covered with a thatched roof. Homemade 'Mukokoteni' beds can either be wheeled onto the open deck for a night under the stars, or left under the shelter of the roof.
Koija Star Beds are 40 minutes' drive from the lodge, overlook the Ewaso Nyiro River & similar in layout to Kiboko starbeds.