Makenas' Hills Luxury Camp
Laikipia, Kenya - Classic 4

Makena's Hill Tented Camp stands on the edge of the spectacular Great Rift Valley in Kenya's little-visited Laikipia district. The camp provides luxurious, private and romantic accommodation for up to twelve people in the most gorgeous of surroundings. It is here that the film ' I Dreamed of Africa' was shot and Kuki Gallman's daughter, Sveva, wedded. With vistas that remind you of Eden, décor of haute couture and cuisine of the fine Italian restaurants of London or New York, Makenas' is quite heavenly.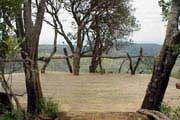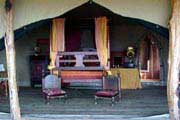 Six palatial Bedouin-style double tents, three with two large queen beds each and three with romantic four-poster beds, gaze down over the wonderful scenery of the Ol Ari Nyiro Ranch. Ol Ari Nyiro - 'The Place of Dark Waters' in the Maasai language - is 100,000 acres of stunning landscape and is where conservationist and author Kuki Gallman's autobiography, "I Dreamed of Africa", is based. Open savannah, steep gorges, hills covered in wild sage and thorn trees combine to make a fantastic haven for the indigenous wildlife and a sanctuary to the largest known population of undisturbed indigenous black rhino outside the national parks. Lion, herds of elephant, leopard, cheetah, buffalo, antelope and over 400 species of birds roam undisturbed here. The forest of Enghelesha, the only indigenous and protected forest remaining in the area, is home to the rare and endangered colobus monkey. Game drives, nature walks with the secretive Pokot tribesmen, camel and horse treks, bathing in natural pools and hot water spas, health therapy, fishing and visits to the local Pokot villages and community projects of The Gallman Memorial Foundation are some of the many things possible at the ranch. Ayurvedic massages using 'Africa Botanica' natural oils extracted from plants growing naturally at the Ranch are given by Dr Dinesh Varsani, a specialist in Ayurvedic techniques, and his team. They will ensure that you are well revitalised before you leave.
The tents are made from beige canvas and blend impeccably with the surrounding landscapes. The inner sanctum of the tent is decorated in lavish furnishings ranging from oriental rugs and Moroccan lamps to carved Swahili four poster beds and rare and antique objects. Each tent also has a dressing room, en suite bathroom facilities and a verandah where private meals may be taken under the gaze of the Great Rift Valley. A large central reception area has a beautifully decorated dining room and bar, a panoramic swimming pool and secluded viewpoints where meditation, yoga, massage or sundowners are on offer.
Peace and tranquillity is found at Makenas' Hill, an exclusive hideaway for travellers who wish to discover the natural world in simple yet sophisticated comfort. Makenas' Hill is simply too good to be missed!