Ol Jogi Private Wildlife Conservancy
Northern Laikipia, Kenya - Premier 5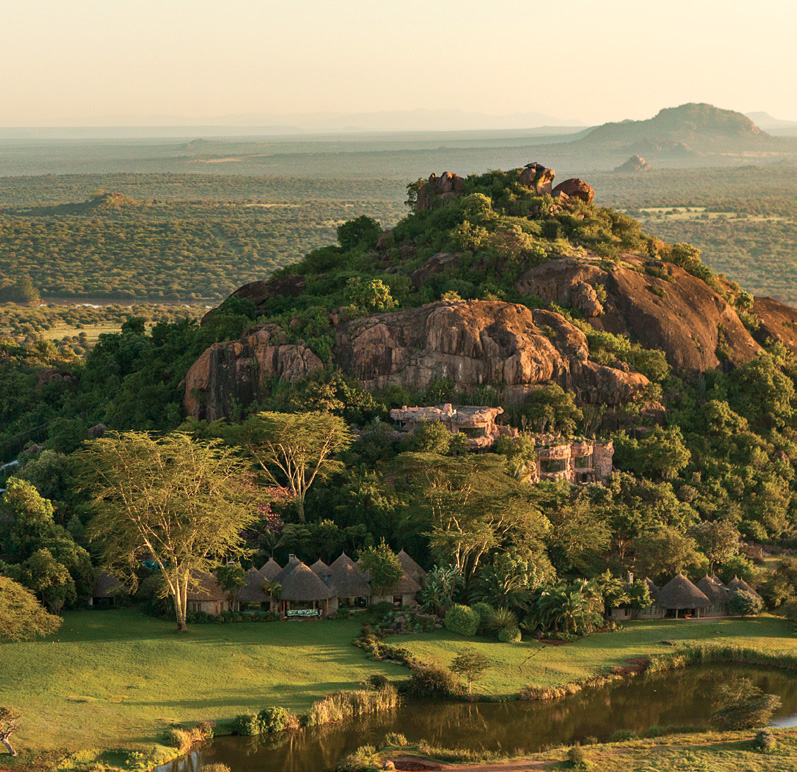 Ol Jogi is one of the most remarkable private wildlife conservancies in Africa. Family-owned for over 40 years, it is a safe haven for the preservation and future development of Wildlife Conservation. Comprising 58,000 acres (270km2) of unspoiled wildlife habitat in the Laikipia District of Kenya, the landscape startles and is unique in its diversity within Kenya.
Ol Jogi provides guests with a tailored experience where each of their individual requests and preferences are seamlessly met. As wonderful and indulging as is Ol Jogi's home, the real treasure lies in the untouched nature, the wildlife that unfolds before your eyes, and the freedom to do anything you wish within this magical setting. Ol Jogi becomes your own exclusive home where your adventures are only limited by your imagination. As a family, we also understand what children enjoy and are happy to ensure that their holiday experiences match that of their parents.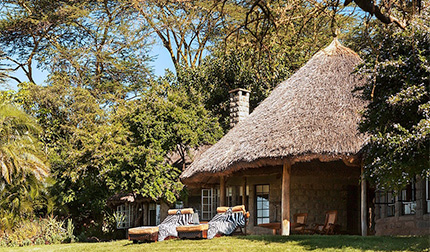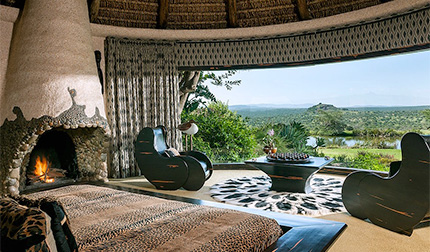 Accommodation
Nestled around one of the property's larger kopjes is Ol Jogi's Main House, where guests stay in a series of luxurious, themed cottages surrounded by tropical gardens, streams and waterholes. Each of the thirteen individually designed suites feature a dressing room, a generous bathroom, most have a living room and a private outdoor terrace that overlooks the garden and a series of water features where an ever-changing scenery of wildlife come down to drink.
Luxury bedding, fine linens, towels, and bathrobes are standard in every suite, while fragrant Hermes amenities complement the over-sized bathrooms. All cottages are fully equipped with Wi-Fi, telephone, minibars, safes, hair dryers and fireplaces.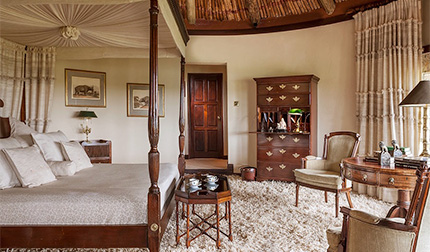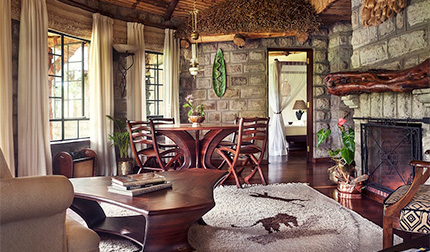 Activities
At Ol Jogi, you have the opportunity to get unusually close to wild animals through a variety of different and unique experiences. For 35 years Ol Jogi has operated as a private conservation sanctuary; the amount and diversity of wildlife is amongst the best in the world. We currently host 6% of the world's remaining Eastern Black Rhino and 15% of the world's remaining Grevy's Zebra plus significant populations of all of the "Big Five" along with several other endangered species.
Wildlife Rescue Centre Thanks to the rescue and release services that Ol Jogi offers to wildlife, guests will have the opportunity to get up close with the animals - elephants rescued from Zimbabwe, cheetahs and a lion brought to us as orphans by local communities, a blind rhino, and wild dogs. Under guidance, guests will be able to approach them in a way that would never be possible in the wild.

Game Drives are enjoyed in the radio-linked, custom-built, four-wheel drive, open-sided vehicles that are driven and personally guided by our Conservation Managers. Guests can take the opportunity to discuss Ol Jogi's Conservation model and learn about the complexity and intricate management of wildlife conservation. Due to the expanse and exclusive nature of Ol Jogi, guests will never experience the same game drive twice.

Bush Walks & Hiking One of the most tranquil ways to see wildlife is on a guided bush walk. Our experienced Conservation Managers lead these tailor-made hikes and give guests the benefit of their extensive knowledge of the land and its wildlife, flora, fauna and birds. Walks and hikes are adapted to guests' wishes and ability.

Horse Riding Ol Jogi offers some spectacular opportunities for Horseback rides. Experience the wilderness at its best, with horses to suit all abilities.

Mountain Biking The silence and off-road abilities of mountain bikes allow guests to get up close to wildlife in this spectacular environment.

Conservation & Community Go for a morning run with the armed guards, track and sight Rhino with the rangers, join in the daily training of our Bloodhound Sniffer Dogs and watch them follow your trail; visit Ol Jogi's Primary School or get involved with any other activities that might be going on at the time.