Sabuk Lodge
Laikipia, Kenya - Classic 4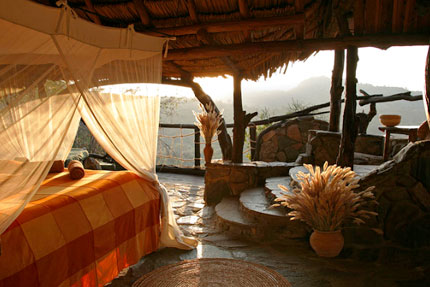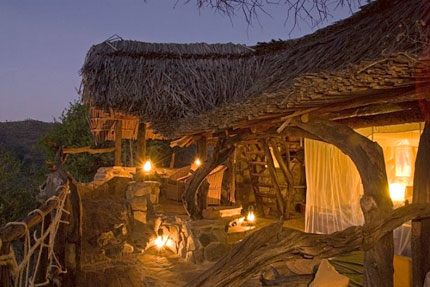 Sabuk Lodge is utterly charming. Perched high above the banks of the Ewaso Nyiro River in Kenya's Laikipia district, close to Mt. Kenya, this delightful lodge with only five spectacular open-fronted cottages is the most perfect place in Africa for recuperation, relaxation, wilderness walks and camel safaris.
Sabuk is home to Simon Evans, a Professional Safari Guide specializing in camel treks across the beautiful, unspoiled Laikipia country, which is fast growing into a haven for exclusive lodges and eco-tourism in Africa. When not guiding clients, Simon lives with his family in a beautiful cottage on the premises, which has provided the inspiration for Sabuk's appealing open-plan architecture.
The thatched central living area, where guests wine, dine and relax while overlooking the river gorge, is stunningly designed and furnished using local materials and artifacts. In the sitting areas, expansive platforms built into stone walls contain huge khanga-clad mattresses and cushions for guests to relax on, while comfy chairs and sofas provide additional sitting. A convivial bar in one corner adds great character and is the source of wine, cold beer or soft drinks which all are included in the price. A wooden deck with a small fireplace extends to the edge of the cliff from where the views of the gorge and the river are mesmerizing.
A long, wide wooden dining table in the adjacent area, masterfully fabricated from trees destroyed by elephant, plays host to most enjoyable dinner parties. All meals are generous and healthy, with particular emphasis on fresh ingredients. At breakfast, expect 3 varieties of fruit, meusli, porridge, yogurt, almost any type of egg with bacon and sausage and the best Kenyan coffee. Lunch and dinner are exceptional too.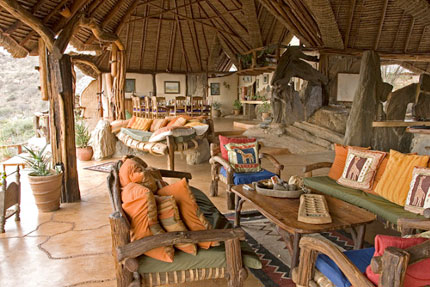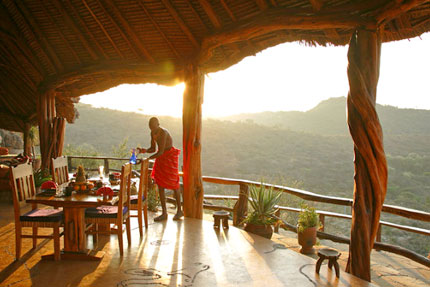 Each of Sabuk's 5 cottages is built into the cliff overlooking the river and fashioned out of local materials, twisted wood and stone boulders with great ingenuity. Each room is unique: Cottage No 1. is ideal for children and contains 4 large beds which can accommodate up to 6 children; another cottage has a loft and a bath overlooking the gorge, while the one next door has an outside bath and a shower! The honeymoon suite has its own fireplace while its neighboring cottage has an outdoor platform made from sisal where one can enjoy an open-air siesta! Each cottage is unique and enchanting.
Sabuk's scenery of hills, kopjes, riverine forest and dense acacia bush is compelling and hides a variety of game; Greater Kudu, Reticulated Giraffe, Buffalo, Impala, Elephant, Warthog, Klipspringer, Zebra, Eland, DikDik, Waterbuck, Lion, Leopard, Hyena and several other smaller mammals. Sabuk offers game drives, horse riding, bird watching but above all it is a renowned walking venue, especially with camels. Guided short or long walks, depending on your stamina, are undertaken over the hills or along the river and accompanied by excellent picnic or sundowner stops at scenic spots. Highly recommended is a night out with camels and a full entourage of Masai and Ndorobo staff, sleeping in fly camps by the river. This is when you can experience the real magic of the Africa bush. In the evening, a gentle fire burns on the banks of the river, delicious meals cooked by the Ndorobo staff on improvised stoves are washed down with wine under the stars and experiences of the day are exchanged late into the African night.
For the more adventurous, there are 3 to 6 day camel safaris also available, which guide you in the footsteps of that great Africa explorer, Wilfred Thesiger. Each trip is tailor-made to suit the group and is suitable for children, who can ride camels, walk, swim and fish in the river, or learn special bushcraft skills from the local guides, some of whom are ex-poachers turned conservationists.