Rusinga Island Lodge
Lake Victoria, Kenya - Classic 4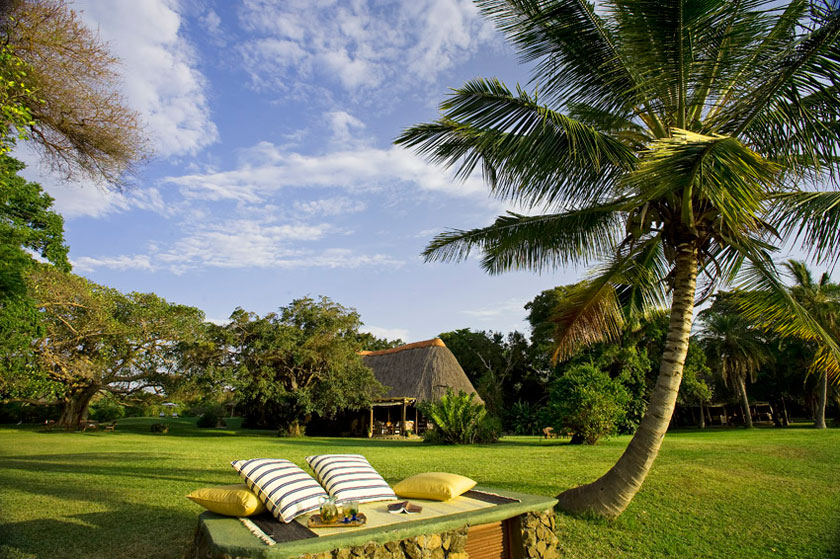 Located in West Kenya, on Rusinga Island in Lake Victoria - the world's second largest fresh-water lake. Guests arrive by air - the airstrip is next to the lodge - and walk into the beautiful club grounds with their exotic trees, flowers and birds, many of which are unique to the area. Over a hundred species of bird can be seen and majestic fish eagles nest in the grounds. A wide stretch of velvet green lawn grows to the water's edge, dotted with huge wild figs. Eight cottages constructed of stone and wood with roofs of local papyrus provide exclusive rooms for guests. Traditional African fabrics and basketware form an appropriate yet very pretty decorative scheme. Two of the cottages are made up of two rooms, each with en-suite bathroom and shared verandah, and are highly recommended for families.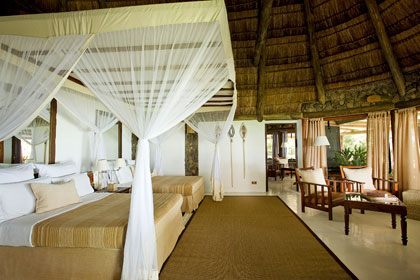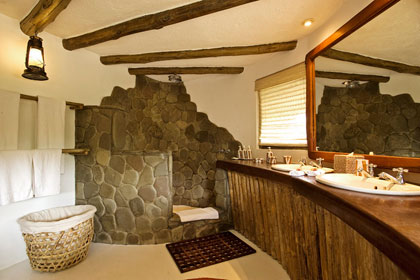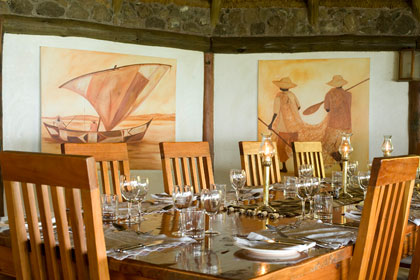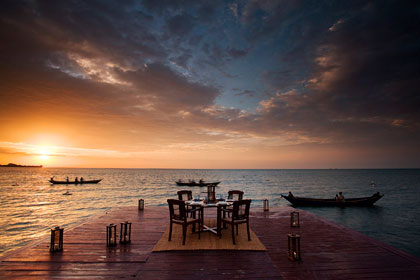 Activities are many and various and include boat trips to bird islands where thousands of water birds roost. Fishing is extremely good and Nile perch and tilapia are frequently caught. The expert chef is very happy to cook the catch as both types of fish make excellent eating.
Giant monitor lizards and spotted-necked otters are often seen on the rocks around the island. Magnificent fish eagles soar overhead and swoop down low giving photographic opportunities. The friendly Luo fishermen fish along the shores in their colourful canoes and sailing dhows. Rusinga's guests are welcome to visit their villages where the night's catch is set out to dry in the sun and larger fish are smoked.
Ruma National Park is an hours drive away, which offers visitors the chance to see the village life of the lake people. This beautiful park is remote and Rusinga guests will very rarely see another visitor! It is here that you may see the last surviving group of roan antelope in Kenya - a large antelope with magnificent black and white facial markings and swept back horns. Oribi, Bohor reedbuck, topi, waterbuck and buffalo are common here and leopard are often sighted. One of the great attractions of Rusinga is an archaeological site. A short walk behind the lodge brings you to the gorge where Mary Leakey found "Proconsul Heseloni" in 1946, the last common ancestor of the great apes and man. Fossil remains (of less importance but still dating back 20 million years) can be seen scattered about.
Great pride is taken in the food served and all breads, pastas and cakes are home-made. Fruit and vegetables are collected daily from our large organic garden and no artificial fertilisers or chemicals are used. Fish dishes are a speciality - cooked Zanzibari style with coconut, lime and coriander.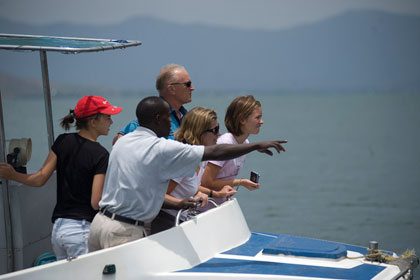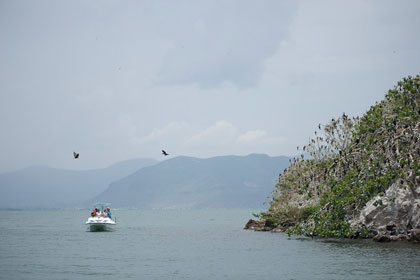 Boat trips - giant monitor lizards and spotted necked otters often seen
Game drives in Ruma National Park
Fishing, water-skiing with equipment for all ages, hobie cat and 2 windsurfers
Bird watching
Visits to Luo fishing village
All meals, wines, beers, soft drinks, laundry, airstrip transfers, Nile perch fishing, watersports, sightseeing, bird watching, visits to archaeological site included
8 cottages, all with private bathroom for each room - the 2 family cottages share a verandah, others have private verandah
Closed May