Kicheche Bush Camp
Masai Mara, Kenya - Adventure 3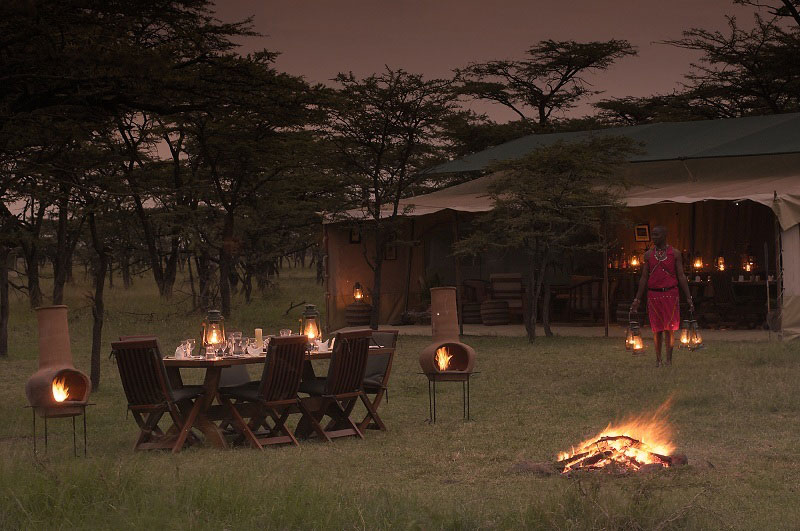 Olare Motorogi Conservancy Kicheche Bush Camp is a small, classic, intimate, luxury tented camp completely unfenced, amongst stunning whistling thorn acacias. The ultra low-impact spread of six guests tents in the trees and low escarpment beyond, provide the perfect hideaway in this outstanding wilderness.
Location
Kicheche Bush Camp is located in the Masai Mara within the Olare Motorogi Conservancy bordering the Reserve. The Conservancy, through it's strict limit on bed numbers, offers an incomparable game viewing experience without crowds. Further information on the Conservancy is available here. The camp is located in a prime wildlife area and game viewing starts at your doorstep. The location is also ideal to enjoy the wildebeest migration. Access is from Ol Kiombo airstrip, 40 minutes game drive away.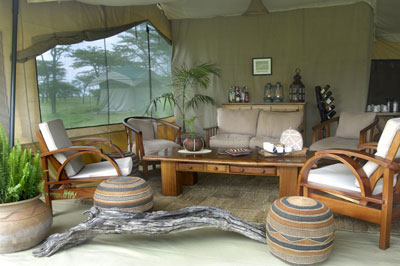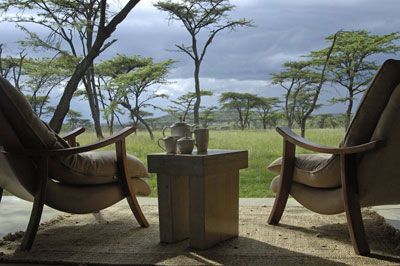 Accommodation
Six spacious luxury tents, fully insect-proof, with en-suite bathrooms and a flushing toilet, running cold water and hot safari showers. Solar power is provided 24 hours to your tent and the comfortable verandah chairs are perfect to relax in and offer great views over the game-filled plains. One tent can be converted into a triple on request.There is a well furnished lounge and dining tent, although mealtimes are generally alfresco if weather permits.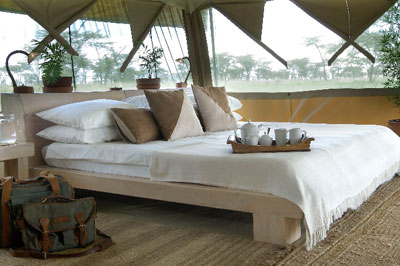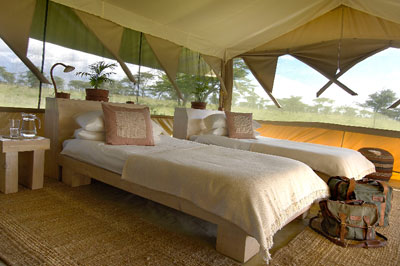 Bush Camp Activities
Daily Routine
Guests are woken with tea, coffee or hot chocolate & biscuits brought to their tent. An early morning game drive sets off at sunrise and returns to the camp late morning. Breakfast is a leisurely affair taken outside in the morning sunlight. Lunch is also served al-fresco in the shade of an acacia tree. During the heat of the day, relax and appreciate the silence, punctuated only by birdcalls. Alternatively, utilise our reference library in the lounge tent, which has a good selection of books.
An afternoon game drive departs around 16h00 after tea and returns after sundowners. Freshen up before joining other guests around the campfire for a pre-dinner drink. Dinner is served by candlelight al-fresco or in the dining tent. Take a nightcap by the fire before retiring.
Rigid daily schedules are not on our agenda, there are no hard and fast rules at Kicheche so guests can decide on the duration and frequency of their drives but this is much easier if you have booked sole use of vehicle. Picnic breakfasts, lunches and sundowner drinks are popular options to include on game drives.
Game Drives
Early morning and late afternoon are the most productive hours for game drives and our safari customised 4WD vehicles give everyone a perfect view. Watching wildlife at close range, but without encroaching on their space, is endlessly fascinating and our guides' instincts and experience provide superb photo opportunities of wild animals.
Our vehicles are superbly designed for photographers, all our fleet is open-sided with open roofs. Cameras can be rested on the roof, with supplied beanbags, or on the armrests lower down, to which we can mount simple platforms for larger lenses.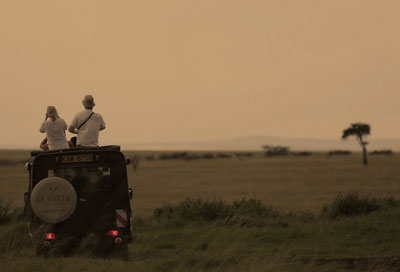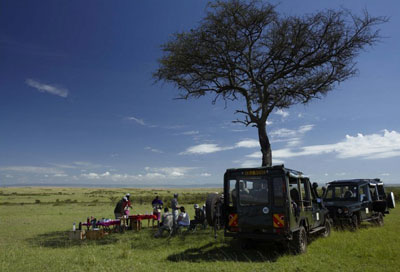 Walking
A different perspective is gained through escorted walks on the savannah. Our interpretive guides will point out the spoor of a leopard, the nest of a rare bird or signs of recent migration activity that would pass unnoticed by the eyes of strangers.
Fly Camp
Kicheche Bush Camp now offers escorted walking safaris with overnight stays in a fly-camp in the bush. These excursions are led by one of Kicheche's senior guides and an armed ranger. It is an outstanding opportunity to see the Mara from a completely different perspective and also offers some welcome exercise whilst on safari.
Village Visits
Guests can visit one of the local Maasai villages to see first-hand their way of life. A village guide or your Kicheche guide will give you an interpretive talk during your visit during which there may be some traditional dancing. Village made souvenirs are on sale.
Hot Air Ballooning
This a popular excursion in the Masai Mara. Balloons take off early each morning at sunrise and glide over the plains for approximately an hour before landing. Upon touchdown a champagne breakfast is set up before you. The excursion finishes with a game drive back to camp.