Mara Expedition Camp
Maasai Mara, Kenya - Premier 5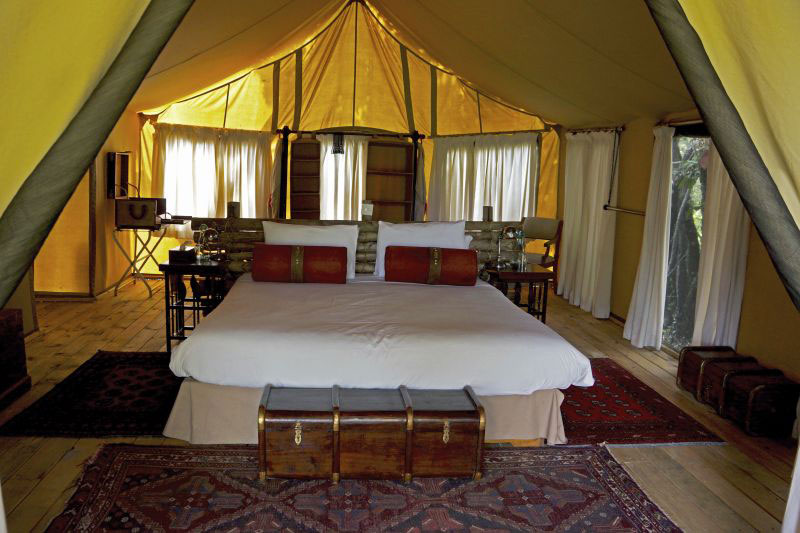 Mara Expedition Camp sits in a small bend in the Ntiakitiak River, where thick forest meets savannah, and just a few kilometres from its sister camp, Mara Plains. Mara Expedition Camp is a magical revisiting of the past, drawing from the designs of Africa's original explorers and designed for those who search for East Africa's romantic safari era. Here, you will experience the best of both worlds: the intense action of the Maasai Mara ecosystem, as well as the more private 70,000-acre Mara North Conservancy. Mara Expedition Camp is a stylish experience and adventure camp that is unique to the industry and that fits the service levels, specialised guiding and design that has become associated with Great Plains Conservation.
It is safari chic with five light and airy, spacious canvas tents, each with en-suite bathrooms where you enjoy piping hot water from huge brass 'safari showers' to a chorus of hippos lazing nearby. It is set down low, hidden from lights and noise and any sign of mankind. Under the grove of Africa ebony trees, its humble main area is lit by lantern and candlelit, simple in design, but just enough for all the comforts. This camp's ambiance and 'back to the classics' safari design will be a sure hit with private groups, and safari aficionados.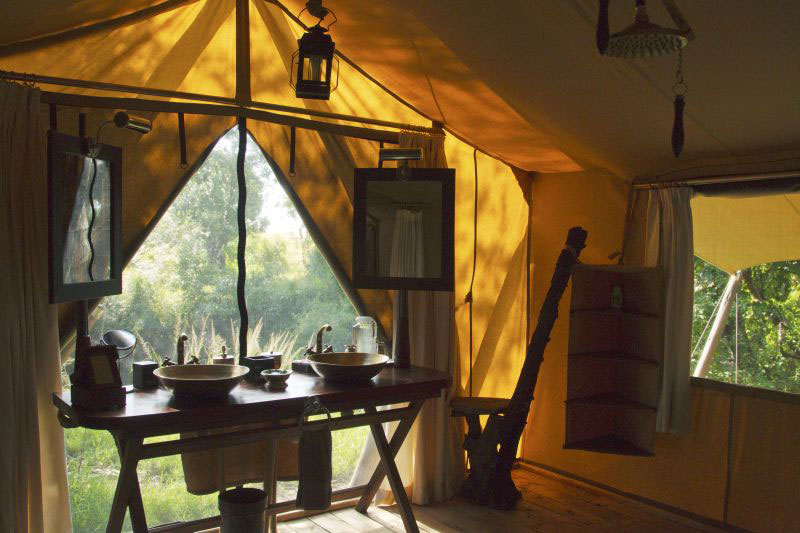 The camp is locally famous for its leopard residents wandering the riverbanks. And is positioned to take best advantage of two migrations – the famous annual Serengeti migration and the green season migration from Loita Plains, an additional 50,000 wildebeest and over 100,000 zebras vying for grazing rights. Mara Expedition Camp is a place for the ardent safari-goer. Full days, with picnic breakfast (and often lunch, too), traverse some of Africa's richest game country, renowned for extraordinary predator density and frequent hunts. Access to both the Reserve and Mara North Conservancy give guests options of more privacy.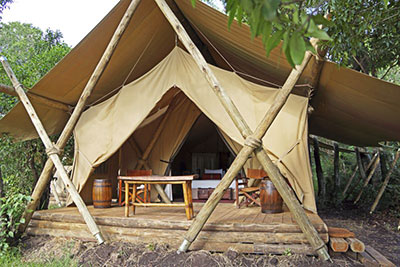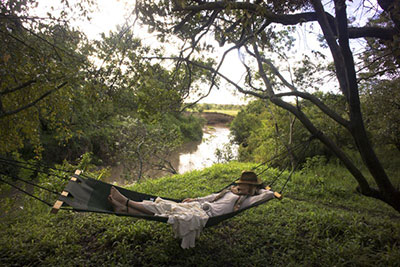 Location
Mara Expedition Camp is located on the banks of the Ntiakitiak River, within a private and secluded site in Kenya's famous Maasai Mara Game Reserve.
Accommodation
Fully inclusive of all scheduled wildlife viewing activities, meals, alcoholic and non-alcoholic beverages (excluding imported and premium drinks). Park fees and flights are additional.
Number of Guests
Mara Expedition Camp can accommodate up to 10 guests sharing in five tents. An additional guide's tent is available.
Children from 8 years are welcome. Families will be joined by other guests on all scheduled game viewing activities. Private game drive vehicle hire is not available at this camp.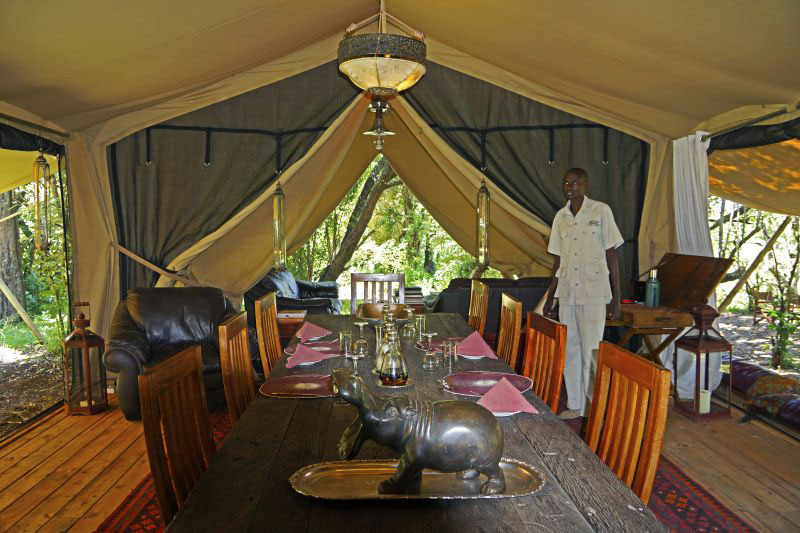 Activities
Mara Expedition Camp's two specially designed Land Cruisers are totally open-sided (a rarity in the Mara) offer 300-degree views which provide ideal opportunities for photography. Under the guidance of our top guides, each vehicle comes fully-equipped with a stocked fridge and photography tools.
Hot-air ballooning over the Maasai Mara is available at additional cost, and is a truly stunning way to experience the landscape and an unforgettable sunrise. If culture is of interest, then visits to Maasai bomas as well as local school and community projects (supported by Mara Expedition Camp) are possible, and a wonderful insight into the region's colorful people.
Photography
Mara Expedition Camp has two professional Canon camera sets, each with a 50D camera and 100-400mm and wide angle macros lenses. These are available on a complimentary basis to guests on a first come-first serve basis. Photos will be downloaded to a DVD on guest's departure.