Rekero Tented Camp
Maasai Mara, Kenya - Classic 4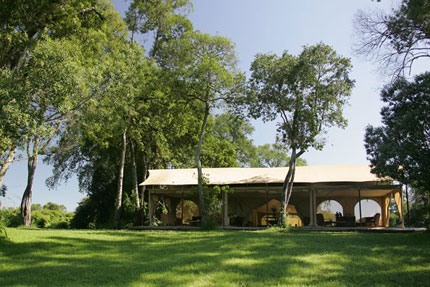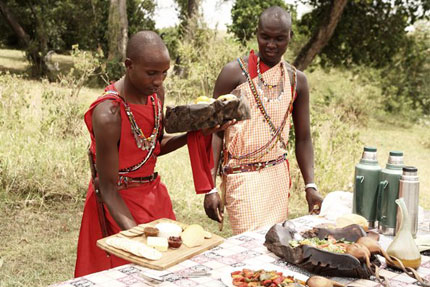 Rekero Tented Camp lies in the Masai Mara Game Reserve at the end of solitary track that looks like it is going nowhere. Driving through a clump of bushes, you are suddenly confronted by an open glade along the Talek River. This has to be one of the most beautiful wilderness settings for a camp. The camp is run by Jackson, a local Masai, who owns 20 per cent of the camp with the Beaton family of Rekero Farm. Jackson's warmth and charm are immediately evident as he rushes to greet you with a firm handshake, a broad smile and polite humor. Tall, handsome and charming, Jackson is also a highly regarded safari guide who now spends most of the time ensuring that the guests have a memorable time at the camp, while his protégés continue to offer the same high quality of guiding that he is accustomed to.
At Rekero Camp, there are no permanent structures. The meeting place throughout the day is a patch of grass in front of an open-fronted canvas mess tent, which stands under tall indigenous trees, overlooking the Talek River. This is the hub for all camp activities and it is a fun place to be. Meals, camp fires, sundowners, cocktails, story-telling are all enjoyed from here, unless rain or wind forces the use of the spacious mess tent which has a simple bar with all the essential safari drinks.
The setting here is so natural and informal that Rekero successfully recreates the ambience of the old safari camps without necessarily making you feel uncomfortable. Imagine no permanent structures, no running taps, no decking, no swimming pool, no crowds and none of the flashy furnishings or accommodation. Now picture, new, comfortable East African-style tents with bucket showers and flush loos, lanterns in the evening, barbecues on the grass, candle-lit dinners, gin & tonic at sunset, sherry before dinner, port after dinner, camp fire by the river and the wilderness to just to yourself. This is the ultimate old-fashioned safari camp in the Mara. It has innate style, character and magnetism that no other camp in the Mara can probably match. It is so simple yet it probably radiates the greatest ambiance in the whole of this superlative game reserve. This is also where, when the Mara plains comes alive during the wildebeest migration, you may find yourself closest to the magnificent spectacle simply because there are no fences or permanent structures to keep the wildlife away.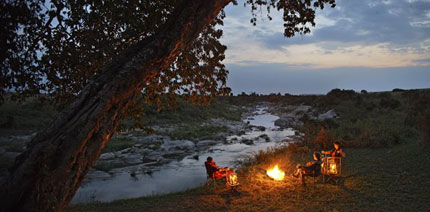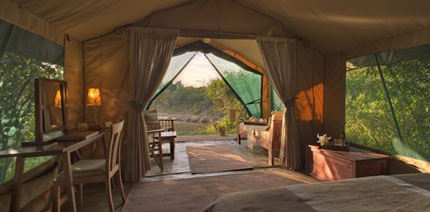 The 6 delightful tents are spaced generously from each other in a shaded area, a short distance from the Talek River. You could sit by the river all day marveling at the joys of open spaces and watching the birds or the passing game while sipping a cup of tea or gin and tonic.
The double beds are generously sized, flanked by wicker bedside tables, and covered in Indian-elephant bedspread. In one corner lies an open clothes wardrobe, while in the other a writing table. The bathroom with a bucket shower, flush loo, wash stand and a stool is linked to the main tent which can be separated by a canvas curtain for extra privacy. To Rekero's credit, the sewage is collected in an underground tank and later pumped into a tanker for safe disposal. Outside there is another table with a mirror (due to lack of electricity in tents ladies could find it difficult to do make up or dry their hair), a washstand and canvas chairs. Bottled water, soap, shampoo and a torch are also provided. However, it is not so much for the accommodation that this camp can be rated as highly as others in the Mara, but it is for its magical setting and ambiance that it deserves the accolade of ' the best camp in the Mara'. Camps like Rekero are a rarity as modern camps battle each other to become the glitziest in Africa, so enjoy Rekero while you can.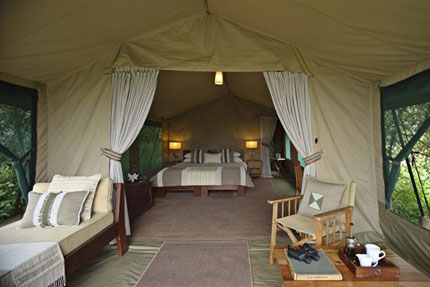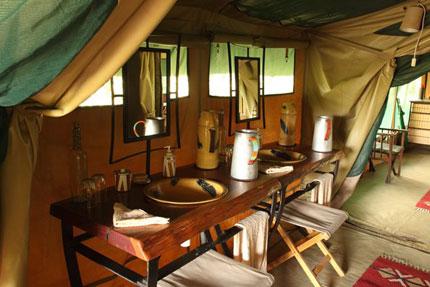 Guests fly into Intrepids airstrip and are collected by Rekero vehicles. Game drives are conducted in 4x4 vehicles by an expert driver guide and a native Ndorobo guide, who also accompanies the guests on guided nature walks outside the game reserve. The quality of guiding at Rekero is exemplary and together with its wonderful picnics, bush meals, sundowners and authentic wilderness ambience, guests are in for a real treat.