Saruni Camp
Maasai Mara, Kenya - Classic 4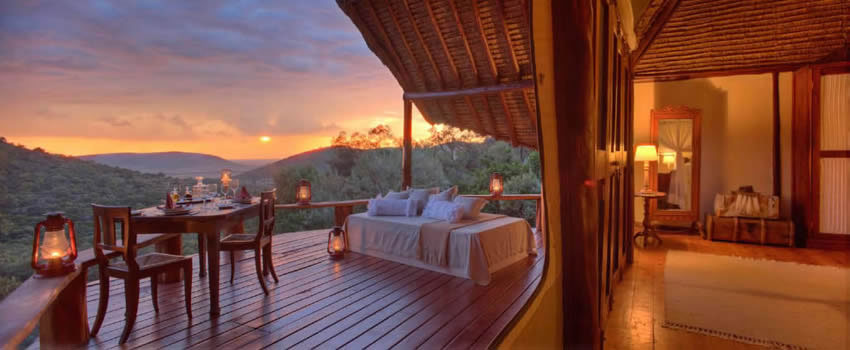 Saruni is a deluxe and intimate tented lodge set in a private conservation area just outside the Masai Mara Game Reserve. Seasoned Mara guests have commented that Saruni has by far the best location in the Masai Mara. It is superbly tucked away into a valley just north of the game-rich Aitong area which is at the heart of one of the most exciting wildernesses of Kenya. With accommodation for only 12 guests in six spectacularly decorated cottages with en-suite bathrooms and verandahs with amazing views of captivating landscapes and sunsets/sunrises, Saruni offers its guests a very personalized experience inside its own conservation area as well as the Mara Game Reserve. The camp is the permanent home of Riccardo Orizio & Pia-Sophie Woo, a cosmopolitan, multilingual European couple, a writer and a doctor, who have chosen to share their dream with a few adventurers.
The camp and its tents may be furnished elegantly with colonial antiques, Persian carpets and African art but the owners have certainly not over-indulged at the expense of the environment. Not only do they work in close partnership with the local Masai in building a viable eco-tourism camp beneficial to the local community and the wildlife, but they also employ sound low-impact environmental practices which include use of solar power and waste recycling. Visitor numbers are also deliberately kept low to impact minimally on the environment.
Most of the staff is provided from the local Masai communities who have excellent local knowledge and skills. They will take guests on game drives in open 4x4 vehicles, a unique concept in the Masai Mara area, and nature walks to explore the plains, mountains, forests and rivers of Africa's best known area without the crowds. Game sightings in the area are excellent with recent guests having seen a leopard near the camp, lions, cheetah, elephant, buffalo and wildebeest migration near the camp and crossing the river. Visits to the local Masai village can also be arranged.
Each day at Saruni is different. Guests may be treated to 'pukka' Out-of-Africa bush dinners or breakfasts during game drives, sundowners at various vantage points, lunch picnics, etc. Local beverages are also included with the meals. With such variety on offer, you will without a doubt have some of the most exciting adventures of your lifetime in the Mara at Saruni Camp. Riccardo and Pia-Sophie will ensure that you do!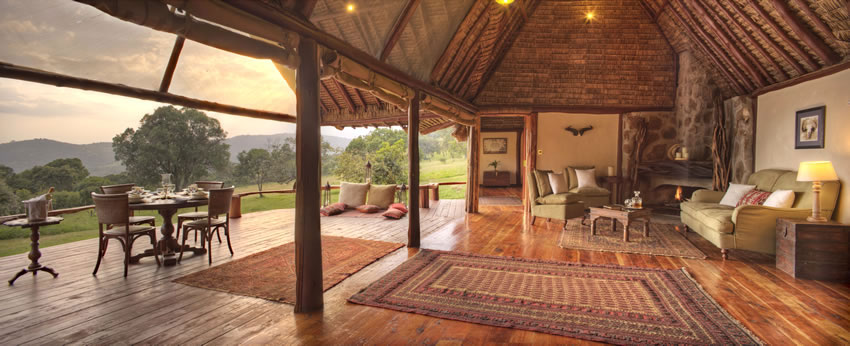 About the owner
Born in Italy in 1961, Riccardo Orizio lived in Milan, London and Atlanta, but recently settled in Africa for a "second life" with the Maasai warriors. His new home is Saruni, a small deluxe safari camp in the Masai Mara (Kenya), surrounded by wildlife and dramatic landscapes. As a foreign correspondent for the Italian daily newspapers Corriere della Sera and La Repubblica and for CNN, in his "first life" Riccardo has covered war, peace and the all what happens in between. His first book, "Lost White Tribes - Journeys among the Forgotten", was published in London in 2000, followed by Dutch, Italian, American and Turkish editions. His latest book, based on interviews with deposed and disgraced dictators, is titled "Talk of the Devil" and is being published in several countries, including Italy, Usa, Great Britain, Japan, Holland. He's planning to write more books about unusual places and unusual people. He is married to Pia-Sophie, a British paediatrician who is the only resident doctor in that part of Africa. He writes in Italian, but having sold his MG before going to Africa now keeps driving an English car: a Land Rover, of course.