Siana Springs Tented Camp
Maasai Mara, Kenya - Adventure 3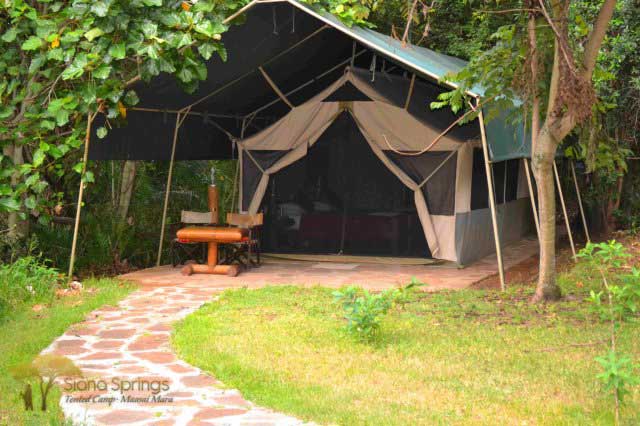 Siana Springs Tented Camp is located on the eastern edge of the Maasai Mara Game Reserve in South-west Kenya, 240 kilometers from Nairobi. Accessibility is by road, for a 4-hour drive from Nairobi, or by air for a 40-miniutes flight which lands at an exclusive airstrip that is located barely a five minutes' drive from the camp. The camp is situated on the foot of Gama Hill in an expansive community wildlife conservancy area.
Siana Springs in the local Maasai language means 'the plentiful springs'. It is truly an area of abundance in flora, fauna and cultural attributes. It epitomizes the best in diversity in all aspects as the species richness and natural history. This makes the camp an ideal eco-lodge from where you can partake to the world's greatest wildlife spectacle - the wildebeest migration. There are also other mammalian species, enthralling bird species and the distinctive Maasai Mara ecosystem.
The camp has a rich history dating back to 1920, when the first Game Warden selected its current site for his camp. The camp is now located on a Wildlife Conservancy whose ownership was bequeathed to the local community in the late 1970s.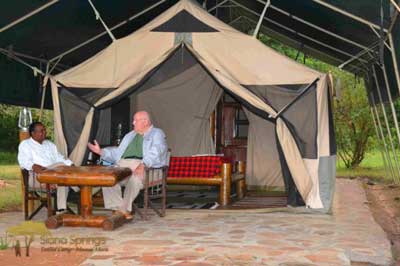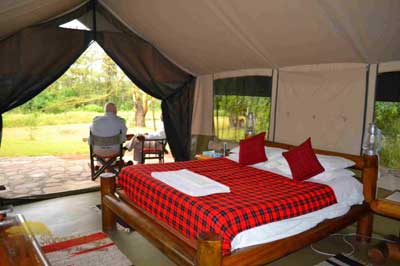 Tented Accommodation
All tents at Siana Springs Tented Camp are equipped with en-suite bathrooms with permanent showers and WC, running hot & cold water and 240V power. The Tents offer breathtaking views of the luxuriant riverine vegetation. They are luxurious and extremely spacious decorated in browns and soothing earthy colors with large beds, loungers, wardrobes and a desk. Bathrooms are appointed with a sink and a shower.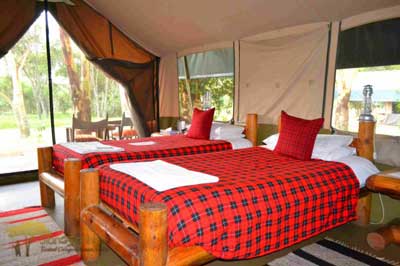 Dinning
Siana Springs Tented Camp offers exquisite dining experiences. The main restaurant is has a sitting capacity of 100 guests. It is well appointed and the front opens up the magnificent view of the lush Siana Springs vegetation. The meals are truly a gourmet's delight. There are a variety of themed dinners ranging from sit-down dinners, barbecues and buffet spreads.
Enthralling star-lit barbecues dinners are also set-up on the lawns. The BBQs are to the accompaniment of traditional Maasai dancers.
For connoisseurs, there is a well-stocked wine bar that has brands form all over the world.
Activities
Siana Springs is one of the few places in the Maasai Mara where you'll get to enjoy a wide range of activities for the duration of your stay: Activities among others include:
Game drives with highly trained personal guides.
Escorted walking safaris and night game drives.
Arrangements for down air balloon safaris.
Bush breakfasts and dinners under the stars.
Romantic sundowners on the Ngama Hills.
Unique lifestyle tours with our maasai hosts.
Traditional dances by local warriors and maidens.
Lectures and slideshows on culture and wildlife.
Cultural safaris and game walks.