Samburu Game Lodge
Samburu National Reserve, Kenya - Classic 4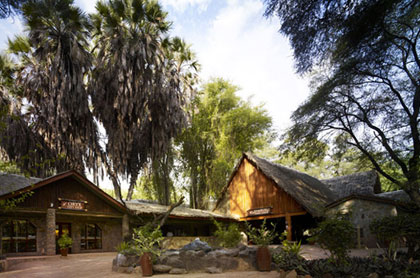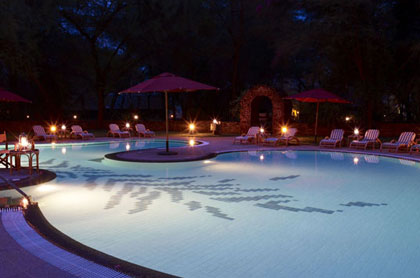 Samburu Game Lodge is set in a rugged landscape with a backdrop of jagged mountains and its own indigenous animals, unique to the region. The landscape, wildlife and vegetation is very different to the lush, rolling grasslands of other national parks. Here you will find thornbrush, open plains and vast horizons and where you may taste the romance of the desert. Samburu is the place for leopard, lion, elephant and crocodile. It is also the home of the semi-nomadic Samburu people.
Samburu Game Lodge is beautifully situated on the banks of the Uaso Nyiro river with a wide choice of accommodation, spread along the banks of the river, in cottages, bandas and single or twin rooms. Everything is geared to making the most of the spectacular setting. The dining room is open on the river side with long tables and large buffets. The ever popular Crocodile Bar overhangs the water and is a great vantage point for the nightly feeding of crocodiles.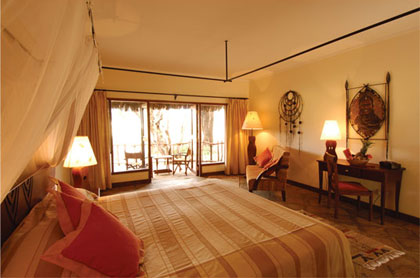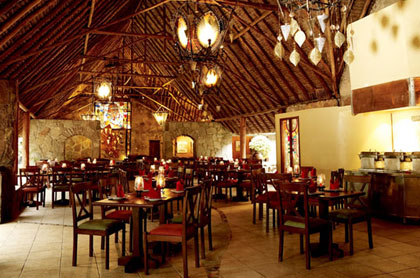 On your game drives you likely to see a whole range of East African wildlife. Animals of special interest in Samburu, and rarely found elsewhere, are Grevy's zebra, reticulated giraffe, gerenuk and the Beisa oryx. The birdlife is especially notable. During the heat of the day you may well be happy to lounge around the attractive pool but after sunset you will feel renewed and a sundowner or two while watching the traditional dances of the Samburu warriors is a wonderful way to end the daylight hours.
Night brings its own special atmosphere with a new cast of characters and strange new noises. Frogs and insects provide a background chorus to your delicious dinner. The secretive solitary leopard may silently arrive, attracted to the fresh meat bait in the tree across the river. The air is heavy with soft sounds and scents as you retire to bed after your stimulating day in Samburu.