Saruni Samburu
Samburu National Reserve, Kenya - Premier 5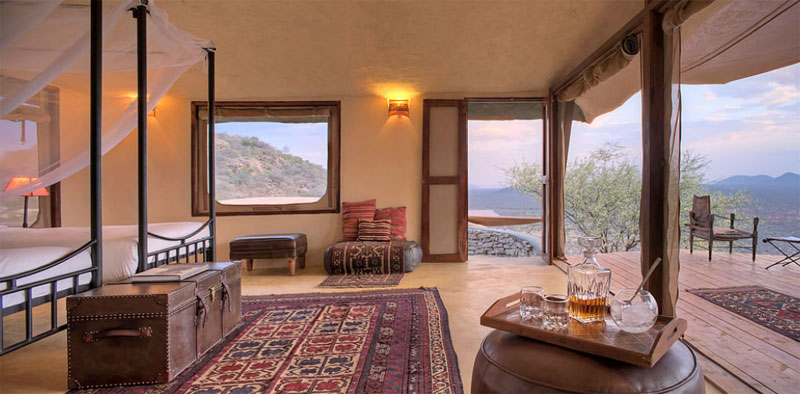 In Kenya's wild wild North, located on a private 95,000 hectares conservancy bordering with Samburu National Reserve, Saruni Samburu is perched on top of a spectacular viewpoint. From its villas and swimming pool you enjoy the snow-peaked Mount Kenya, the sacred mountain Ololokwe and the vast savannah where herds of elephant roam. At our waterhole reticulated giraffe, Grevy's zebra, leopard, kudu and many other species gather to drink. The purity of this landscape, combined with the untouched culture of the Kalama community, give you a different experience in one of the most iconic African destinations.
Our professional guides are members of the local community who share with you a deep understanding of their land. While looking at big game during a drive or studying wildlife tracks on a walk, during a bush lunch by the acacia trees or exploring ancient rock art caves, the Samburu guides show you the secrets of the African bush. Gourmet cuisine and a new design add style to the adventure.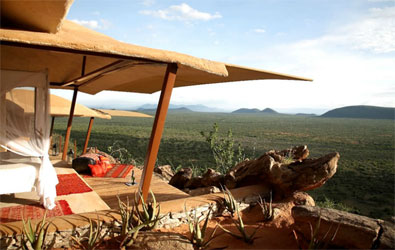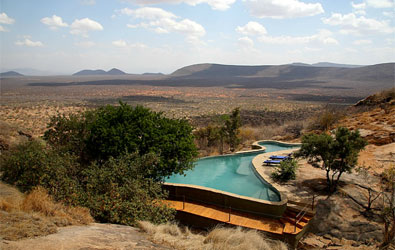 Superior Accommodation
Your safari actually starts on our massive cedar beds, from where you can see in total privacy elephant, leopard, waterbuck, bushbuck and impala traversing freely and peacefully in the grounds of the camp. Kuro House is the common dining area and is a mixture of old-fashioned Africa and modern design. Its huge fireplace is the focal point of life at Saruni and it is here that our guests exchange memories of the day's safaris. While reminiscing they can start to savour the cuisine that is served around our long table and uses fresh, locally grown and organic produce in inventive ways. Alternatively meals can be taken in the bush among the wild animals, with birdsong and animal calls as a backdrop. By separate arrangement a candlelight dinner can be served on your own verandah.
A unique feature of Saruni is its collection of books and its library, the most beautiful in the African bush. With thousands of rare books and its very private location, Saruni's library is a place where to meditate, to rest, to think. Designed and built by Kenyan architect Mark Glen, Saruni has six large cottages, where one can experience both the elegance and safety of a permanent accommodation with the thrill of sleeping in close contact with nature. The rooms are furnished with colonial antiques, Persian carpets and African art. The atmosphere at the camp is informal but elegant. Each cottage has hot and cold running water, 220 volt electricity, elegant Italian bathroom fittings, polished wooden floors, and large bathrooms where the canvas front can be totally open to offer you an amazing "shower with a view". Décor is unique for each cottage and from the large verandahs one enjoys a unique view of the Mara plains. Saruni has a low impact on the environment thanks to the use of solar power and the recycling of waste.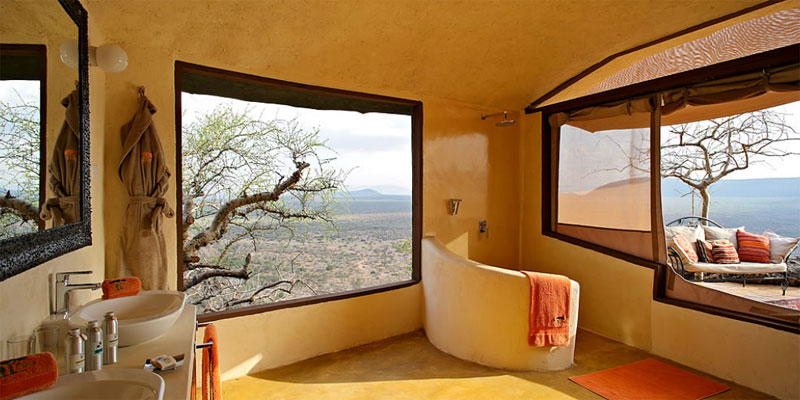 The Wildlife
The Masai Mara ecosystem has an astounding variety of wildlife. It boasts amazing birdlife with over 550 species and its herds of plains game are second to none. The forests and the plains also provide a fascinating variety of plants, trees and flowers. Below are our field guides of what you are going to see in the Mara.