Sasaab
Samburu National Reserve, Kenya - Classic 4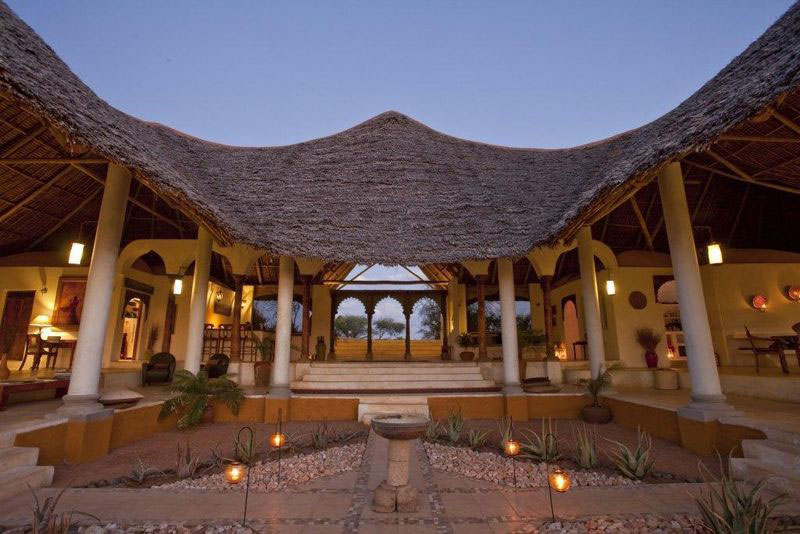 Sasaab is situated on a rocky ridge above the banks of the mighty Ewaso Nyiro river in north-central Kenya. Here in the heart of Samburu land, Sasaab is the only lodge in the vicinity and the safari experience is all the more spectacular for the location's wildness, in an area renowned for its variant species.
The architecture of Sasaab follows strong Moroccan design principles, in which African heat is of primary consideration. Each of the nine Moroccan-styled rooms is over 100m² with an enormous open-air bathroom and private plunge pool. From the veranda, guests can take in the remarkable views across the Laikipia Plateau toward the jagged peak of Mount Kenya. Its position on the river naturally facilitates watching the herds of elephant that come to bathe.
Enjoy guided walks, bird watching, stargazing or a visit to SpaSaab for world-class beauty treatments. For the more adventurous take a game drive, camel ride or spend a night or two in the further reaches of the conservation, fly camping and sleeping under the stars. Sasaab also has close ties with the local Samburu tribes who are delighted to share their traditions and we actively encourage guests to visit.
Sasaab prides itself on our hospitality and our friendly and attentive staff strive to make every guests' experience unforgettable.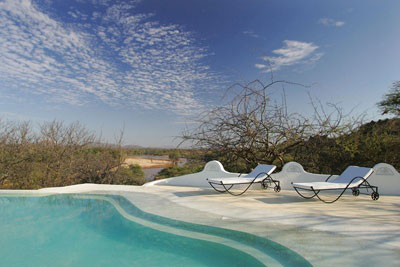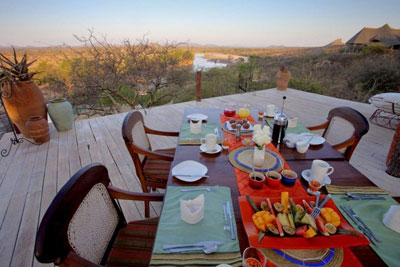 Accommodation and Facilities
Sasaab is a stunning blend of Moroccan and Swahili style, located in the heart of the African bush. There are eight individual cottages (one with 2 separate ensuite bedrooms), accommodating up to 18 guests. Each room is designed to offer majestic views of the landscape and to be a cooling retreat from the African heat. The airy rooms with four poster beds, enormous, open-air bathrooms and private plunge pools, make for a completely invigorating experience.
Sasaab also has a main swimming pool, built on the hillside overlooking the river itself. Dinner is usually served under the stars. All guests enjoy full-board during their stay, which includes all meals and most drinks, excluding champagne and specially imported wines and spirits. There is wifi throughout. Baby-sitters are available and special meals are by prior arrangement.
Children are welcome at Sasaab and under threes stay free. We recommend families book the family suite (rooms 8-9) which has a shared central area. It can also be taken as an exclusive villa, as it has separate access. Extra beds can also be added to your room (subject to availability) for those travelling with others.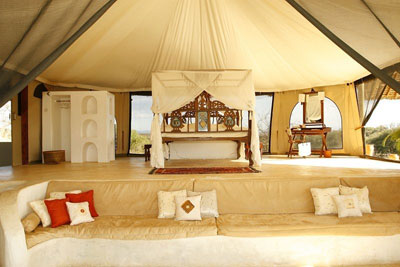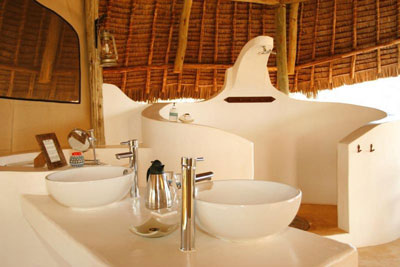 Activities
Sasaab is close to the Buffalo Springs National Reserves, in Kenya's Northern Frontier District. It's a place of rich natural diversity with an astounding number of animals from huge majestic elephant to lion, leopard and cheetah and the 'Samburu Special Five': the Beisa oryx, reticulated giraffe, Grevy's zebra, Gerenuk antelope and Somali ostrich. Choose to explore this area on a game drive or by camel, which allows for a unique perspective. For a special experience guests can spend a night or two fly-camping under mosquito net tents in the wilderness. This amazing trip starts with a 4-5 hour walk along the banks of the Ewaso Nyiro River, taking in the sights, sounds and smells of this untamed and romantic part of Kenya. Have dinner with views across the wilds of the northern frontier and sleep under the stars.
While at Sasaab, we highly recommend that you visit the hospitable Samburu people, who are delighted to show you their traditions and way of life. Our local Samburu guides speak excellent English and will take children under their wing to teach them how to make of a traditional bow and arrow or a toothbrush from the 'toothbrush tree'.
You can also enjoy guided walks, bird-watching and stargazing or relax at Spasaab - our haven of peace and serenity, purpose built into the rocks with impressive views and tranquil sounds of birds and the river below. Our treatments use Liz Earle skin care products and an assortment of natural ingredients including Kenyan coffee.
Because of its exceptional setting, overlooking this awe-inspiring landscape, Sasaab is very popular for intimate weddings, hosting up to 24 guests.