Scarabeo Camp
Agafay Desert, Morocco - Classic 4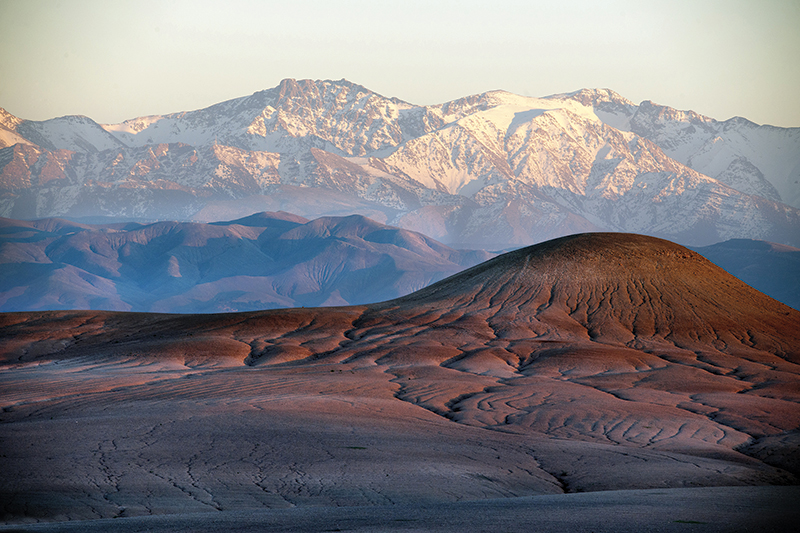 Location
Agafay desert, 45 minutes from Marrakech
(35 kilometers from the city center)
Dotted amongst the landscape, the white canvas tents are located in a small rocky desert area close to Marrakech. The Stone Camp siting affords stunning views of the Agafay's barren grandeur and beyond to the snow-capped Atlas Mountains. The ingredients combine to form a unique alchemy, a place to completely unwind and disconnect from everyday life.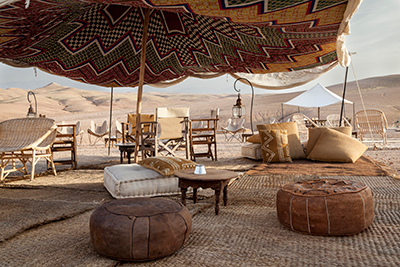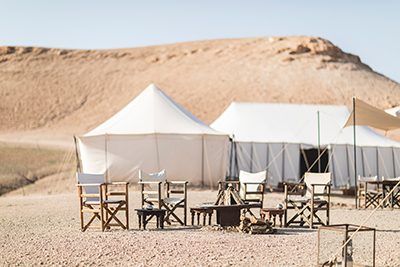 Entering Berber Territory
Scarabeo Camp was born from of splendor of Moroccan landscapes and the warm hospitality of the people who live there. Protection of and respect for the environment are at the heart of our concerns. In keeping with this philosophy, we have designed a camp which can be completely disassembled so that we leave no trace of our presence.
Pitched in remote areas, not connected to water or electricity, our camp boasts simple pleasures and makes the most of nature around it. Our commitment to preserve the environment leads us to promote the use of recycled or recyclable products and give a second life to vintage furniture and fabrics. We buy seasonal local vegetables to reduce the environmental footprint of our business. To contribute to these remote regions, we employ and train people in situ with no professional background. Scarabeo Camp endeavors to combine the luxury tourism and the interests of indigenous people.
Sleeping Under the Stars
The hotel setup has 15 tents for accomodation: 8 Double Suites, 2 Twin Suites and 5 Family Suites dotted throughout a vast terrain, lit by flickering lanterns.Our camp is very flexible: it is possible to mount and unmount additional mobile tents for special events.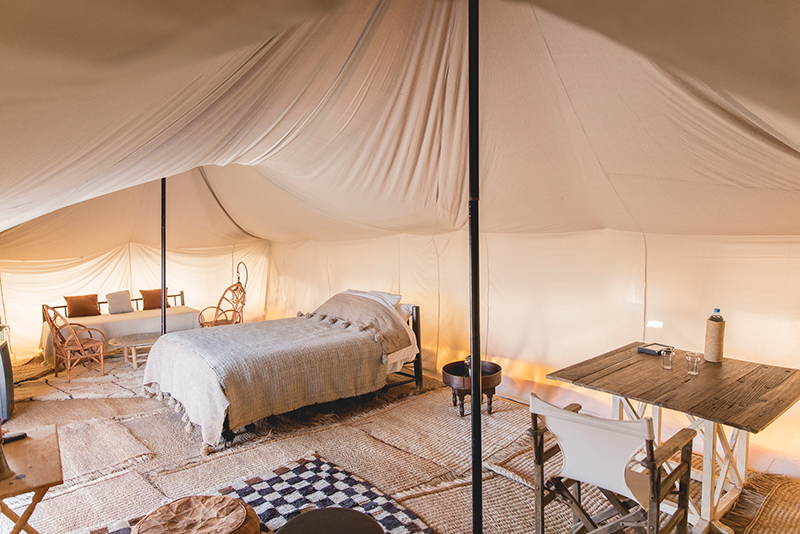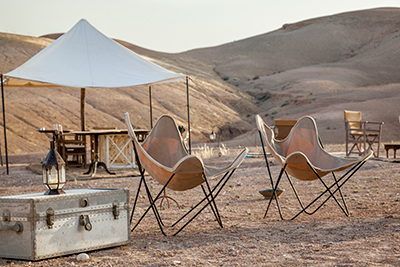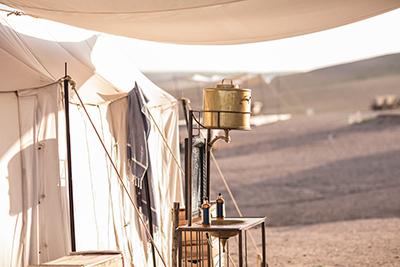 The Great Outdoors
Most of the activities offered by Scarabeo Camp are designed for you to enjoy the great outdoors and breathtaking panoramas of the region.
Optional Activities
Off-the-beaten-track tour by quad or bike
Buggy raid with guide
Relaxing massage
Camel ride
Horseback riding
Half- or full-day trek with a mountain guide and a picnic at a picturesque spot
Day trip in a 4x4 to discover the region
Stargazing with astronomy professor
Yoga class
Download Scarabeo Camp Brochure [PDF]