Huab Under Canvas
Huab Conservancy in Damaraland, Namibia - Adventure 3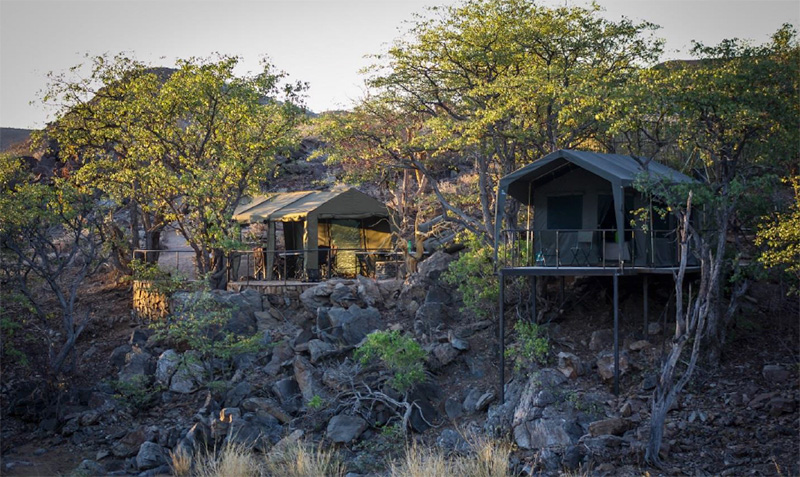 Huab Under Canvas camp is designed to offer a true "back to nature" experience with an emphasis being on the experiential aspect of safari. This is an experience that is exclusive in the real sense of the word, as well as being very much away from it all!
The camp is nestled in a grove of Mopane trees on the banks of a tributary of the Huab River. Protected from all the prevailing winds and sun, the camp is virtually invisible from anywhere around and it carries arguably the lowest environmental footprint of any camp in Namibia. Tents are raised on mobile platforms and have basic infrastructure that allows for important comforts such as en suite flush toilets, but the essence of the camp remains Under Canvas, mobile and experiential. With provision for up to eight tents, this camp is only booked on an exclusive basis. The camp will be operated seasonally between April and November, but it will also be possible to set it up at other times 'at special request'.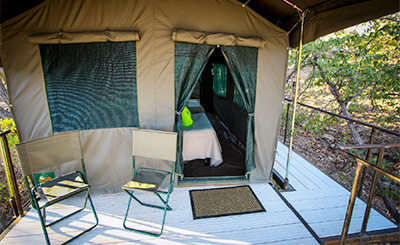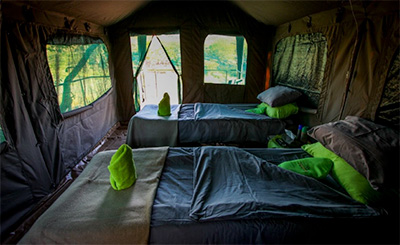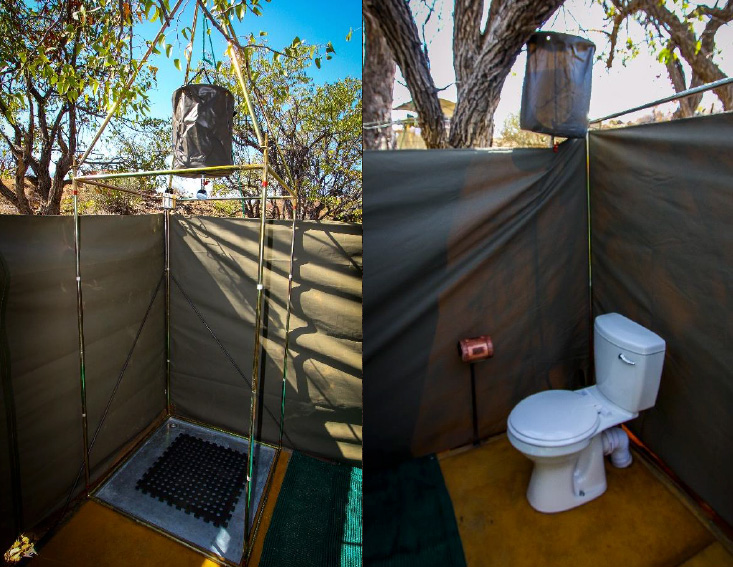 Quick facts:
8 x large rectangular Meru tents (4m x 3m and 2.5 m high) customized to our specifications, suited to Namibian conditions.
En suite bathrooms with hot bucket showers and toilet (flush or field loo depending on the location of the camp)
Locations include Damaraland (including our private use site at Huab), Kaokoland, NamibRand Nature Reserve (non en suite) and Khaudum.
Exclusive use area in the Huab Conservancy, with private rhino tracking and exploration of the upper Huab River.
Fully-catered – non-participatory camping, inclusive of three meals a day (including hot breakfast, freshly prepared lunches and three course dinner), all local drinks and limited laundry service.
Recommended pax numbers: 4 – 12 pax, booked on an exclusive basis
A minimum of a two night stay is required to get a true feel of what is on offer, although we believe that three nights would be even better to really do justice to the area. The camp is a fantastic alternative to any traditional lodge stay in Damaraland, and it offers exclusivity in terms of access which is beyond compare.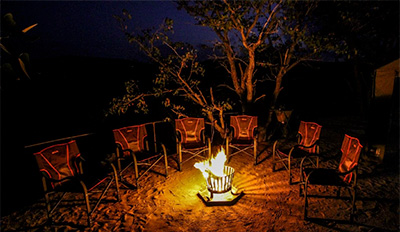 Activities
Activities include tracking desert adapted rhino, noting that this is completely private and in an area that has the highest tracking success rate in north western Namibia; exploring the upper and less crowded Huab River in search of desert adapted elephants; nature walks and drives; as well as the possibility to visit some nearby prehistoric rock engravings.
Stellar Escape
Known in other parts of Africa as a sleep out or sky bed, our Stellar Escape is set in an ancient dry riverbed on our private concession in the //Huab Conservancy, offering crystal clear skies with nothing between you and the brilliant stars of the Namibian night sky, where satellites, galaxies, shooting stars and the occasional significant meteor can all be seen with the naked eye.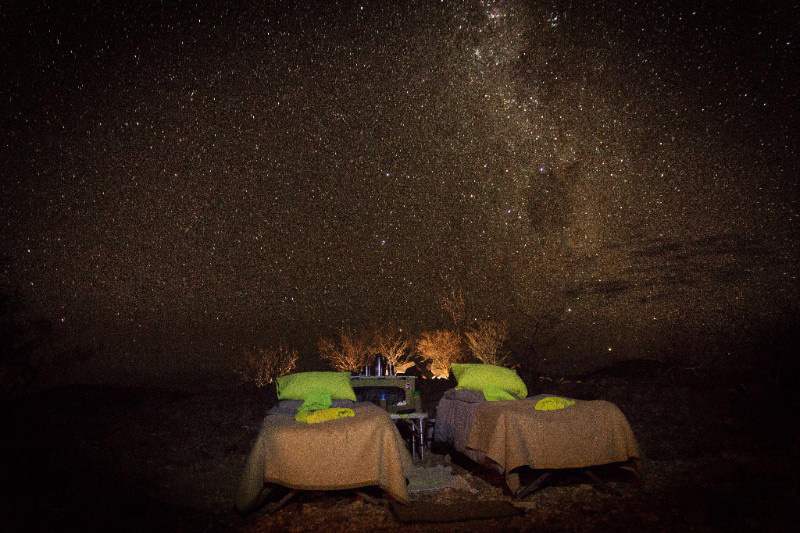 Guests are escorted on their Stellar Escape by their guide, normally starting with a leisurely late afternoon walk, arriving in time for a cocktail or two while enjoying the sunset. A sumptuous bush dinner is prepared on an open fire by one of our magicians, and this can be enjoyed whilst the night sky comes into full splendor. After an astronomy tutorial by your guide, and once you are ready to retire for the night, your crew will leave you with a radio (for communication in case of an emergency) and leave you for an enchanting night under a billion stars, in complete privacy - although your guide can spend the night a discreet distance away if so desired.
You will be woken in the morning by a spectacular sunrise and your favourite hot beverage, before returning to camp to freshen up and have breakfast.