The Nest @ Sossus
Sossusvlei, Namibia - Premier 5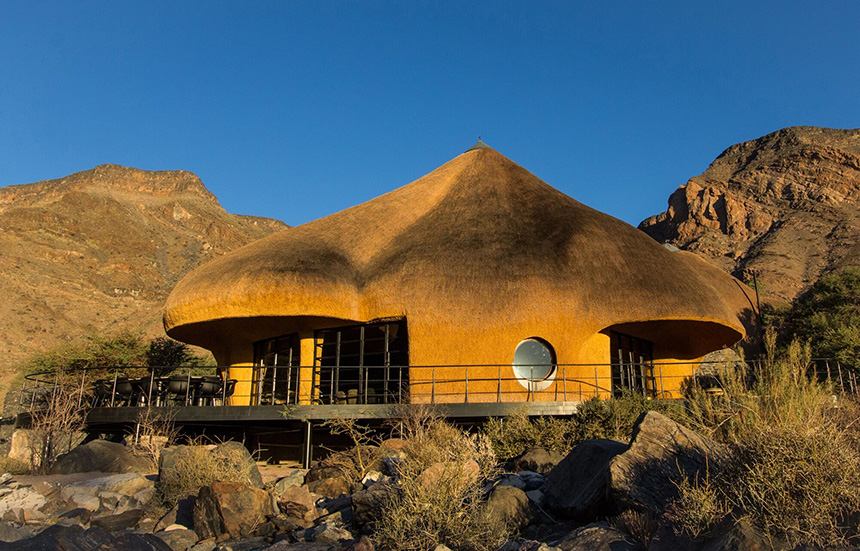 The Nest @ Sossus was designed using the unique structure of a Sociable Weaver nest as inspiration. It took eight years, including a three-year build, to bring this project to fruition and this has resulted in one of Namibia's most extraordinary private villas in terms of both design and décor. Every effort was made to ensure The Nest was self-sufficient and carried the lowest possible environmental footprint and the success of these efforts is evident to all that get to stay there.
The Nest is tucked away in a lush valley on the private Namib Tsaris Conservancy (nee Neuhof Nature Reserve), and it backs up against the great escarpment in the Namib Desert. This valley is a true desert oasis, boasting seasonal natural water pools and falls, and this makes it a magnet for the game moving through the area. A floodlit waterhole provides exciting and varied desert wildlife viewing as well as incredible birding. The villa has three private en-suite double bedrooms as well as an additional en-suite children's room, so it can comfortably accommodate a group of up to seven guests.
Design
The Nest was designed by Porky Hefer, one of Africa's most awarded creative personalities, created by landscape conservationist Swen Bachran, and decorated by the up and coming Maybe Corpaci. Built almost entirely from thatch, roof to floor, The Nest is an architectural and geometrical masterpiece.
Stylish modern minimalist furnishings compliment large spacious living areas including outdoor and indoor lounge and dining areas, an open-plan library, and an open-plan kitchen. Both contemporary and mid-20th century pieces coexist harmoniously, with most furniture being sourced in Africa from both established and up and coming African designers. Doktor & Misses, Mia Wildlake's Studio 19, Douglas & Co, Bofred Cape Town, Jo Carlin, Diana Ceramics, Mungo Design, Hay & Tadition, Flos and Muuto are just some of the creators of pieces utilized in The Nest @ Sossus.
Outside areas have art installations from Angus Taylor and others on display, along with a discreet children's playground, large pool and a variety of sitting areas set under ancient camelthorn trees. Outdoor furnishings include pieces from Italian based Moroso, designed by Marc Thorpe, Sebastian Herkner and Jonathan Levien. Local Namibian artisans also manufactured a number of custom pieces, made both locally and on site, whilst some of the best quality Namibian granite was used for table tops and other features.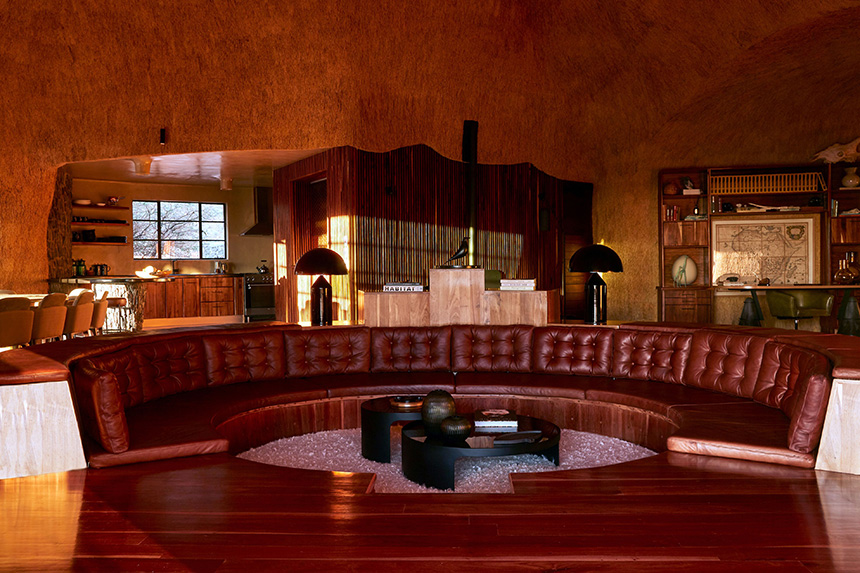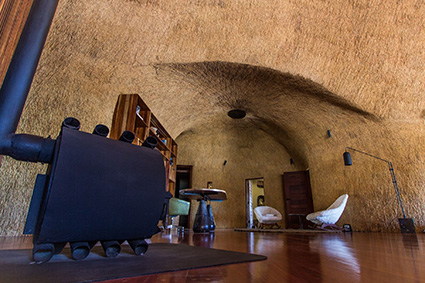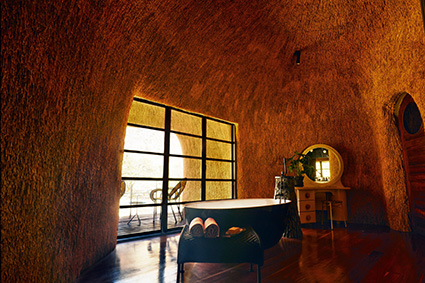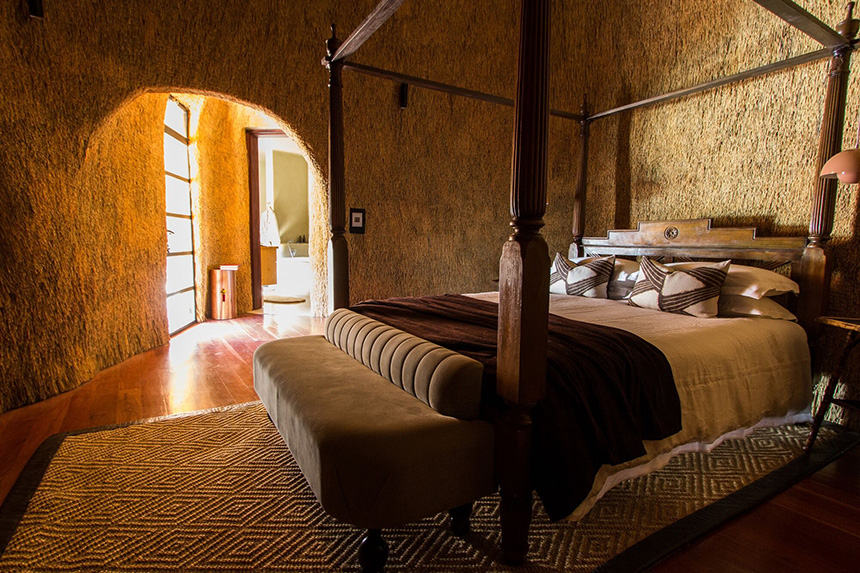 Activities
The Nest is situated a mere forty-five minutes' drive from the Sesriem gate giving access to the Sossusvlei dunes and Deadvlei and activities offered include visits to Sossusvlei as well as exclusive nature drives and walks on the Namib Tsaris Conservancy. The latter can include day excursions to the Plateau which towers above the desert and dunes landscape below and offers some of the best views out over the Namib. Scenic flights by helicopter or fixed-wing aircraft as well as hot air balloon flights can easily be arranged, although at an additional cost.
Experience
Guests at The Nest are immersed into the picturesque landscape of the Namib Desert whilst being hosted on an exclusive, all-inclusive basis by one of the finest handpicked tribes of Journey Magicians in Namibia. Discerning, sophisticated, and discreetly competent management is complimented by one of Namibia's best naturalist guides and an award-winning and internationally recognised gourmet chef. A private butler helps to ensure that guests are cared for with an absolute focus on high quality service, and this compliments the overall experience which includes very memorable 'wining and dining'. The Nest @ Sossus only offers the finest, and it is set to benchmark a new level of hospitality at iconic and exclusive private retreats in Namibia.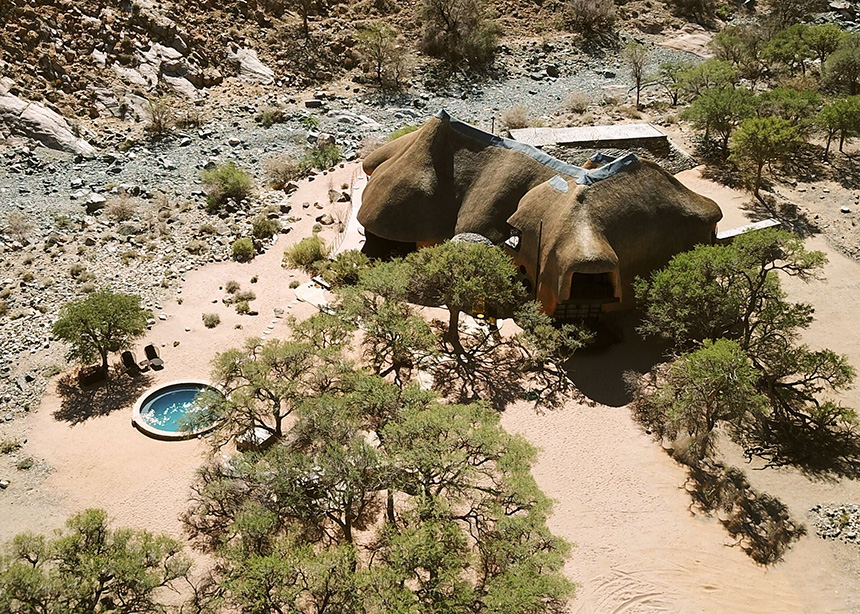 Download Quick Facts [pdf]