Hansa Hotel
Swakopmund, Namibia - Classic 4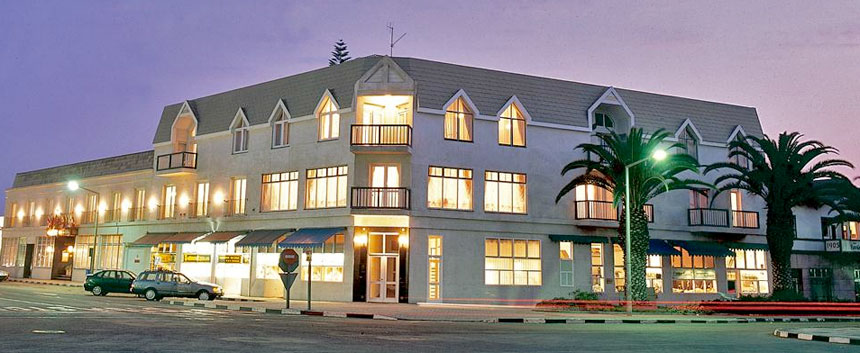 Hansa Hotel is located in the center of the charming little town of Swakopmund, wrapped in the shape of a timelessly classical building. An integral part of Swakopmund's architectural heritage offers you a feeling of being enveloped in luxurious and sophisticated hospitality with a satisfying blend of both classic atmosphere and truly elegant interior, matched with friendly and personalized service.
Hansa Hotel has 46 double rooms and 2 single rooms as well as 7 luxurious suites. The rooms are well decorated and comfortable, each with its own individual touch. The restaurant is among the most popular in Swakopmund. The residents' bar features a large fireplace, which offers welcome relief from the cool Swakopmund night temperatures. Hansa Hotel also has a secluded garden courtyard, which is well protected from the Swakopmund weather.
Hansa Hotel offers an a-la-carte restaurant specializing in seafood and game dishes, 24 hour on-site security, a laundry service, a baby sitting service, secure parking and a private bar with open fireplace.
Hansa Hotel rooms are all well equipped and the en-suite bathrooms feature under floor heating, a novelty in Namibia. If you are looking to stay in a hotel while in Swakopmund, the Hansa is a good choice.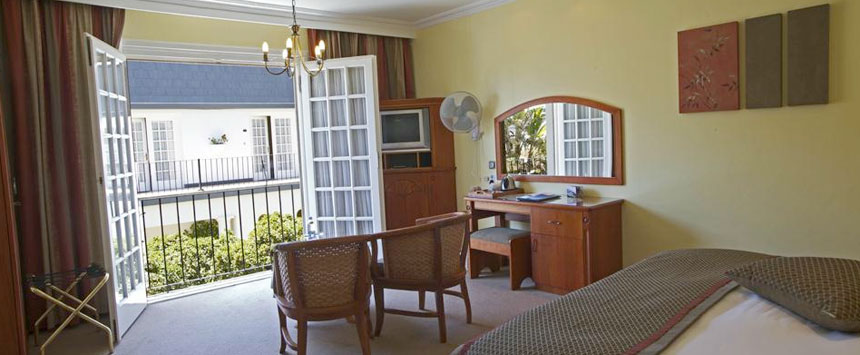 Swakopmund was founded two years later than Windhoek, in 1892, by Captain Curt von Francois and became the main harbor of German South West Africa. Increased traffic between Germany and its colony necessitated establishing a port, as Walvis Bay, located 33 kilometers south, was already in British possession. The choice fell on Swakopmund where water could be found and because other sites were unsuitable.
The town's German architecture harks back to this period. As the port was not sufficiently deep, boats had to unload out to sea. In 1920, uranium was discovered at Rossing, which is now the world's largest uranium mine and visitors can visit the giant crater there. Today, Swakopmund is a luxury seaside resort much appreciated by the inhabitants of the capital.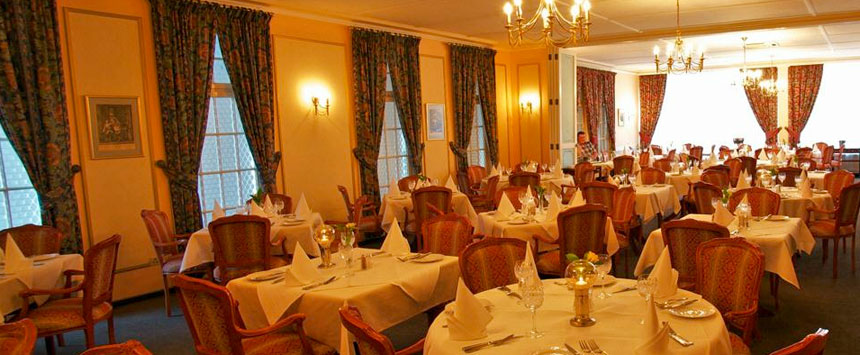 What to see & do:
A stroll around the town will enable you to discover the German architecture, the flower gardens and the beautiful beaches (Water temp: 15-20 degrees C). The souvenir shops are a little expensive, but offer good quality items, with a wide range of products. You can watch the beautiful sunset while dining by the seashore in a panoramic restaurant.
Other Activities Include:
Town tours, fishing trips, tours to Namib Naukluft park (Welwitscha, Mirabilis, Moon Landscape), museum, snake park, sand-boarding, parasailing and hot air ballooning.
Fishing In Swakopmund:
Fishing is Namibia's national sport. Beach fishing is a major activity in and around Swakopmund. The fishing areas are easily accessible by 4-wheel-drive vehicle. Numerous specialist shops in town sell the necessary equipment and organize fishing parties.
Welwitschias Drive:
In terms of Flora, both the Welwitschias Mirabilis and the Kokerbaum are exclusive to Namibia. This strange plant only grows on the stony plains of the north Namib and to behold its most beautiful specimens we recommend that you take the excursions to Welwitschias Drive or Welwitschias Valley, a few kilometres to the north-east of Swakopmund.