The Stiltz
Swakopmund, Namibia - Adventure 3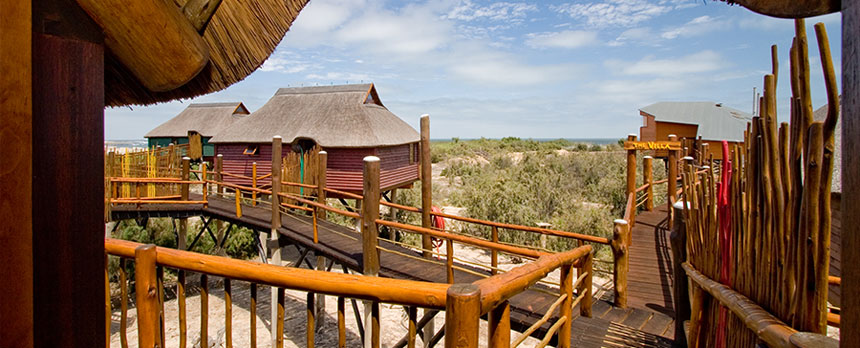 The Stiltz is an accommodation that is unique in every aspect. It offers the most spectacular views in Swakopmund overlooking the Atlantic Ocean, the river-bed, the sand dunes and the bird rich lagoon at the river mouth. The lodge's wooden bungalows are built on stilts, interlinked by wooden walkways to each other and to the main dining bungalow. Each bungalow has been planned and executed in the finest detail.
You will feel in a different space, yet you are only minutes away from the charming town centre with plentiful restaurants, loads of activities and all the amenities you could wish for....That is if you really feel like leaving your bungalow.
The units are shaped rather like igloos with interiors that are colorful, quirky, artistic and stylish, each unit having it's own individual look. Light fittings at the entrance are fashioned creatively out of copper, all the bed linen is white, and the curtains and drapes are in bright colors. The bathrooms are especially eclectic with their rosewood doorframes, walls of colored steel sheeting and terracotta floor tiles with individualized designs and colors.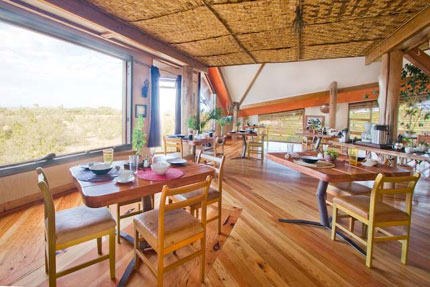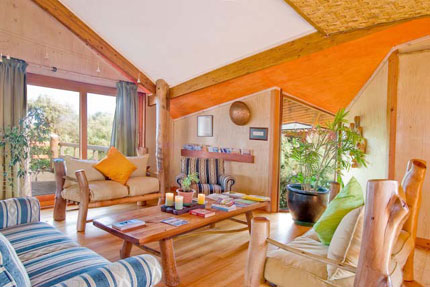 Furnishings in the living area includes a couch (made of blue-gum wood collected in the Swakop River) facing a large panoramic window with a view of the sea and the riverine environment. Each unit has a mini-bar, a heater and a balcony on which you can sit in director-style fold-up chairs, all handmade by craftsmen especially for The Stiltz.
Although the Stiltz is a private and special place, it is only minutes away from Swakopmund town centre with its restaurants, shops, activities, and other amenities. The Stiltz does not accept children under 16 years of age.