Things to do at Bisate Lodge
Bisate Lodge, Volcanoes National Park, Rwanda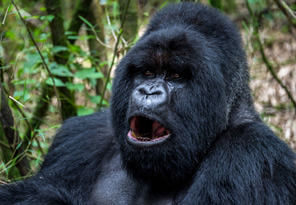 Gorilla Trek
Gorilla trekking takes place from Volcanoes National Park headquarters where guests are allocated one of the ten habituated gorilla groups to visit for an hour. After a briefing by Park rangers, the time of the trek varies depending which gorilla group is being visited – from 45 minutes to a few hours. Trekking is at a high altitude, but is well worth it; the time spent with gorillas has been described as "life changing!"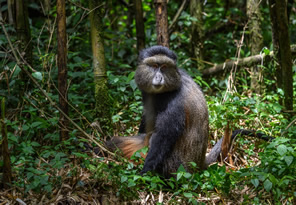 Golden Monkey Trek
The golden monkey trek begins at Volcanoes National Park headquarters. This beautifully-coloured primate is endemic to the area and lives in groups of up to 30 individuals in the bamboo forest, its preferred source of food.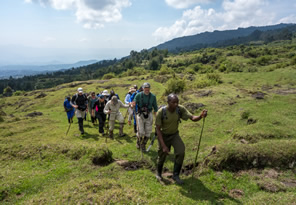 Guided Hikes in Volcanoes National Park
At 3 711 metres Mount Bisoke volcano is located on the border of the DRC and Rwanda. The guided hike to the summit is strenuous and requires a full day to complete. However, once at the top it is extremely beautiful and really worth the effort as you are rewarded with sweeping views of the rainforest and the amazing crater lake.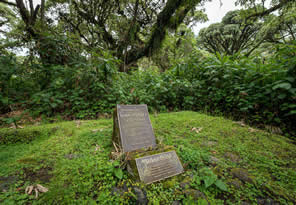 Dian Fossey's grave and Research Centre
Dian Fossey established the Karisoke Research Centre in 1967 in the saddle of Bisoke and Karisimbi volcanoes at an elevation of some 3 000 metres. The trail leading to her remote rainforest camp and grave – which is set alongside the graves of her beloved gorillas – and the remains of the research centre is a spectacular, if challenging hike up steep slopes where orchids, birdlife and even occasional black-fronted duiker and bushbuck can be seen.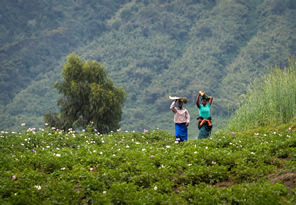 Guided Community Walk
Guests can walk to the vegetable garden where members of the local cooperative cultivate and sell vegetables to the lodge. Your guide will continue with you along the path to the Bisate community where you will meet Beatrice who will tell you a bit about her way of life and introduce you to her family.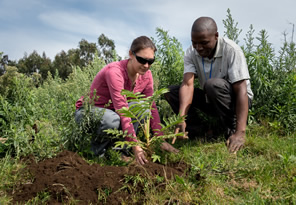 Nursery visit and tree planting
Spend an afternoon with the team at Bisate's reforestation nursery where you can meet Jean-Moise, the lodge's agronomist. He and his assistants are on hand to help you plant a sapling to contribute to Bisate's reforestation efforts in the area.
Rwandan coffee and tea tastings; wine tasting
Rwanda is well known for its coffee and tea; at Bisate we offer you the chance to learn a little more about both in a tasting session with our resident barista. Or if you are more interested in spending time in the wine cellar, you are welcome to enjoy a wine tasting as well.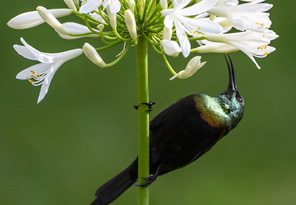 Nature and Birding Walks
Explore Bisate's surrounds on a guided nature and bird walk in the forest to learn more about the bird- and wildlife of the area. You may also enjoy a guided walk to the local pyrethrum fields and end the day at sunset with spectacular views of Karisimbi, Bisoke and Mikeno volcanoes from the viewing deck at Bisate Lodge. There is a self-guided trail on the property for those who wish to explore on their own.
Information and photos courtesy of Wilderness Safaris