Addo Elephant Park
Eastern Cape, South Africa

The Addo Elephant Park is located in the dense Eastern Cape Bush of South Africa. It offers visitors spectacular elephant viewing in a malaria free environment.
The park is home to more than 450 elephants as well as Cape buffalo, lion, black rhino, various antelope species, warthogs and the flightless dungbeetle which is exclusively found at Addo. (Elsewhere in Africa, dungbeetles have to migrate with the herds but this is not the case at Addo).
The immediately surrounding area offers numerous recreational activities ranging from hiking, 4x4 and horse trails, elephant back safaris and river cruises.
Accommodation options in the greater Addo area range from luxury five star lodges, tented camps to backpacker facilities.
Prime considerations for visiting the Addo Elephant Park are:
A true African experience but which is malaria free.
A choice of 'elephant' activities to supplement your visit to the park, such as walking with elephants and elephant-back rides.
Excellent accessibility: National airport (Port Elizabeth) 30 minutes away, National road to park's southern entrance, Dirt roads in game reserve suitable for ordinary cars.
All the facilities of a large city nearby, if required, such as fine shopping centres, excellent eating places and venues to cater for all sorts of sports, both on land and sea.
Addo makes a convenient base for exploring many nearby places of interest in the Eastern Cape such as: The lovely and extremely historic cathedral and university city of Grahamstown, The World Heritage site of the Baviaanskloof Wilderness Area, The lush, fertile and scenic Gamtoos valley around Patensie with its miles of citrus orchards.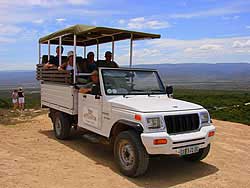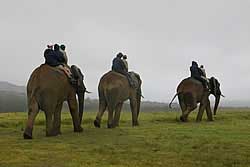 Activities
Guided Game Drives or Self Drives in the Addo Wildlife Area as well as neighbouring Game Reserves.
Guided Horseback Safaris
Elephant Back Safaris
Sunset cruises on Darlington Lake
River Cruises on the Sundays River
Canoeing
Birding
Walking and Hiking Trails
4X4 Eco-Adventure Trails
Various fine restaurants
Picnic and Braai Sites
Cheetah breeding project
Crocodile Farm
Guests have a variety of accommodation options. Accommodation at Addo Elephant National Park ranges from camping to luxury Guest Houses, Chalets, Rondawels, Forest Huts, Safari Tents, Camping and Caravanning.
In the surrounding area specialist lodges offer personalised accommodation and activity packages for guests.