Hilltop Camp
KwaZulu Natal, South Africa - Classic 4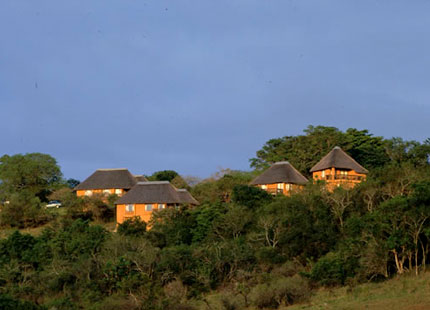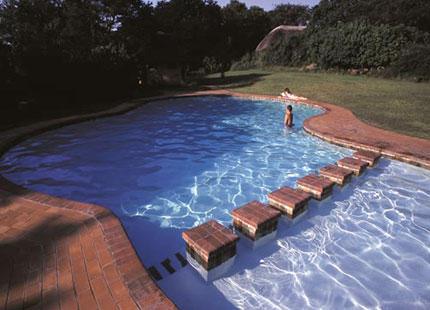 Hilltop Camp is situated on the summit of a hill and offers fine views of the Hluhluwe section of the park and surrounding countryside. Set aside for game protection in 1895, the Hluhluwe and Umfolozi reserves form one of Africa's oldest conservation areas. Hluhluwe is characterized by hilly topography and is thus a particularly scenic reserve. The area is noted for its wide variety of both bird and animal life. Most of the big game species including lion, elephant, white and black rhinoceros, buffalo, leopard and giraffe occur in the reserve. There are also over 370 recorded bird species in the Park. The north of the park is rugged and mountainous with forests and grasslands, while the south and west is more undulating with open savannah. This area was once the private hunting area of the great Zulu King, Shaka Zulu. Apart from game viewing drives, there are two self-guided auto trails, which provide information on both the management and natural history of the reserve. Guided walks are also available. The early morning and late afternoon walks are particularly rewarding.
Hilltop ranges from a luxury lodge to a variety of superbly appointed self-catering accommodation facilities. All units are serviced daily. Facilities include: twenty 2-bedded rondavels with communal ablutions and kitchens; seven 2-bedded and twenty-two 4-bedded self-contained chalets. Twenty 2-bedded chalets, which are not self-catering (no kitchen facilities), are within close proximity to the main reception area. This area includes an a la carte restaurant and bar-lounge as well as a gift shop and convenience store. A forest trail is available to guests at Hilltop.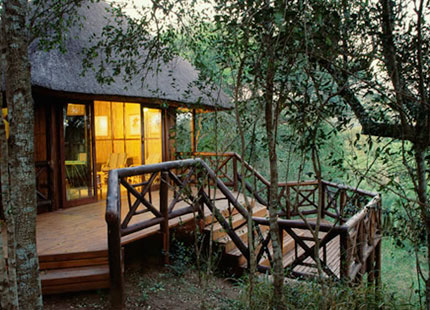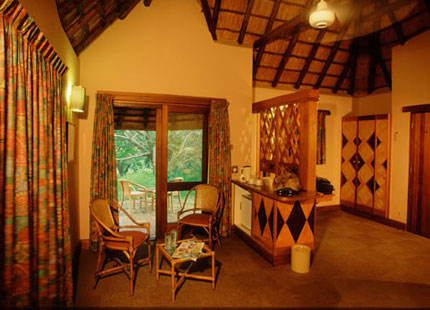 Day game drives are conducted in open viewing vehicles, accompanied by an experienced field ranger (at Hilltop). Night drives afford interesting glimpses of the nocturnal species, seldom if ever seen during the day. These include the thick-tailed bushbaby, leopard, white-tailed mongoose, small-spotted genet, hyena and porcupine. Nocturnal birds include nightjars, owls and dikkops.
The Umbhombe trail in Hilltop Camp is a 30 minute self guided route which meanders through a semi-deciduous forest of fever berry, Natal fig, common cabbage and marula trees. Also to be seen here is the species after which both the park and Hluhluwe River have been named - the thorny rope of um-Hluhluwe. Birders might spot the cinnamon dove, purple-crested lourie, white-eared barbet and yellow-spotted nicator.